With all the grandeur of an old colonial home, this dwelling boasts a contemporary interior with modern luxuries.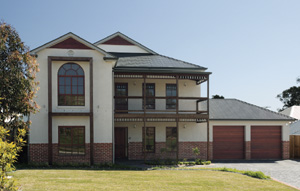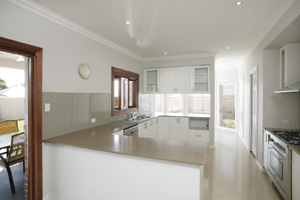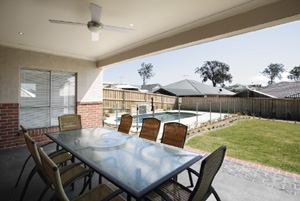 Price: $459,000.
Size: Around 420 square metres.
Accommodation: Four bedrooms plus study.
Special Features: Premium finish, brick or weatherboard façade. Fully built or to lock-up (only available throughout NSW).
Optional Extras: Timber garage doors, island spa bath, floor coverings and kitchen upgrade.
A charming brick veneer façade with a steep roof pitch and a rustic hardwood verandah gives this home a contemporary, yet country look. The timber garage doors, windows and striking gable louvre complete Addcover's trademark modern Australiana style. "We wanted to create a home with a distinctive country flavour and contemporary internal influence for today's modern lifestyle," says manager Roger Grant.
Taking into account the rich colonial history of the area, Roger and his team designed the home to blend with the surrounding streetscape. "We attempted to capture the feel of a grand colonial home without compromising modern efficient living," says Roger.
Step inside and you are immediately made aware of the home's opulence. Visitors are greeted by generous-sized rooms featuring 2.7- and 3.0-metre-high ceilings accentuated with stained and handpainted finishes.
While reminiscent of a grand old mansion, thanks to a well-thought-out layout, the home retains a warm and inviting atmosphere. With comfort obviously a top priority, the team at Addcover designed a home with a spacious indoor living area and a spectacular alfresco dining area. Perfect for outdoor entertaining, the expansive tiled area incorporates a convenient natural gas-plumbed stainless-steel kitchen. Looking out over a glass-fenced in-ground pool and a magnificent stack stone water feature this is resort-style living at its finest.
To utilise the available land a special meals room was built off the side of the home so the owners have a choice of stylish gathering spaces. The room was cleverly designed so as to not infringe on the children's play area in the large backyard.
The home is full of innovative space-saving ideas. To keep the laundry from being overcrowded, a dryer is cleverly concealed under the stairs. The ironing board is ingeniously tucked away with a fold-down mechanism, meaning the iron can be put away when not in use, creating further space.
Throughout the Addcover home all the finer details have been carefully considered. A stunning kitchen features CaesarStone benchtops and sleek polyurethane doors, the bathrooms are fitted with quality Argent back-to-wall toilet suites, frameless shower screens and top-mounted sinks. The fixtures are enhanced by the stainless-steel downlights dotted throughout the rooms.
Suited to both modern estate living as well as rural locations, this home truly captures the essence of Addcover's signature modern Australiana style — whatever the setting.