Get the most out of the design of your building with advice from energy-efficient designer and builder Ian Cleland.
1.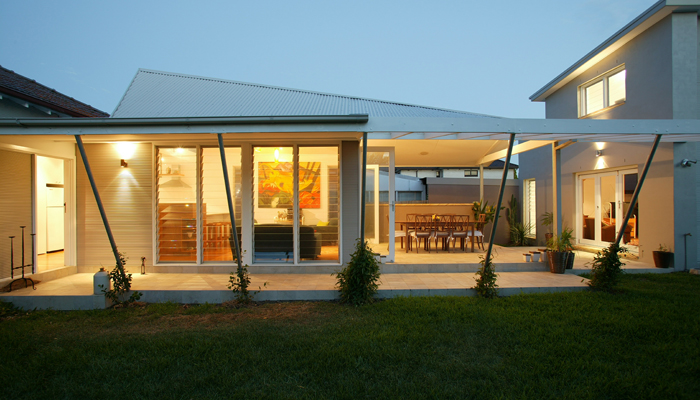 While many of the ideas for energy-efficient building design have been around for at least a couple of millennia, they are only now being taken to new heights. Today, energy efficiency should be part of every building's design, whether a multi-million-dollar construction or a modest family home. Good design should be the right of all people who build and that should not mean costing any more than a poorly designed home.
Most of us live in built-up areas of cities where the surrounding buildings can have a great effect on the micro-climate and the comfort inside your home. Living in the centre of a city is shown to be 10 degrees warmer compared to living on the edge of a city or in rural areas. If you live in a rural area and have acreage, the landscaping around your home can have a great effect on its micro-climate and really assist in its energy efficiency. Australians have another consideration to make: designing for bushfires, even in urban areas.
Last but not least is determining how you will use your home and the spaces you wish to occupy. Building from scratch is the best option for applying all of the above, but if it's not an option and you have an existing building you are going to be restricted by site location and the building's orientation. This doesn't mean you cannot implement many of the other ideas mentioned.
When brought together, the components mentioned above will create an energy-efficient design. One could argue that just having the technical know-how will not equate to great design. You will need an understanding of how to correctly integrate the spaces, not only to have a practical layout for each area but also to maximise the energy efficiency of the connecting spaces. One thing to note here is that the size of the building and the spaces therein will add to the complexity of the design.
Let's look at ventilation and movement of air through a building. The easy option for keeping comfortable movement and climate-control of air is to install temperature-controlled air conditioning, which does not equate to a design that is energy efficient.
To build natural ventilation into a structure requires an understanding of the direction of the prevailing breezes during the seasons and the times of the day they occur. For example, work out whether the surrounding geography creates local conditions (ie lots of tall buildings create man-made canyons). Using the chimney effect, the differential in air temperature from high zones to low zones moves air through a building. The Venturi effect allows negative pressure to draw air through a building. Other methods of ventilation include using different types of windows such as louvres and hoppers. Using the thermal mass of the building, which is not only used to cool and heat, also allows the movement of air and the use of heat through conduction, radiation and reflection for creating temperature differences that create air movement. One thing we tend to forget about is creating an airtight building to remove all those unwanted drafts around windows, doors, floors and ceilings.
Just looking at ventilation demonstrates how we can design using a number of components to make a home energy efficient and knowing how to effectively implement them into your design will result in an excellent outcome.
Going through the creative process of designing your new home or modifying your existing home can be a very daunting task. It involves conveying your ideas to others so it can be built according to your design brief, budget and timeframe. Unless you have an unlimited budget and no deadline, your ideas are left open to being compromised.
To reduce the stress of designing and building your home, it's best to plan carefully and define your expectations for both the design and the professional craftsmen you employ to execute your plans. If you do not do this, experience has shown that the results will be less than you may expect and lead to much unnecessary stress by all parties.
Armed with this knowledge you not only have the opportunity to create a grand design but also to create an energy-efficient building that will add to the comfort and aesthetics of your home.
When designing an energy-efficient building, these are the important considerations to take into account:
Site location.
Building orientation.
Geographic location.
Location of living spaces.
Location and size of windows.
The type of glazing used in the windows.
Use of appropriate building materials.
Use of building materials to maximise energy efficiency.
Controlling the sun's access during the different seasons.
Controlling the ventilation of the building.
Controlling air filtration, such as unwanted drafts.
The type of insulation.
The types of lighting and their locations.
The appliances.
The types of cooling and heating systems.
Using passive or active solar design systems.
2.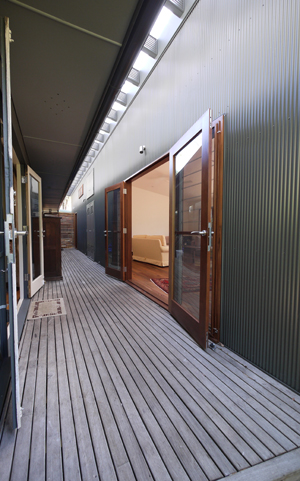 3.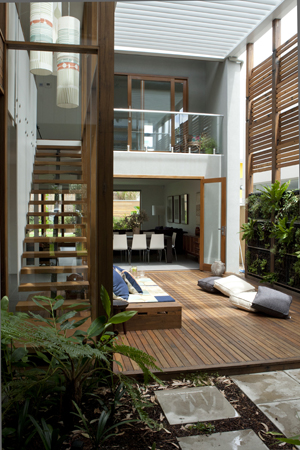 Images:
1. The new addition to the house was located at the rear to connect with the garden space. The roof was shaped to capture the sun over the roof of the front part of the house, while expanding with a pergola and struts to provide a definite entry and shade to the west. Designed by architect Carline Pidcock. Photography by Dean Wilmot.
2. This courtyard was designed for cross-ventilation by architect Caroline Pidcock.
3. The corridor is ventilated by the chimney effect. Designed by Dick Clark, Envirotecture.
By Ian Cleland
From Grand Designs Australia magazine Vol. 1 No. 1