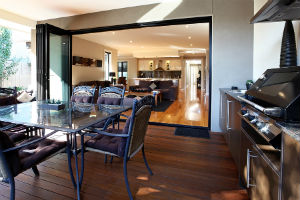 Cantilevered decking makes the most of a sloping seaside garden

Story: Karen Booth
Photos: Patrick Redmond
Faced with a steeply sloping block, and not wishing to cut into the hill, an alternative approach was required to create level, usable outdoor spaces. The solution was to create a series of decks which cantilever over the embankments and extend the home's interior living spaces out into the bushy coastal landscape.
The large areas of deck provide ample room for entertaining. On the main deck there is a built-in barbecue and outdoor dining setting; on the next level down there is a spa, ensconced within a timber surround. This level is protected by glass fencing.
Travel further down the slope and you find a pebble-filled pond stretching along the side of the house. This pond (design by Envirostyle, as was the garden) adds a cooling element and has been carefully positioned so that it can be viewed from within the house. Underwater lighting gives it an enticing glow at night.
In deference to the difficult coastal environment and ongoing water restrictions, a combination of tough drought-tolerant plants, both native and exotic, were used and the garden beds were heavily mulched with pebble and shredded bark to help retain moisture in the soil and retard weed growth. Succulents, grasses and indigenous shrubs feature heavily.
Many of the existing native tea-trees were retained and incorporated into new garden beds or had the decks built around them.