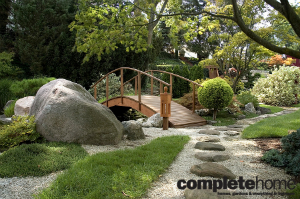 Creating a sense of unity was the key to success when transforming this backyard

Story: Scott Brown, MAILDM, MAIH
Photos: Patrick Redmond
Having designed the front yard of this property seven years before, I was extremely pleased when I was invited to transform the rear garden into a practical and inspiring courtyard-style entertaining space.
The backyard was on a steep slope and the old garden was comprised of different levels, each with a paved area. Because each level lacked sufficient space, whenever the owners had friends over for a barbecue, guests had to break up into groups to sit and eat.
The existing garden also had old concrete cobblestone pavers that did not relate to the architecture of the home, or the brick garage, and the height of the house seemed very intimidating. Overall, the picture was one of disjointed and unrelated elements "parked" beside each other.
The first step was to change the colour scheme of the house and to replace the Brunswick Green barge boards with cement sheet cladding. The two tones (Haymes Lariat and Chamois) used on the house and cement sheet cladding were then incorporated into the paving and planter-box walls of the courtyard to instantly link the outdoor spaces with the house.
Rendering the garage wall, replacing the door and gate, and using the same colour scheme on these surfaces further increased the sense of unity.
The concrete pavers are Tuscan Stone from Texipave. They are reasonably large (375mm x 375mm x 40mm), which avoids the visual "noise" that smaller pavers, such as bricks, might have produced. The main paver colour is Sandstone and the border is Charcoal.
The rendered brick planter boxes also help to minimise the impact of the height of the house, as do the plantings of Camellia sasanqua 'Setsugekka' and a front hedge of box honeysuckle.
The walls are capped with Bluestone pavers that are wide enough to be used as seating. The charcoal grey colour of these pavers matches the Charcoal border pavers and both of these elements relate to the grey colour of the Mintaro slate that has been used as the "face" of the water feature.
This is a gentle water feature, where water drips slowly down to the pond at its base. A more energetic water feature would have noise "bouncing" off the walls of the courtyard, which is something that always needs to be considered in smaller walled spaces.
The two specimen trees are figs (Ficus hillii), both of which were pre-existing and rescued from the black glazed tubs they called home. Textured sandstone-coloured concrete tubs have been used to provide the figs with a sense of belonging, so they don't look like "hang overs" from the old garden.
The charcoal grey trim theme is continued in the outdoor furniture with its charcoal tubular metal frame, further reinforcing the key design message: "everything belongs here".
Scott Brown is a Melbourne based garden designer and founder of Scott Brown Landscape Design.