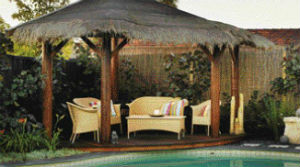 The backbone to a good outdoor area is its shading solution
Story: Rachel Belshaw
With a plethora of shading and roofing options on the market, it's important to consider what option is best for you and your family's lifestyle. Here, you can find information on some of the many different stylish yet protective solutions.
For those who want to control exactly how much sunlight is provided to their outdoor room or entertaining area, switch-operated opening louvre roof systems are perfect. Depending on how the louvres are turned, sunlight may be reflected from or penetrate the area and in the event of rain can be closed to give complete protection from the elements. This offers total control over the temperature and airflow under the roof, and can be done either manually or with a push-button feature.
There are different styles to choose from depending on the lifestyle or aesthetic advantage you are looking for. Finishes can be aluminium, powder-coated, anodised, timber, steel or even concrete-rendered. Whether in need of a patio, verandah, pool area covering or addition to a pergola, louvre roofing products can be made to blend in with the home to ensure a stylish result.
For the ultimate in luxury and peace-of-mind, some systems come with a rain-sensing unit to ensure the entertaining area is always kept dry, meaning your outdoor room will be usable year-round. These systems also have a low-maintenance answer to cleaning. Simply turn the louvres and rinse.
While the pergola has been around for decades, in recent years it has taken on a whole new look. No longer are you limited to a flat-roofed pergola tacked on to your home. Today, contemporary, stylish designs can be tailor-made to your requirements.
Fixed roofing panels are available in a range of colours to suit current trends and blend with most existing home colours. Depending on your home's roof style, you may opt for a gable-style roof, which adds height, dimension and the illusion of space to the addition. This is especially useful if you have a seating area at the back of the yard; when looking back at the house, gabling can be a feature.
A popular roofing choice for pergolas and shade structures is polycarbonate panelling, which is available in several profiles and tints in addition to the usual translucent type. For increased thermal efficiency, you might prefer fixed roofing materials with insulation, which means that you can stay cool in summer and warm in winter. What better way to celebrate the Australian climate than with an outdoor room that's usable year-round?
If your alfresco living area isn't set beneath a pergola or a roofed structure such as a gazebo, an awning can act as a ceiling to your outdoor room and is a stylish, flexible form of shade. Easy to use, retractable awnings can be remote-controlled or switch-operated and allow the user to retract the entire "roof" creating an open-air environment.
Awnings can be constructed with or without a frame, such as with batten awnings. These can be manufactured into almost any size or shape and be installed straight, pitched or curved. However, a framed awning will be a stronger, studier solution.
For a solid roof to an outdoor structure like a gazebo, you can consider shingles, thatch or roofing tiles. Shingles have been used for hundreds of years throughout the world and are still in widespread use today. A very sleek and stylish solution, shingles can be used on gazebos, verandahs and home roofing frames.
Made from natural, renewable products such as cedar, the shingle is a sustainable product for the eco-conscious. Many shingle manufacturers claim that the area underneath a shingled roof can be up to 10 degrees cooler than most manmade roofing products and, when installed correctly, a timber shingle roof is completely waterproof, providing the perfect sanctuary should the weather suddenly turn sour. Shingle roofs can last up to 20 years.
Roofing tiles are often used for larger outdoor structures such as pool pavilions so that they tie in with the look of the house. What you use and how long it lasts will, of course, depend on the type of tile you choose.
With tropical and Balinese inspired outdoor retreats so popular, thatched roofing is on the increase. There are a few different types of thatches (dried grass), but the one that springs to mind most often is the beautifully natural kind that sparks thoughts of Balinese resorts and day spa luxury. A gazebo is most the most common use for thatching overlaid on a timber frame. A thick layer of the thatching will create a waterproof roof and its thickness will determine its lifespan, which can be up to 15 years.
Once incorporated into a backyard, thatching will instantly evoke a distinct exotic, tropical theme. Not just for aesthetics, thatching is also a natural cooling solution, with some manufacturers claiming a 20 per cent cooler shaded area than traditional roofing products. For the home handyman, a thatched gazebo can be bought as a do-it-yourself kit or a professional company can install it.
If you don't want to go as far as adding a thatch-roofed gazebo to your backyard but you still want the relaxed look of natural fibres, bamboo screening, such as Natureed®, can be incorporated into the existing roof structure of a pergola to create a tropical feel. As well as looking great, when using materials such as palm fibre, cane reed and bamboo screening, this addition can cool the heat caused by metal and plastic roofs.
A great way to cover or shade an entertaining or pool area is to use a shade sail. The versatility of the shade sail is in its production. You can choose any size, shape or colour you like to fit perfectly into your backyard and lifestyle, providing coverage for even the most casual outdoor room-style setting. They can be straight, curved or pitched, with or without a frame. Frames create a more stable covered area, while an unframed awning allows it to be easily dismantled and moved if required.
Sails can be UV- and salt-resistant, rain-proof and acid-proof. For greater flexibility, you can add a stainless-steel turnbuckle or pulley system, which allow for tension control. Sails on a pulley system can be left up permanently or taken down during the cooler months, usually in minutes.
Of course, an umbrella can also provide shade and today you can get large pavilion-style umbrellas or umbrellas with a broad canopy that can tilt or rotate to follow the path of the sun.
If you are looking at a permanent shade structure such as a cabana or gazebo, you need to consider not just what goes on top but what you see when you look up. An attractive option for a ceiling is pre-finished timber lining. These boards give a warm, beautiful look to undercover areas and come ready to be installed. Made from sustainable plantation timber and installed into existing structures, timber boards create a completely new look at affordable prices.
If there's a handyman about, the boards can be do-it-yourself installed.
Remember, if you're planning on a built structure, whether it will be freestanding or attached to the house, you need to check with your local council in case approval is required.