Traditionally used to adorn the ceilings and, later, walls in many Federation homes and shops, pressed metal has recently been making a comeback.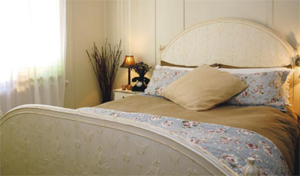 The ornate decorating trend that began with stamped zinc sheeting around the end of the 1800s and tailed off in popularity around the 1950s is again becoming a much sought after decorating element in the 21st century. Beautifully embossed with all manner of designs, including floral motifs, shields, geometric designs from the Art Deco era, fish scale patterns and many other decorative shapes, pressed metal is now manufactured in aluminium, opening up a myriad of new uses. Many of the patterns are made by using the original moulds, if available, or by producing moulds from original pressed metal patterns, when found. These methods ensure the finished product is a faithful replication of the original in every way and the designs range from the very simple to incredibly intricate, so there's something to suit all tastes.
However, it is not just as ceiling panels, cornices and wall sheeting that pressed metal can be used. It can be utilised as splashbacks, picture and mirror frames, under glass as tabletops, as decorative door panels, as artwork and incorporated into furniture in many ways. It can also be painted or distressed to match your existing décor. A younger generation is now discovering what a stunning impact pressed metal can make and it is becoming widely used in nightclubs, hairdressing salons and clothing stores.
The aluminium is easy to work with, lightweight and can be cut with tin snips to any shape you desire. It can be secured to a substrate by nailing or screwing, after pre-drilling clearance holes, and may also be attached by gluing with construction adhesive, if attaching to brickwork or masonry. Being aluminium the pressed metal is rust-resistant and, when properly undercoated and painted, will last many years, making it a great choice for bathroom and kitchen areas.
When it comes to decorating with pressed metal, you can really think outside the square. Incorporating pressed metal into pieces of furniture can really make them stand out from the ordinary. It looks amazing set into bed heads or toy box lids, drawer fronts, entrance doors and even used to create boxes of all kinds from firewood boxes to tissue box covers. It can be used to make fire screens for covering fireplaces in summer to panelled screens for hiding your home office from guests in a spare room.
Talking about home offices, I plan to have my husband pop rivet panels to a modern filing cabinet to give it old-world charm. As aluminium isn't magnetic, you would only have to paint a framed panel with magnetic paint to create your own magnetic noticeboard. My husband even joked that you could camouflage modern whitegoods by adhering pressed tin panels to the sides and fronts, which I think they would make them look awesome.
Adding panels to the side of a cupboard will give it a vintage appearance, as will inserting them into cupboard doors. Kitchen doors and splashbacks give an old-world feel to a home but will add elegance, rather than make the house look dated. If you have a plain cornice around your ceiling, why not consider replacing it with a pressed metal one for a focal point?
Pressed metal makes fantastic decoration on walls. Mirrors of all sizes can be framed and used in bathrooms or displayed throughout your home. Family photos, pictures and prints can also be framed in pressed metal and proudly shown off. In fact these stunning panels are so ornate that they can be painted, framed in timber and become the artwork themselves.
So think outside the square, have some fun and see what pressed metal can do for your decorating. You really are only limited by your own imagination.