For such an exceptional property, only the finest-quality travertine paving would do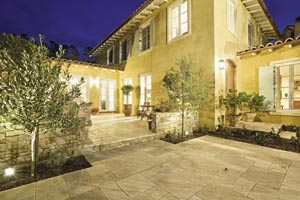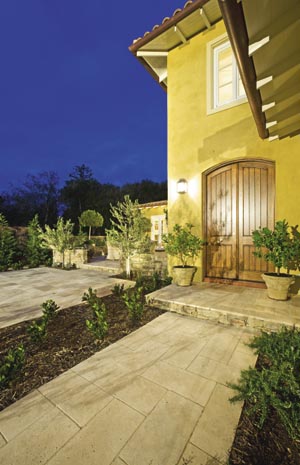 The construction of an exceptional home in an exceptional location requires nothing less than the design and construction of an exceptional landscape. The key to achieving an outstanding result is the right combination of elements, from the plants and garden lighting to the retaining walls and paving.
Selecting the right paving was critical to the success of this Mediterranean-style landscape, which wraps itself around a beautiful coastal home. The designer, Justine Carlile of Justine Carlile Landscape Design based in Melbourne's Brighton, wanted a stone that would not only have the requisite character but also durability and timeless appeal.
After carefully considering the options and consulting her clients, Justine decided on travertine, an elegant limestone similar to marble, which has timeless appeal.
Turning to Yarrabee, Justine selected tumbled, unfilled travertine in a French pattern; that is, a mix of squares and rectangles of various sizes. Tumbled stone has a softened, aged appearance and, when left unfilled, retains all its natural flaws and imperfections, giving the product incalculable charm. The final piece of the puzzle was the installation, which was carried out with skill and precision by Simon McCurdy Landscapes Pty Ltd of Hampton East, Melbourne.
Travertine is a timeless product that is always in fashion. While other products come and go, travertine retains its air of elegance. Sourced from Turkey, Yarrabee's travertine range includes tumbled, unfilled stone for external use in two main colours (Classic Ivory and Noce) and honed, filled travertine for elegant internal applications.
Travertine is ideal as flooring, general paving and for pool surrounds. And because it is salt-safe, it is ideal for use around salt-chlorinated pools.
Why not call into the Yarrabee showroom for a first-hand view of the entire range of travertine, sandstone, limestone, slate, bluestone, granite and Castlemaine Slate and Stone products? Yarrabee is sure to have just the right product to help you create your exceptional landscape.