Finish off your pool area with style and class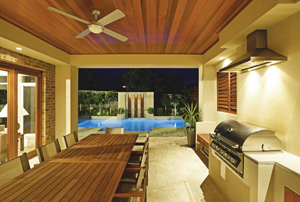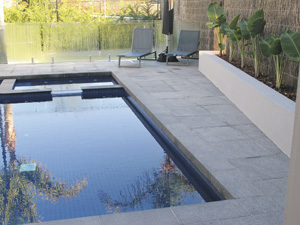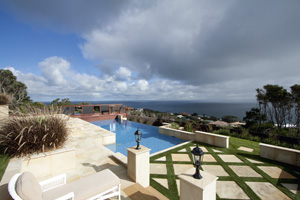 A pool becomes the focal point in any landscape design. It needs to be placed in a practical position, shaped for the intended use and have captivating appeal.
Once the practical issues are addressed, the achieving of "captivating appeal" becomes the final challenge.
The coping and surrounding paving will comprise, more often than not, a substantial proportion of the entire project, so the right selection here is critical — not only from the aesthetic point of view, but also from the perspective of salt tolerance and, of course, slip resistance.
Yarrabee & Castlemaine Stone Solutions has been providing beautiful natural stone to the pool industry for decades and is the perfect place to start your selection process.
Classic Travertine in a French pattern has been used to form the paving in this exceptional entertaining area and pool surround. The soft tumbled edges of this exquisite Turkish stone allow the pattern to flow all the way to the pool edge. Designed by Justine Carlile Landscape Design, pool built by Brighton Pools, landscaping by Simon McCurdy Landscapes.
Desert Sand Sandstone completes the picture in this stunning setting. Used as the pool coping, paving areas and even as the large steppers in the turf, all points including slip resistance, salt tolerance and aesthetics are more than covered. Designed and constructed by Geoff Burke Pools and Landscaping.
Raven Flamed Granite forms the paving and the "drop face" coping in this outstanding renovation of the pool and home carried out by Seaview Homes. The drop face coping is carved from a single piece of granite — no joins — and gives the illusion of 100mm-thick solid slabs of stone forming the pool surrounds.