Customstone SA present quality concrete paving, coping and walling for classic and contemporary gardens.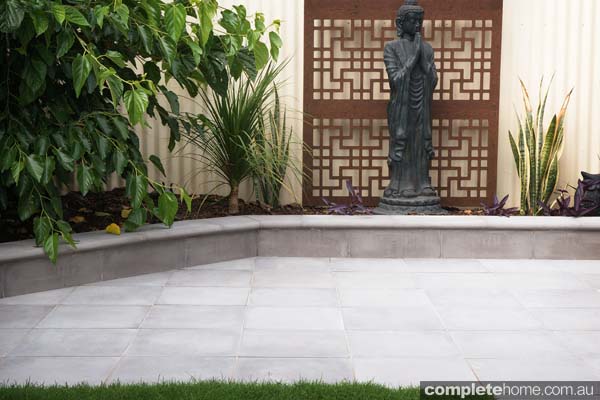 The modern Australian family spends a lot of time by the pool or in the garden so it makes sense to choose paving and walling products that can stand up to the wear and tear of daily use. Good looks are, of course, important, but durability, strength and ease of maintenance are essential.
Ticking all the right boxes, Customstone SA produces a high-quality range of contemporary concrete paving and coping products with complementary walling. Each product is hard-wearing, of consistent size, thickness and finish, and comes in a variety of colours and finishes.
For safety in the garden or around pools, spas and water features, the pavers have slip-resistant surfaces. If you live in a coastal area or have a saltwater pool, you can take comfort in knowing that the pavers are salt-resistant.
For design flexibility, Customstone SA's large-format pavers are available in five sizes (400mm × 400mm, 450mm × 450mm, 500mm × 500mm, 600mm × 300mm and 600mm × 600mm). These can be teamed with the driveway pavers (300mm × 300mm and 400mm × 400mm), coping (400mm × 400mm, 500mm × 500mm, 500mm × 350mm with corners to match) and the mortared walling (500mm × 250mm × 200mm). Straight pool coping (800mm × 400mm) and some radius coping are also available.
By using Customstone SA's large-format pavers, you can make a small outdoor space appear larger. This is because of the reduced number of join lines, which ensures an uncluttered look. Replacing sections of lawn with easy-care paving can also help reduce your water use and time spent on garden maintenance.
Whether you're planning a contemporary or classic outdoor project, there are many colours and finishes to choose from. You can be assured of finding something of a complementary tone and texture. For paving and coping, various custom and honed finishes (where the aggregate shows through) are available. While the exposed-aggregate finishes are particularly popular at the moment, the smoother finishes are still in demand. The projects shown here feature Oatmeal bullnose coping with 400mm x400mm x 40mm Traditional pavers and Bluestone Traditional walling blocks, bullnose capping and 400mm x400mm x 40mm pavers.
To ensure a fully co-ordinated look throughout your outdoor areas, most Customstone SA products, which are all made to order, are available in the company's complete range of colours and finishes.
For more information
Customstone SA 1-3 Bayer Road, Elizabeth South SA 5112
Phone (08) 8252 9633
Mobile 0408 832 662
Email info@customstonesa.com.au  
Website www.customstonesa.com.au
Landscaping by Dig Landscape Design & Construction PO Box 115, Henley Beach SA 5022
Mobile 0431 961 579, Anthony Huxtable
Email diglandscape@adam.com.au
Photography by Sarah Long
Originally from Outdoor Design and Living magazine, Volume 29