Helping you start to build your dream pool.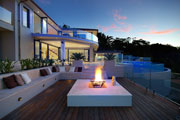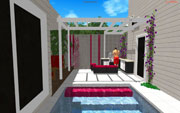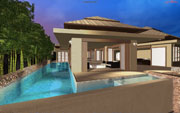 Photos and plans courtesy of Peter Glass and Associates, A Total Concept and 4Blue.
It's easy to dream about having a pool in your backyard, which could mean a new focal point for the garden or perhaps creating a whole new area for your property — but where do you start when it comes to design? These days you have a variety of options available to you, from the highly technological to the trusty design processes that have been used for years, which can offer you a helping hand to translate your ideas to reality.
The first step
Think about what ideas you may like in your dream pool. How do you make these a reality? Simple. Talk to those in the know.
Start at the basics. Where on your property can you imagine your pool being located? What are your specific needs for the pool? Once you have this figured out, it's time to speak with the professionals.
Contact a reputable pool builder or pool designer. While many pool builders design and construct the pool from start to finish, others prefer to work from plans from a landscape architect or designer. Either way, these industry professionals hold a wealth of information that can assist you in bringing your dream pool to fruition.
Peter Glass of Sydney's Peter Glass & Associates says a consultation from a design expert before the construction of your pool and landscaping project can provide huge benefits in the long run, including the best possible design solution, maximum value added to both your property and your lifestyle and peace of mind from knowing that everything is being looked after by the experts.
"Pre-planning is important and the old saying 'if you fail to plan, you plan to fail' is often true," Peter says. "When it comes to the design elements of the project, it is important to plan the pool and landscaping at the same time. This also includes all poolside areas such as the spa, shade structures, retaining walls, paved areas, pool fencing and drainage solutions.
"When I visit a site to meet with the owners for the first time, one of the first things I like to do is determine what level of design is required and what will best suit their lifestyle, site and budget. Every project we design has a specific set of requirements in mind; no two projects are ever the same."
Visualise your pool
With the many changes in technology over the years, it is no surprise that you can now take a swim in your new pool or a wander around your new garden before the first sod of earth has been turned.
Jamie Loft of Queensland-based 4Blue landscape architects and specialist swimming pool builders says the virtual reality programs available can give clients a realistic look at what their completed pool and landscape will be like.
"This also gives them the chance to change small things in a flash, such as the colour of the pool interior, allowing the client to make decisions based on tastes and aesthetic appeal. For example, they can view their preferred concept in a pebble pool interior, a tile or a quartz, all at the click of a few buttons," Jamie says.
"We figure if we can show it to you visually, as in take you on a tour of your design and backyard, you can imagine it with us and make educated decisions about what works best for you."
From a builder's point of view, the visualisation programs provide an avenue to realistically communicate the design and ideas to clients. The clients also gain from seeing their dream pool before it has been built, as they can decipher whether the design meets all their requirements and needs and can see whether their pool will enhance their property and be aesthetically pleasing.
"The obvious benefit of the 3D is that clients are more involved in the entire process. They can view the pool and its surrounds from all angles and check simple things, such as how high a wall at one end of the pool will be and how that will work within the property," Jamie says.
Peter Glass says a combination of both visualisation software and drawn plans are used within his company. "We use both, as plans are required to submit the project to council for approval, to obtain tenders and to form part of the construction contract as well as enable the project to be constructed. We often use a combination of plans and 3D visual imaging to help the client picture exactly what their finished project will look like well before construction commences."
Formal drawn plans are legally required for the approval process. The formal plans are used for council approval, contractual purposes and to show the project specifications for those projects that get tendered.
John Storch of A Total Concept Landscape Architects and Swimming Pool Designers says well-created plans are essential to the quality finish of a project.
"Using the formal plans when going to talk to a pool builder or contractor can also save money for the client. The client has a chance to compare apples with apples, as each pool builder is quoting from the same set of plans rather than a wish list or set of ideas," John says.
Keeping it real
While the temptation to create a huge design feature for your backyard can be irresistible, common sense has to be used when pondering a design theme.
John Storch says while adding a giant budda may seem like a great idea to add an ethnic touch to the design, it may look rather silly in the light of day. "At an initial consultation with clients, we sit down and ask about their likes and dislikes, their lifestyle and requirements for the swimming pool and garden areas. From there we make suggestions that would suit the home, the property, the budget and other such requirements they may have."
"We listen to our clients and make suggestions to develop their ideas into a successful design. We also let clients know when their ideas are not suitable and give them alternatives. Often we help to develop the budget for the overall project as well."
Designing your pool? Here are our top tips

When designing the swimming pool and garden, consider everyone's needs and how to address them.
Keep your budget in mind at every step of the way, as you don't want to run over budget at completion of the project.
Investigate all underground services. Know where they are and research all the requirements you need to get approval to dig around these.
Unify your design with your home. The style must be compatible but not necessarily the same as the house.
Simplicity is the key. Simple designs always work better for swimming pools than intricate, over-the-top ideas.
Ensure your design is timeless. That Mexican vase may seem stylish now, but what about in five to 10 years' time?
Make it easy on yourself. Invest in a low-maintenance pool system for cleaning and filtration now to save both time and money later.
Enjoy it. Have fun with the design process and ensure the end product is exactly as you want it to be. After all, it is your dream pool.
Don't make impulse decisions. Take your time — your pool will be part of your property for a long time.