Words by Catherine Stewart   
Designer rugs, lamps and furniture … you're spoiled for choice when furnishing outdoor spaces.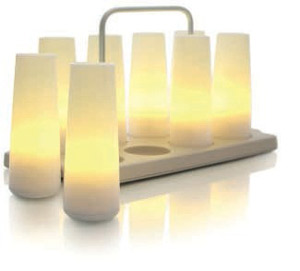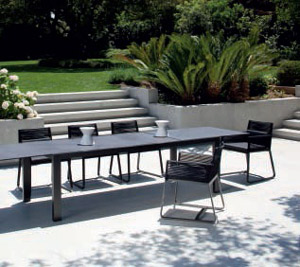 Personalising your outdoor space:
Whether you're setting up an outdoor entertaining area from scratch or refurbishing and replacing some tired or out-of-date items, furnishing and accessorising is a lot of fun. Once you had to make a lot of compromises, or choose from a limited range, but now there are quality materials that cope much better with long hours of sunlight, rain and wind. Even those on a tight budget can have a real designer look. 
While you'll want furnishings that meet your family's needs, a good outdoor entertaining area should also be filled with individuality. Personalising the space with decorator accessories, fabrics, rugs, lighting and art will draw you outside much more than a bare table and chairs, no matter how comfortable and serviceable they are. 
Start off by deciding your main uses for the space. Most people want to be able to eat outside, but you should also think about reading, serving tea, playing games, lounging around, listening to music (or the birds), admiring the view and getting through home and office work. The better you configure furniture choices to suit multiple uses, the more time you'll end up outside instead of stuck indoors.
Sizing things up: 
Before you jump into furniture choices, you need to work out exactly how much room you've got to work with. Recognise and maintain obvious through routes so you can still get to the garden, or storage and utility areas. Look at how your external doors and any exit pathways or stairs line up so you don't put in annoying barriers you'll have to keep skirting around, and also keep easy access to outside power points, light switches, sliding shutters and awning controls. Once you've worked out these pathways, you'll be able to see the size of the furniture zones that are available. 
Next, look at how the sunlight moves across the space in different seasons. By mid afternoon in January, in southern Australia the summer sun on the northwest and western side will shine in two metres or more beneath a 2.5m-high canopy. During a long, hot afternoon, you don't want half your lunch guests to bake, so you'll need to be able to locate, or move, dining chairs further in on that side.
Accomodation:
Once you've got your furnishing zones measured up, the next step is to decide how many people you want to accommodate for each activity. Dining for six requires about 10m² and 10 people 15m², plus any access walkways needed behind chairs. A little tete-a-tete space with cafe table and two chairs can nestle into only a couple of square metres. An outdoor lounge area will seem too cramped if it's less than 4-5m².
Many manufacturers now offer extendable or modular furniture, which can quickly be reconfigure for different uses, numbers and space saving storage. Look for outdoor dining tables that change from six to 12 seats and dining chairs that push completely under the table, disappearing when not in use. Outdoor lounges come in separate modular pieces that lock together for a bigger group, or pull apart for reconfiguration into smaller, more intimate arrangements. The innovative Rausch Eden Roc system, for example, uses interlocking circles to make armchairs, couches, extended loungers and side tables from mix-and-match pieces.
Choosing the right material:
Choosing the right material involves assessing your priorities for comfort, style, longevity and price. Outdoor areas are punishing environments and you do get what you pay for, with cheaper options often not lasting. Better-quality furniture will have a three-year warranty. Neutral colours are the easiest to decorate around and you can re-work their look over and over with new cushions, throws and decorator items. Stylish grey, coffee, cream, silver and black fit with any theme and can be instantly lifted with splashes of vibrant colour, such as a strategically placed Vordoy-style butterfly chair.
Synthetic wicker makes light, comfortable and stylish furniture which is often quite pleasant to sit on without extra cushions as it stays cool even in hot sun. Couches, chairs, ottomans, daybeds and glass-topped tables can be co-ordinated with matching screens, storage and planter boxes and even dog beds. Internal frames are usually powdercoated aluminium. Expect to pay up to $3000 or more for best-quality lounge furniture, or $500 for a chair with all-weather cushions, although there are better bargains around as competition increases.
Ecolene wicker has very good UV and moistureresistance and uses only organic colorants. Timber ranges from treated pine tables and benches through to quality local hardwoods and imported timbers like kwila (merbau) and plantation teak. Timber furniture is heavy and not easy to move around. If well made, with good-quality timber (not thin offcuts), mortise and tenon joints and stainless-steel fastenings, it's durable if properly maintained, which means re-oiling, varnishing or painting every one to two years, or you can leave teak to weather to a silvery grey. Faux timber offers a close approximation to the look, without the need for maintenance.
Tubular PVC resin is a good choice in areas with salt-laden winds, where materials like metal cannot withstand corrosion. It also stays cool in hot sun and is heavy enough not to blow around.
Metal furniture is made from powder-coated aluminium, stainless steel (both polished and painted) and cast iron. Aluminium is very light and long-lasting, with many colours, faux finishes and styles, although the surface can be affected by UV and salty winds, especially in cheaper versions with thinner coatings. Sling-mesh seating is ideal as it's light, quick-drying and always cool. Some use double mesh for a bit of extra padding. Cast iron needs regular painting to keep it rust free.
Stone is obviously a stay-put choice, but the colours, patina and solidity make it worth considering. You can buy travertine-, marble- and granite-topped tables in either a single slab, or as set-in tiles. For the ultimate individualised table, commission an inscribed table top in Mintaro slate from artisan lettercutter, Ian Marr. If you like the appearance of stone but not the weight, look for faux stone, made from GRC (fibreglass-reinforced concrete). This comes in a wide range of sleek contemporary shapes and more traditional marble-look tables. Yardware, for example, has an extensive range of GRC tables that can be matched with GRC bench seating or metal chairs.
Decorating:
Once your main furniture purchases are made, it's time to start decorating. Outdoor fabrics are weatherproof and colourful, and mildew-free if you clean them off regularly, as mildew grows on dirt rather than moisture. Mix and match stripes, checks, geometrics and florals within a colour range, or if you're a bit more conservative, pick up one or two colours from a pattern to highlight. Fab Outdoor Fabrics, Warwick and Online Fabric Shop have great websites, with colour and pattern ideas and fabric samples. Other outdoor ranges to look for include Mokum's Meridian Australian Botanicals Outdoor collection, Elfresco from Marco Fabrics, and the Mahesh Outdoor and Tick Tock Outdoor ranges from No Chintz. You can use fabrics for cushions, beanbags, awnings, throws, banners, flags, roll-down sunblinds, tablecloths and wall hangings. Make sure cushion inserts are a quick-draining foam.
To keep darker pavers and timber cooler in summer, or to make a cosy outdoor room in winter, spread out a rug. Polypropylene outdoor rugs come in either quiet sisal-look neutrals or in electrifying brights and stripes, like polyethylene freek rugs, which have the luxurious feel of plush carpet. If you're not after a plush feel but you crave colour, there are the French-designed Imandeco polypropylene outdoor rugs and the Swedish Pappelina range, available through Nordic Fusion.
Decorator items need to be chosen with care as many products that look like they might be durable outdoors will quickly rust, fade or discolour when exposed to UV and rain. Durable materials include painted powder-coated aluminium, quality wrought iron, corten rust-look steel, cast concrete and resins, tiles and mosaics, glass, perspex, fibreglass and stone. You can opt for custom-designed pieces or you can choose your décor from outdoor ranges such as Patio by Jamie Durie, which offers everything from statuary and lanterns to cushions and furniture, or online stores such as The Savvy Garden.
Lighting:
Lighting adds the final flourish to an outdoor entertaining area. Decorative outdoor lamps use low-maintenance LEDs, safe low-voltage power or batteries, and weatherproof materials. Nick Moore's ultra-stylish Umbo collection is at home either in the garden or decorating a side table. Candela's rechargeable LED eight-lamp set is a perfect candle substitute, or look for Vondom's beautiful outdoor-rated Lamparas glowing spheres and Moroccan-inspired Mora lights.
Coloured LED lighting can add an amazing night makeover to daytime plain neutrals so why not experiment a little and create an outdoor decorating scheme that is uniquely yours.