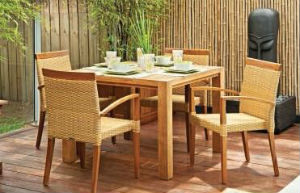 High-end outdoor furniture designed to enhance any outdoor living space, big or small
Photography Patrick Redmond 
Outdoor Megastore is proud to announce the introduction of an exciting and exclusive range of outdoor furniture from Satara Outdoor Living. The Satara Outdoor Living range is Danish designed and skilfully handwoven in Indonesia. Each piece is made from all-weather synthetic weave that is virtually maintenance free and safe to leave out in the sun and rain.
Satara offers a wide range of product enabling homeowners to use pieces of the same style from the pool area right through to lounge and dining areas, ensuring a totally cohesive look. Products available include the classic Trend Modular sofa with coffee table and the Porto Dining setting (both pictured here), sun lounges, exquisite daybeds and contemporary pieces such as the new Splash Chair and the designer Bliss Chair. There is also a range of complementary accessories.
Each piece in the Satara range is available in various colours. Pop in to the Outdoor Megastore showroom to see a complete set of Satara's Trend style in Irish Coffee — a refreshing change from standard Java Brown and Natural, although they are still available. Create a unique and stylish outdoor area by combining with a Shelta Cantilever Umbrella (as shown here), available in a wide range of colours and sizes.
Once accessed only by designers, Satara Outdoor Living's collections have graced the outdoor areas of resorts, hotels (most recently, the pool area of Melbourne's new Crown Metropol Hotel), airports and high-end residential projects around Australia and throughout the world. Now you can access these pieces directly from Outdoor Megastore.
Priding itself on providing customers with the widest possible array of high-quality outdoor furniture, Outdoor Megastore also carries the Kettler and Royal Gardens range from Germany. These pieces come with a five-year warranty and are manufactured using a unique three-stage hot galvanising process that offers excellent protection under all conditions and an easy-care surface. Kettler and Royal Gardens recently introduced a new colour, Champagne, providing an exciting alternative to the more traditional Iron-Grey and Graphite.
The coming season also sees some rebranding of the Kettler and Royal Garden range with the introduction of MWH into Australia, one of the largest manufacturers of outdoor furniture in Europe. The products have been split into different divisions. Some product that was previously marketed as Royal Garden will now be marketed under the MWH banner, others under the Kettler banner.
Another exciting range comes from Leblon Design, which offers Burmese teak in a selection of designs including double extension tables (to three metres), folding chairs, reclining folding chairs and furniture featuring anodised aluminium frames or stainless steel with teak inserts.
Recent additions to the range are a new slimline teak table (measuring 75cm wide and 180cm long) designed for balconies and small spaces and a full teak cushion box with waterproof insert that can also double as a bench around the pool or outdoor dining area.
The 2010/2011 season promises to be an exciting time for Outdoor Megastore with more new products — some never seen before in Australia — to be announced.
For more information visit www.outdoorfurnituremegastore.com.au