With the advent of Kit-homes, building your very own home has never been so easy.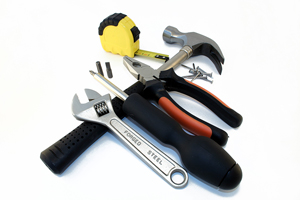 Nestled in the heart of the Blue Mountains, west of Sydney, Brian Gillan's cottage-style kit home sits nearing completion on a block of land next to his family home. Brian explains that keeping costs down was his major motivation in choosing to build the home himself. As he had basic building experience and no strict time frame, owner-building provided him with a flexible and cost-effective option.
"We want to eventually sell the home or use it as a rental," he explains, "but it's more of a long-term plan, so I could fit the building work around my other work as a potter without too much pressure on getting it finished." 
The cosy miners' cottage design features an upper-level sleeping loft under a 45-degree roof pitch. The home fits neatly into the tourist-friendly village of Leura and for Brian, choosing this design was one of the easiest parts of the whole process.
"We knew the style of home we were after and did a lot of driving around looking at houses," he says. "We saw the house we wanted being built, so we pulled up and had a chat to the builders." 
This started the building process which has been ongoing for the past six years. Brian contacted the kit home manufacturer, had the materials delivered and paid for them upfront. He describes his experience with the manufacturer as brief but very positive and admits that even though the option was there, he didn't need to call them up to ask for any advice. 
"You've got to have some knowledge yourself," he explains, "and I've helped build homes before. They supply everything and give you instructions and a list of materials, so that part was all pretty straightforward." 
Brian organised building permits himself through the local council and put up the frame with the help of friends, fitting the rest of the construction work into his spare time. At different stages, sub-contractors were called in to help with things like the sub-floor and roof pitching as well as the electrical and plumbing work. This is one aspect of owner-building where Brian believes things could go wrong.
"It's important to be realistic in your attitude to your own skills," he explains. "With things like the sub-floor and the roof pitch it's absolutely vital that it's done right. So I think where you can't do something, don't touch it, get someone in or better, make friends with a builder." 
Brian's biggest piece of advice to potential owner-builders is to estimate the time and cost you envisage being involved in the building process, then double it. 
"You can't think of everything you're going to come up against," he explains. "For one thing, I hadn't factored in using scaffolding to work on the roof of the house and that meant laying out a lot of extra money." 
"You can do a lot yourself," he adds, "but tiling, plumbing, electrical work all cost a lot. And it's the little things that really add up, like the price of nails." 
Having said this, Brian doesn't regret building the home himself at all and, now the project is near completion, describes it as a huge learning experience. 
All that remains is for the water tank to be connected and the last coat of paint put on, then the vision he had six years ago will be complete.
"It looks great and so far it's mainly been used when the family comes up to stay and it's really useful to have it here just for that. But eventually," he admits, "we would like to use it as we planned years ago."
Go your own way – the pros and cons of owner building:
Savings – As an owner builder, you can save money that a builder would charge to organise and manage other tradespeople. Building a kit home yourself with the help of sub-contractors is cheaper than paying a builder. You can save on the cost of GST on the builder's labour. Many owner builders find they can save around 20-25 per cent on total building costs. The savings mean that for some, they can afford a larger house than if they had it built by someone else. 

Personal satisfaction – Building your own kit home and then being able to say "I built this" is quite an achievement. It's an expression of the pioneer spirit – leaving a mark on the land. 

A bonding experience – Owner-building a kit home could be an experience shared with family and friends or someone in the local community. It could bring people together and start a friendship. 

Responsibility – Being an owner builder means you have all the responsibilities of a registered builder. This can't be delegated to anyone else. You are responsible for the day-to-day management and supervision of the work. 

Skill and patience – Many people owner-building their own home may juggle the project with full-time work, which means they may only have weekends and holiday time to complete the task. Also, allowances need to be made for bad weather. While kit companies do offer technical expertise, it helps to have basic handyman skills and be familiar with the tool kit.