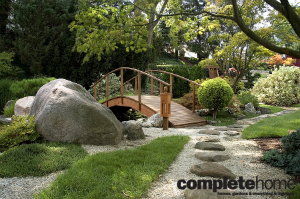 Replica feature rocks, waterfalls and ponds … so real, so light, so easy
Universal RocksTM , an Australian business established in 1996, is a proven market leader in the production of artificial rock made from polyurethane and polyurea. Easy to cut with a sharp knife, products can be installed in just about any location — and they're able to withstand extreme heat and cold, so no winterising is required. What is more, each item is individually handmade and coloured, making it unique.
If you want to transform a garden by introducing a stunning water feature, you can do so in just one weekend. Universal RocksTM offers myriad waterfalls, cascades, creeks, ponds and feature rocks you can mix and match to create a look that is uniquely yours.
You might want to start with a small trickling waterfall in your front garden and finish in the backyard with a meandering creek or even a spectacular cascade of water that tumbles off the edge of a cave into a pond below. Anything is possible.
For those who want an off-the-shelf solution, there is a range of self-contained units. These are all-in-one waterfall and pond combinations and are the easy answer to creating your own sanctuary. Just position on a hard surface, fill with water and turn on. What could be easier?
The Swimming Pool range of waterfalls and edge rocks is equally versatile and allows you to transform a pool, new or old, into a beautiful oasis all year round.
Conventional bush rock can be heavy to handle as well as expensive. By using natural moulds, Universal RocksTM is able to produce features that are virtually indistinguishable from authentic bush rock and they have the added bonus of having been hand-modified to ensure optimum water flow and control.
Because of their light weight, these products are easy to transport (whether through the house or up a lift) and can be lifted by people of all ages.
Call Universal RocksTM direct for your nearest distributor, a colour brochure or a copy of their free step-by-step installation DVD.
UNIVERSAL ROCKS
Tel: (02) 9533 7400
Email: info@universalrocks.com.au
Website: www.universalrocks.com.au