Following an impressive design by Gareth Cole of Ecologie Group Architects, a unique transformation from a 1950s inner-city bungalow to a new contemporary, environmentally conscious home came to fruition.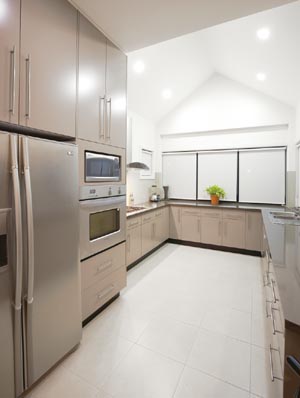 The clients' wish for their new three-bedroom home centred on sustainability and energy efficiency.
"This house is a passive solar design, with maximum insulation and maximum thermal mass. All floors are tiled concrete floors, the hot water is heated by the Hills Solar evacuated tube collector system and the house uses all its own tank water to the point of almost being self-sufficient," Gareth says. "This is a modern house with plenty of storage. It is thermally comfortable with no need for airconditioning. The design explores and delivers the most it can offer for the compact size of
the property."
It is a home that caters perfectly to the clients' needs, with a built-in gym and a loft which is used as a study and storage area. The spacious main bedroom with ensuite and walk-in robes services the owners, while another two large bedrooms and the main bathroom, in a second pavilion, look after the growing family. This pavilion accesses the northern deck area, which is shaded with a stylish sail.
The main living room is on the ground floor, while the combined kitchen and dining space opens out to a southern courtyard, with the addition of a northern courtyard for alfresco entertaining.
The rear of the yard houses a double garage and the substantial water storage tanks sit between the garage and the boundary line.
Although the house is a great success, the design and subsequent construction of the home by the E-Con Group was not without its challenges.
"We had to overcome many council constraints and there was a very high water table on the site. When we excavated for the basement area, three metres down, the hole filled with water very rapidly," Gareth says.
Photography by Marian Riabic