Concealed by the suburban bush, this Edwardian home now shines in a modern light.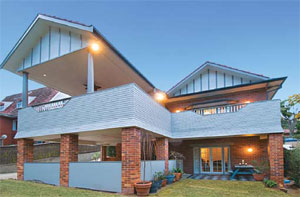 Once a charming period style home, this appealing residence now sits comfortably hidden in a beautiful suburb surrounded by bushland. The main challenge of this project was to find ways to expand and revitalise the home, while maintaining the allure and sophistication of its traditional past.
Thankfully, Roshills Constructions understood the need to preserve the look and feel of the building while refreshing its tired appearance. "The house had virtually no living space," says John Rostirolla, director of Roshills Constructions. "It had a dangerous rotted outside deck, and was dark and pokey."
The company was under strict instructions to protect the history of the building due to its heritage detailing. In order to adhere to this, Roshills Constructions re-used many of the existing features such as the cedar windows and doors to continue the original effect. This decision marked the beginning of an intriguing renovation; a mélange of old and new.
Special considerations were implemented to ensure the house still held its traditional charm in keeping with the style of the other houses on the street. Stained-glass windows were sourced by the owner;  the addition of the windows complements the traditional detailing, inviting different aspects of light throughout the interior. The shafts of light created by the stained glass not only offer vibrancy, but also create feelings of warmth and space when contrasted with the existing jarrah floorboards in the kitchen and the new cypress pine timber flooring throughout the rest of the dwelling. With the addition of more light and space, the inclusion of another bedroom upstairs and the views of the beautiful bush surrounding the home have converted the cramped property into an enchanting, spacious abode.
The outside balcony was dilapidated; its rotted base was both dangerous and unappealing. To combat this, the company replaced decayed timber with tiles; this gave the outside of the home a completely refreshed look and also meant a new carport and garage could be added. "The rear balcony featured solid bellcast handrails which were matched exactly to heritage standards," says John. "It was critical to be sympathetic to both the house and street to enlarge this house without it appearing like an extension."
The home's transformation not only had to adhere to strict heritage guidelines, but also bushfire requirements due to its location. Yet, despite these restrictions, Roshills Constructions has built an inspired project.
The company's work on this home was acknowledged with both a Master Builders Association NSW award and then the National Excellence in Housing Award in 2010 for its alterations and additions, a national accolade for its success in modernising the home while preserving its historical feel. John knows what makes this project special. "This home still has the charm of the 19th century with the liveability of the 21st century."
Roshills Constructions,
0418 431 054
02 9651 4882
john@roshillsconstructions.com.au
http://roshillsconstructions.com.au