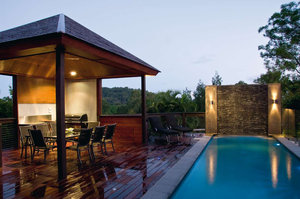 This architecturally designed Ingenious Intelligent Integration creation is a picturesque property set on around 5 hectares with worldclass landscaping you'd find at Chelsea Flower Show.
Starting with a traditional farm house, this property has been renovated and extended to create a spectacular residence. The five-bedroom building with two living rooms is set on a high point overlooking several dams and sweeping, terraced, low-maintenance gardens while retaining several stunning mature trees. The new construction is tilt-slab concrete and block with polished concrete feature walls and floors. If you are lucky enough to see it just before dusk the gardens and house are transformed by all manner of effect and functional lighting, with the usual Ingenious Intelligent Integration panache and technical skill. Bollards light the 220m driveway to the front gate, which is serviced with an Aiphone Video Intercom System and remote gate opening plus a weatherproof gate keypad to allow code access. Part-way down the drive is a beautiful natural rock feature with a small structured garden and inground lights leading to the stables and work sheds. Outdoor lighting effects include in-ground metal halide lights for the established trees and palms, providing brilliant illuminated canopies at night.
Once you've breezed through the botanical wonderland and you enter the house you see why everything just glows with style. If you are going to do programmable lighting you really have to choose Dynalite. Dynalite was recently taken over by Philips — the biggest lighting company in the world — and is going from strength to strength. Dynalite already stands out in the Australian marketplace. It is a commercial-grade product and its key product benefit is its incredible flexibility in terms of customising to individual client requirements. Aesthetically, the Dynalite wall panels come in a wide range of glass, metal or even wood finishes and in addition can be virtually made in any material or colour to placate the most demanding design diva. Deanne Axelrad, Ingenious's senior lighting designer, says, "We have more than our share of discerning clients who tend to have eclectic and cosmopolitan tastes in colours and materials, so the ability to match any material or colour with the Dynalite wall panels is often a deal maker for many clients who understand the importance of quality details in an up-scale house."
Functionally, the Dynalite system offers clear advantages. All wall panel buttons are programmable to offer a wide range of options. Any button anywhere in the house can be programmed to be a simple on/off of one light through multiple lights and indeed to whole house on/off functionality. In addition, dimming levels can be set or varied, or made into certain scenes — eg dinner, TV, welcome and bedtime — which can involve any number of lights and dimming levels at the touch of a single button and without the need for expensive touch panels. Every Dynalite circuit can be timed to come on or turn off a time to suit the lifestyle of the owners. In this house the Dynalite controllers are located on each level to minimise cable runs, which is a real boost when dealing with necessarily restricted service ducts between floors in a concrete slab. Light fittings are a challenge with the current fast-moving energy-efficient legislation. Deanne chose a mix of metal halide, LED and fluorescent fittings. Deanne adds, "LED technology is developing fast and LEDs offer a number of advantages for feature and accent lighting that can create a very sophisticated ambience in a quality home." The special lighting effects for the seven-metre black onyx walls with glassed bridge to guest zones in the entrance lobby are purely ingenious. Because the AV system is Ingenious, it is state of the art. The heart of the system is Crestron Control. According to Ingenious's system engineer Andrew Roach, "At the top end there are only a couple of brands to choose from and Crestron as a total package is the best." The Crestron programming was completed by Ingenious and Andrew advises that you make sure you have a certified programmer doing it. The Crestron system enables a Dynalite button press to also work the audio and a SpeakerCraft keypad press can work the lights. Ingenious, really! In the living room and kitchen area there is a touchscreen in-wall computer that allows control of all lighting in the house. The screen has dynamic feedback of lighting changes in remote rooms, full control of the distributed audio-video system plus full computer functionality. This means web browsing, email, recipes and more are available at the touch of the screen or by using the wireless keyboard and mouse kept in the purpose-built cabinetry designed to house the whole house equipment. Distributed audio-video is via a SpeakerCraft multi-room amplifier and with the intricately integrated screens around the house Ingenious chose SpeakerCraft speakers for their audio quality and longevity.
The house is wired for six audio and video zones — two for outdoor living on the pool terrace and dining terrace and four internally for the master bedroom, living room, games room and office. For the home theatre speakers, Ingenious chose James Loudspeaker products. These are particularly appropriate for "smart" homes because, unlike other speaker companies, James Loudspeaker was born from the custom electronics design and installation industry and has a 30-year provenance of excellent quality and engineering. While other loudspeaker brands are designed and tested to perform their best in very technical anechoic chambers, James Loudspeakers are designed to perform in realworld environments such as your home theatre or living room. James Loudspeakers' life-like sound particularly comes to fore when tasked with the reproduction of cinema dynamics, dialogue and detailed musical recordings. This company has achieved what many audiophiles thought impossible: to hear a whisper through thunder and to hear the orchestra turn the pages of its sheet music through the crescendo. When these speakers are fired up with a movie on the 120-inch screen you feel as though you are in the movie! Ingenious specified an LP Morgan screen supplied by Herma. It has a very clever and patented system called EzyGrip. This means the viewing surface is always kept flat at every point along the frame — very sleek. The projector is the latest Mitsubishi HC7000. Of course, it has full high-definition quality and is whisper quiet! All equipment is controlled by a RTI TV3 touchscreen remote. The games room features a beautifully tiled floor and a hand-cut stone-tiled wall with a built-in bar magically backlit with RGB LED lighting. There's also access to a cellar in an old underground water storage tank. For entertainment there is a three-quarter billiard table, sports bar screens and video machines. Outside, the 14-metre lap pool is complemented by a large, covered pool pavilion with full barbecue and kitchen facilities and is illuminated with ceiling lights, in-deck LED lighting and additional feature lights to highlight the 2.5-metre layered stone water feature at one end of the pool. Everywhere you look in this house you find yourself smiling. It is simply breathtaking and, fundamentally, clever. With this house as an example of Ingenious Intelligent Integration's work and driving force, it's easy to understand why the company has the reputation it does and why clients keep returning.