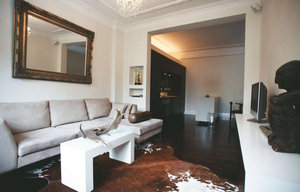 From the time Darren understood people work for a living, he knew he wanted to build houses. His passion for creating, however, led him to the fields of graphic design and advertising. This move satisfied his artistic needs but did not fulfil his craving for design. At 27, after many years of designing spaces in his head whenever walking into a room, he realised his heart lay in the interior design industry and it was time to pursue. He purchased an apartment with the intention of renovating and exercising his design talent, a decision that proved very fruitful.
Within a year of completion, the project was published in Belle magazine's renovation issue and caught the attention of Darren's mentor. Coupled with the exposure the editorial brought him and the sophisticated teachings of his mentor so early in his career, he was set off to a strong start. Darren Palmer Interiors was launched in 2006 and continues to thrive. Each day offers new challenges, from public speaking to writing for GQ magazine and running projects in between.
Fortunately, Darren's easygoing personality and down-to-earth ethos has him dealing with the dynamic industry in stride. In 2009 he was fortunate to be a part of the design/renovation show, HomeMade, on Channel 9. This surreal experience saw the cast of the show redesign and renovate 16 houses in an eight-week period. Darren personally worked on eight houses, one per week, in which he had to empty the space, reconfigure floorplans, pull down walls and transform the old into completely new. His time on HomeMade was a great testament to his expert abilities and love for creating. He revels in the entire process, from start to finish: "The best thing about what I do is the process of having a spark, a bright idea and then finally standing inside that idea and seeing it tangible, tactile and real."
Darren sticks to a firm philosophy of "form follows function" to produce his ingenious work. He approaches a project through close inspection of the space: what it needs to be, who will be using it and what functions it will need to offer. He then goes about solving all the problems that hinder the property reaching its full potential, finishing the process by presenting the space in its most flattering light. His style is warm and instinctive, taking advantage of an earthy palette and incorporating an array of natural textures. "I like to create spaces that have the illusion of space and light but are warm and enveloping," Darren reflects. He also embraces a clean-lined, yet layered approach to his work. "A great result is a fresh space that feels lived in but at the same time is highly finished and sophisticated," he adds.
He has great belief and integrity in his art, with a particular eye for the bespoke. "The solution is to make things that are not replaceable, not replicable and so tailored that they fit the owner like a glove," he says. With such rapture for quality craftsmanship, Darren Palmer is truly a distinguished designer.