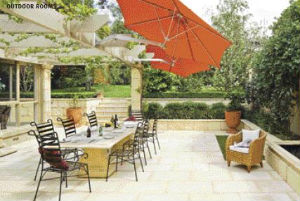 This inviting Melbourne courtyard conjures up the magic of the Mediterranean
It's a vision that entices us all: a paved courtyard in a villa on the Mediterranean coast, a vine-entwined pergola, a large table laden with good food and a water feature gently splashing in the background.
While this outdoor room-style entertaining space may be in suburban Melbourne, it has all the charm, character and relaxed appeal of that European idyll thanks to the design skills of Richard Chirnside and the construction expertise of the Aqua Earth Stone Landscapes team.
"The owners wanted a small courtyard that would be warm and relaxing through all four seasons, something that was easy to maintain and visually stunning — and this is what we were able to give them," says Richard.
The stone work is essential to creating the requisite European ambience. The columns, water feature and walls are all strong features in their own right yet they complement the paving. To soften the hardscaping and add some contrast to what is a limited colour palette, Richard used strategically placed plants.
"Magnolia 'Little Gems' were placed in front of the main wall section and underplanted with Liriope while Gardenia florida and Hebe 'Inspiration' were used to screen the other part of the wall," explains Richard. "The two taller retaining walls were softened with box hedging and to help with the Mediterranean theme we grew a grape vine around the timber pergola."
With issues of sustainability in mind, a dripline irrigation system with a rain sensor was used throughout the gardens and the lawn. This is fed from two 5000-litre tanks.
Wanting materials that would combine quality and durability with an authentic European look, Richard used Maison limestone products for the paving, the main wall that hides the neighbouring property, the retaining walls, the wall capping, the water feature and the decorative columns.
The end result is an entertainment courtyard that feels light and spacious; also warm and welcoming. It is the kind of space that beckons you out from inside the home and invites you and your guests to linger.
"In our initial discussions with the owners we emphasised the benefits of choosing to spend money on improving your own home rather than travelling, which is very much the trend at the moment," says Richard. "Why not bring the feeling of being in a resort or an exotic destination into your own backyard and have something to enjoy all year round?"
Why not, indeed!
Project details
Landscape design and construction by Aqua Earth Stone Landscapes PO Box 875, Lilydale Vic 3140 Phone (03) 9735 1883 Mobile 0419 550 135
Email aesl@bigpond.com aesl@bigpond.com Website www.aquaearthstone.com Photography by Patrick Redmond