by Tim Falk 
Decadent luxury that travelled from the other side of the world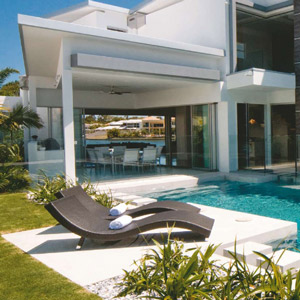 When UK-qualified architect Sarah Waller first visited Noosa some seven years ago, she immediately fell in love with the Sunshine Coast's laid-back, beachy lifestyle. It was her love for the place that brought Sarah and her family back to Noosa Waters from the other side of the world some seven years later, with the aim of building her dream home. 
This refined modern home is just a few doors down from where the family once rented a holiday house. It took only a year from concept to completion and is a perfect illustration of Sarah's eye for detail and commitment to her design philosophy. Sarah's architecture is big and strong, with thick, solid plains of elements coming together in a unique way. 
From the street, the house has a strong presence with water views apparent as soon as you enter the gate house. Stepping inside, Sarah has finished and styled the home to feel like a resort or boutique hotel, and this is immediately apparent in the gorgeous showcase kitchen. 
This space is a minimalist masterpiece dominated by strong lines and simple detailing. The vivid white colour scheme complements the warm tones of the Aussie beech flooring, while the beautiful centrepiece of hand-selected Italian marble teamed with a striking CaesarStone benchtop in Pure White adds a definite wow factor. The open and breezy layout makes this an area where you want to spend as much time as possible. 
The chic look of the area is further enhanced by the clever lighting scheme, including LED downlights over the cooking bench, LED ribbon lights in the overhead bulkhead and under the island bench, plus the unique and stylish pendants hanging from the ceiling. To add a touch of innovative functionality, all lighting can be controlled through an iPad from the kitchen bench. 
But there's plenty of substance behind the style as well, with a long list of practical features. Storage space is a must-have in any kitchen and it's something this kitchen has in spades. With Blum soft-close drawers and cupboard space galore, there's a place for everything so you can easily maintain that uncluttered, minimalist look. Additional storage and prep space is cleverly tucked away in a generous scullery, which allows the family to complete the often messy tasks of cooking and cleaning away from prying eyes. 
When it comes time to sit down for a quick breakfast or to pack the kids' lunchboxes for school, there's acres of bench space to choose from. This also makes dinner party preparation an absolute breeze, with ample room for any budding masterchef to go to work and conjure up a gourmet feast. When you throw in an array of state-of-the-art appliances and relaxing views over the pool area and canal, this area is the very embodiment of luxury living.
And thanks to easy-to-maintain surfaces (such as gloss-white cabinetry and gleaming CaesarStone benchtops, which are conveniently heat, stain, scratch and chip resistant) time spent cleaning this sublime cooking area is kept to a minimum, leaving the family with more hours in the day to enjoy their beautiful surroundings instead. 
The other space that best reflects Sarah's decadent and funky design style is, of course, the main bathroom. Sarah wanted to create a boutique-style opulent bathroom that would enhance the master bedroom and parents' retreat, and the result is a truly refined and sophisticated area of the home.
The stand-out aspect here is the free-standing feature wall with a recess niche dividing the main bathroom from the WC and shower. "Being originally from the UK, we still enjoy a bath, so this had to be the main feature of the room," Sarah says. And it's certainly no stretch to visualise immersing yourself in the free-standing polymarble egg bath after a tough day at work and getting the kids off to bed. 
A handful of intelligent finishes and the black and white colour scheme effortlessly create a feeling of space and light. Daylight is provided from high-level windows and a roof light over the bath, adding a warmer, more welcoming edge to the area. 
The monsoon square ceiling-mounted shower head adds an element of chic style, while nice touches like the linear double basin and heated towel rails leave you in no doubt that this is definitely much more than your average bathroom. 
It's an elegant, sophisticated and inviting space to unwind away from the kids at the end of a busy day. The word "Relax…" even adorns the wall tiles — as if you'd need any reminding in such a wonderfully luxurious home. 
Both the kitchen and bathroom are very urbane spaces featuring clever use of materials and state-of-the-art appliances. The minimal detailing in each area serves to underline the simple style and sumptuous comfort that put this home head and shoulders above the rest. 
For Sarah Waller, her husband Paul and daughters Tasmin and Tiggy, this remarkable Noosa Waters dwelling is the result of a long-held dream. "It has been a dream a long time in the making," says Sarah, "but now that we have made it here it was well worth the wait." 
Project particulars
SARAH WALLER DESIGN
PO Box 1372, Noosaville Qld 4566
Phone 0406 620 460 or (07) 5440 5883
Email sarah@sarahwallerdesign.com.au
Website www.sarahwallerdesign.com.au
CAESARSTONE
Phone 1300 119 119
Email sales@caesarstone.com.au
Website www.caesarstone.com.au