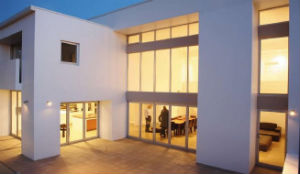 A 1970s house full of potential is converted into a playhouse for a family with three kids and two dogs, celebrating their busy life together
WORDS Danielle Townsend PHOTOGRAPHY
Alex Craig An unassuming, run-down, 1970s cavity brick and timber house on a quiet suburban street in beachside Maroubra had suffered several poor small renovations and had a general sense of being unfinished. "We lived in the house for 10 years prior to renovating and we loved the space and light — it always had high ceilings. It seemed like it had a lot of potential but never quite got there!" said owner Sharon. The original bones of the house, however, were good.
The house plan is based around a central space with a very high ceiling, with smaller rooms pinwheeling off this space. "The original house had some amazing features, including a terrazzo spiral stair. Our clients didn't like the stair and found it unsafe for their young family. Luckily it was recycled into a good home," said architect Hannah Tribe of Tribe Studio Architects. It was important for the house to be simple and sturdy, as the clients have three young kids and two big dogs. "The brief from the client was to create a robust, easy and light house to suit their growing family," said Hannah.
Sharon says the reason they chose Hannah Tribe was because they fell in love with her signature style. "We loved her work and felt that she could create our dream home," she said. "We knew exactly what we wanted — clean, fresh and modern without all the clutter that comes with three children and two dogs. Simple and easy to maintain." The house needed to grow to include five bedrooms, a gym, two baths, WC, ensuite and robe and enlarged living areas. It had to be extremely low-maintenance and hardwearing to withstand the young family's hard-living and busy life.
Understandably, a construction site is no place for young children to play or live in, so the family moved out of the property for the twoyear construction period. "It was unliveable; there was no roof and everything was gutted internally," said Sharon. Little of the existing structure was straight or level, either. "We had to do more rectification than we had intended to achieve the desired level of finish," explains Hannah. "Some retaining walls were very poorly constructed and actually collapsed during construction.
We retained many of the original modular brickwork walls and removed all the timber infill walls. The footprint of the building remained essentially the same, but we added height to some rooms and a second level to others. The first-floor circulation space was opened up and ancillary spaces became studies for parents and kids." From its original bones, the house takes on a language of robustness and overscaled proportions.
Its main gesture is the cube housing a double-height living space. Penetrating this main volume is an L-shape of first-floor bedrooms and bathrooms. The house is designed to celebrate family life, linking the children's study to the kitchen across the living space, and all embracing the recreation space of courtyard and pool. "We used the existing organisation of the house, with the big, double-height central room as the inspiration. Smaller spaces pinwheel off this large volume and you get great connectivity across the space of the house.
For instance, you can see diagonally across the house from the kids' study to the kitchen," said Hannah. "The large void is my favourite part of the renovated space — it is like a squash court!" What began as a minor project grew into a major home transformation. "The brief started off as a very small renovation — just paint and bathrooms — and it grew to be a huge endeavour. It is always easier to start with a good brief rather than have a project morph … but otherwise it was a great process. I wouldn't change a thing about my marvellous clients," said Hannah. Despite the chaos which may come with dayto- day family living, the home now exudes a feeling of tranquillity — perhaps due to the crisp white palette that flows through much of the home — from the bathrooms to the living area, bedroom, ceilings, exterior and studies, and also the sense of organisation that has been created. "Construction took two really long years, but it's a perfect result," said Sharon. "We love the house; it's a real home and when you have an ordered home, everything flows.
There is a huge psychological calming component to having a home that is not cluttered and has a place for everything. "There is not much we don't like about the house; even after living in it for almost two years, it still seems as clean, fresh and light as it did when we moved in. It's really easy to maintain, full of natural sunlight and everything has a place so there is no clutter. Everything was built in so it's got a bit of a minimalist approach, which I love. "What Hannah created was not just a stylish house but a real home for real people that looks amazing. Working with Hannah was a real pleasure. She got to know us as a family and even though she has trademark style, she created the Aaron blend. The house has an aura of calm, which is difficult to imagine with three kids and two dogs." r&e
Owner's advice to would-be renovators
• If you can get your architect to oversee everything, it takes all the stress out of the project and you get artistic flow because the person who sets out to design it sees it through to the end. When you have too many bosses the artistic element changes from person to person — you have an architect who designs, a builder who brings a new style in and then an interior designer who brings in their own personal flair — so it doesn't flow the way it did for us. Hannah did everything for us and worked with me to create exactly what we wanted, from start to finish.
• It's also really important that the architect and builder work well together and we had a brilliant builder.
Project Particulars
This project was designed by TRIBE STUDIO ARCHITECTS Level 6, 110 Kippax Street, Surry Hills NSW 2010 Tel: 02 9211 3211 Email: info@tribestudio.com.au Website: www.tribestudio.com.au
This project was built by JLS CONSTRUCTION Tel: 0412 222 013
Flooring:
Kitchen/dining/living: Sadlerstone throughout ground floor
Bedrooms: Carpet
Outdoor: Sadlerstone
Walls:
Kitchen/casual dining/living/bedrooms: Plasterboard painted Dulux Vivid White throughout
Outdoor: Rendered brickwork painted Dulux Lexicon
Kitchen:
Benchtop: CaesarStone Mink and White Corian
Splashback: Mirror and window
Cabinetry: Polyurethane satin Dulux Vivid White
Sanitary fixtures + bathroom fittings:
Various
Lighting:
Supplied by client