Director John Eussen of Eussen Consulting spoke with Belinda Crestani about why the outdoor room is now dubbed the central hub of the home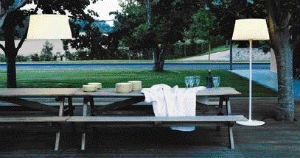 How do you define the function of an outdoor room?

The outdoor room is now part of the extended living area of the home; it's the place where the family meets, sits and entertains. It drives the social interaction of the home as it is away from TVs, PCs and other distractions. That said, I have seen one outdoor room that has a plasma screen on the wall. To me this is an intrusion on the purpose of this living area.
What do you think has encouraged this shift?
Most parts of Australia are ideal for outdoor living for two reasons: our relaxed lifestyle and warm climate. The emphasis on outdoor rooms has grown from the time we treasured the humble Hills Hoist and homemade brick barbecue. Since then, we have built the room to be an extension of the house. Spacious decks, paving and grass areas, as well as pergolas, roofing of corrugated fibreglass and UV-rated sun turf are just some of the things we like to incorporate into our backyard designs. Now fully lined ceilings and outdoor lighting are all part of the outside room, creating visual appeal and comfort.
How does the outdoor room add value to the rest of the home?
It allows the flow from the back room to outside. When constructed properly, it is the fifth room of the home, which instantly adds value. It no longer houses the junk furniture but is instead considered an important element.
Contemporary furniture:
The trends in furniture are for fuss-free, comfortable and low-maintenance products. Fabrics are required to withstand the harsh Australian sun and maintain a bright and vibrant focal point. In terms of colours, we are seeing many dark weaves, and blacks remain the bulk and body of furnishings, with colourful accents left to the accessories.
Trend Spotting:
Link your spaces
• Keep colour consistent to establish a seamless flow. Different tones or strengths of a colour, or using the same material palette, allow continuity without too much sameness.
• Identify your home's style and stick to it. Whether your home is modern, traditional or a little quirky, ensure the outdoors continues the theme to avoid a jarring aesthetic.
• Install some greenery. Bring a little piece of the outdoors back in as this will assist in the blurring of boundaries.
Lighting:
Whether you are seeking to provide ambient light or wider-purpose task lighting in your outdoor area, it's vital to consider your options in terms of what look you are trying to achieve and how efficient the choices might be. Speak with a professional for some technical advice and recommendations on how best to extend the use of your outdoor space.
Functional lighting is often achieved with 240-volt spotlights, floodlights and LEDs, depending on the application. Ensure spotlights and floodlights are placed high enough and in locations that will prevent them from being directly viewed when entertaining. Often these lights may incorporate a dimmer control. LED lights for task use are often incorporated in pathways, stairs, decks and balustrades.
Mood lighting is mostly achieved by lowvoltage or LED lighting in gardens and swimming pools. Subtle lighting is used to draw attention to either the pool as a design element or to garden features such as a sculpture, fountain or an accent plant. It can also create washes of light that set a relaxed mood, often simulating the glow of moonlight or starlight and adding considerably to the night-time ambience.
Privacy & screening:
One of the most important considerations when planning your outdoor space is to ensure it isn't the focal point for your neighbours or passers-by. But if you can't change your aspect, don't worry — there's a number of ways you can achieve a little privacy without feeling boxed in. Decorative screening is increasingly popular and available in a wide array of finishes. Modular green walls and screens are also widely available to add a touch of nature rather than being an impenetrable barrier.
Equally important in Australia is a way to keep the insects out while we're enjoying the alfresco ambience. Centor has released a number of ranges designed to sit comfortably and unobtrusively alongside the bifold doors that have become so popular.
Path to perfection:
Tiles that flow from the inside of a living space to the outside open up the home to family and guests. Bifold doors allow you to fold the doors back and enjoy the extra space and convenience with the continuation of the same flooring surface. Natural tiles can be sealed to make them maintenance-free. Natural-coloured tiles provide a neutral background for the furniture and greenery.
Zeobond is a relatively new Australian product that combats the environmental impact of manufacturing cement. According to Zeostone, "Making a kilogram of cement produces approximately 0.9kg of CO2; five to eight per cent of global CO2 emissions are from cement manufacture, making it the third most polluting activity of mankind." The manufacturing process of Zeobond uses industrial byproducts from power stations and iron-making, as well as concrete waste, to reduce the environmental impact of products by reducing CO2 emissions by half and increasing recycled content.
Hardwood decking also has its benefits, which include strength and durability as well as aesthetic warmth. The natural appearance of timbers complements almost any surrounding and the variety of finishes can make a feature of your outdoor setting or provide a backdrop to the environment beyond.
Expert Advice:
John Storch from A Total Concept Landscape Architects & Swimming Pool Designers offers some clever tips for the outdoor room:
• Flexibility of use is important. The outdoor room should be able to be used for family Christmas and birthday gatherings and also for an intimate dinner setting.
• Light colours in the paving and planting and on the outdoor room walls will create an impression of greater space.
• Consider the usable outdoor space. If a table is positioned in the centre, it decreases the usable space for sitting or entertaining. The perimeter and corners of the outdoor room can become places where soft landscaping may be incorporated.
• Don't overdo the garden art. One sculpture or water feature is more than enough.
• Paving patterns and decking timber laid in certain directions can change the focus of an outdoor room. A circular pattern may focus the paving inwards, while diagonal lines may be used to extend the outdoor room.
• Ask yourself this: is maintenance an issue? When designing a garden, make sure you have considered how much time and water need to be invested. Think about whether native, tropical or formal plantings could be better options for you.
• Select both tall and low-growing plants to create interest. Bamboos can be kept very narrow to maximise the visual space of the outdoor room and can grow tall to provide screening, shade or a green vista from inside.
• Be aware that strong-coloured flowers such as red and orange tend to "advance" towards you, thus shrinking an outdoor room. Soft-coloured blue, purple and grey flowers "recede".
• Styling your outdoor space is what sets it apart from the rest. It's the right combination of features, homewares, furniture and soft furnishing accessories that can bring the outdoor room to life.
Did you know:
Turf Australia reveals what you need to know about the grass in your garden:
1. Just five square metres of turf produces enough oxygen for one person for a day, with the average yard capturing carbon and producing enough oxygen for a family of four each day.
2. Turf has the cooling effect of nine tonnes of air-conditioning, an impressive figure when you consider the average home air-conditioner has a three- to four-tonne capacity while increasing carbon dioxide emissions.
3. The temperature on a green lawn in midsummer is 10ºC less than on bare soil, 20ºC less than on asphalt, concrete or pebble mulch and 40ºC less than on synthetic turf. Turf also provides a greater cooling effect than trees and can achieve the same as an open-water pool or lake but is 40 per cent less wasteful in water evaporation.
4. Turf can be laid at any time of the year; however, winter and cooler weather are best as less water is required.
5. Turf has been found to help in the protection of homes from bushfires and reduces the incidence of pests and dangerous animals such as rats and snakes.
6. Turf has several significant environmental properties. It acts as a natural sink for carbon dioxide, cools the surrounding environment, replenishes soil and improves its quality.
7. Mature turf uses less water than mature trees and shrubs.
8. There are five key species of turf grown in Australia: Buffalo, Carpet Grass, Couch, Kikuyu and Tall Fescue. Each has different colours, blade thicknesses and climate preferences.
9. Turf is quick to install and simple to care for. A well-maintained lawn should require little to no weeding.
10. Australia produces around 6500 hectares of turf per year. For more information, go to the Turf Australia website, www.turfaustralia.com.au