A flourish of France amid the Victorian landscape shows it is possible to be in two places at once.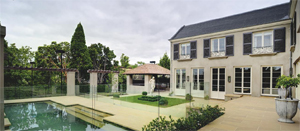 Evading the chaos of construction, the owners of this home took a holiday. They left Australian shores and headed overseas to bask in the glorious French countryside, a destination they liked to visit often. Returning home, they had something special in mind — that stepping onto the doorstep of their new home in Australia would feel as though they'd never said goodbye to the provincial life at all.
In collaboration with architect Nicholas Day, interior designer Stuart Rattle and landscape architect Paul Bangay, Wayne from Mitchcourt Constructions built a traditional French home for his clients, complete with an attic for the children to escape to and a wine cellar to store the clients' vintage best. A spiralling staircase winds its way through this impressive six-bedroom home, connecting each new level to the last. Traditional velour fabric lines the interior walls, reminiscent of European countryside manors. Natural stones, such as Calcutta marble in the kitchen and grey limestone in the bathrooms, from Pure Design Marble & Granite, were placed and give each new surface a subtle, natural texture. All window sills, door entry moulds and pier caps were rendered on-site in a display of true craftsmanship and authenticity from Toscano Roman Render.
But the most beautiful features in this home are the French Juliet balconies, roofed in natural slate and framed from the inside by inward-opening French windows and shutters.
Overall, the house has an arresting French charm, but unfortunately there was no denying the Australian climate. To combat the temperamental weather into which this delicate design was introduced, Mitchcourt Constructions installed individual environment controls into each room for maximum comfort all year round. The backyard, too, underwent a distinctly modern overhaul and now features a cabana, pool and tennis court for the family and their guests to enjoy.
Even before landscaping took place, the existing pool was strategically transformed into an underground water tank with capacity of 60,000 litres in order to water the garden and feed into the new pool.
Mitchcourt Constructions is a familybased business in Melbourne that specialises in all facets of new home building and renovations. According to Wayne, this home was particularly rewarding because of the friendship that developed between the client and colleagues Nicholas Day, Stuart Rattle and Paul Bangay. 
By overcoming the barriers imposed by travel, the collaborative effort achieved a beautiful new home in Victoria that is rich in character and French appeal.
Mitchcourt Constructions
6 Ian Court, Rowville Vic 3178 
Tel: 03 9755 5886 
Fax: 03 9755 6447 
Email: wayne@mitchcourt.com.au 
Architect: Nicholas Day Architects
Tel: 03 9826 8584
Website: www.nicholasday.com.au
Interior Designer: Stuart Rattle
Tel: 03 9827 0180
Landscape Architect: Paul Bangay
Tel: 03 9521 1599
Toscano Roman Render
Tel: 1300 760 113
Website: www.toscanoromanrender.com.au
Willira Heating and Cooling
Tel: 03 5782 1378
Email: willira@bigpond.net.au