A winning combination of a beautiful estate, a talented architect and unique vintage materials means that this design goes above and beyond most modern creations.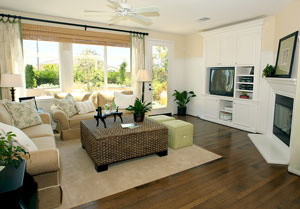 Mount Eagle Estate, developed in 1914, is Victoria's earliest example of a residential estate designed by Walter Burley Griffin (1876–1937) and Marion Mahony Griffin (1871–1961). In his early architectural years, Burley Griffin worked in Chicago with the renowned Prairie School originated by Frank Lloyd Wright. The Prairie style emphasised horizontal lines with low-pitched roofs and broad, overhanging eaves. It was also marked with solid construction and a respect for craftsmanship.
Melbourne architect Vito Cassisi drew on this style as a platform to build the design for this home. Cassisi carefully selected crafted materials including cedar linings, copper downpipes and gutters, a slate roof, chiselled rock and rustic Daniel Robertson bricks.
Daniel Robertson is renowned for producing old-style bricks with an aged character, which appeal for their rustic texture and varied hues. Once fired, the bricks are hand-sorted to ensure the correct balance of tones appear in the finished wall. The end result is most appealing, as the wall becomes a tapestry of blended bricks. Daniel Robertson specialises in custom-blending to clients' requests and has matching clay and terracotta paving.
For more information, contact Daniel Robertson on 03 9875 3000, email sales@danielrobertson.com.au or visit www.danielrobertson.com.au