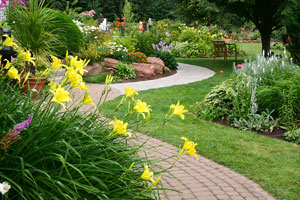 Whether leading you from frontyard to backyard or towards a quiet nook, a garden is the backbone of any garden design
Story: Karen Booth
Being led up the garden path can be a real delight if you choose the right materials, place the path in the correct location and border it with plants or edging that set it off to perfection.
Planning a garden path is a serious business, but that doesn't mean you can't have some fun with it. The style of your home and garden will influence the look of the path and the materials you choose but where you position it will have as much to do with the lay of the land and its function as it will any aesthetic considerations.
In these water-wise times, gravel paths have increased in popularity as they allow water to soak through into the soil. If you buy the gravel in bulk it is a cheap and long-lasting material but it does require raking or blowing from time to time to clear debris. Keep in mind that kids love to throw it about, so it might not be the best option for young families.
If you do choose a gravel path, the popular option is to inset stepping stones. This adds textural and visual interest and also makes the path easier to navigate.
Of course, there are plenty of other options — bricks, pavers, lawn, stone, mulch, timber. What material you choose will depend on the style of your garden, your budget and whether or not steps need to be incorporated into the path design. In this case, you'd need a solid non-slip material like natural stone or perhaps a cast-stone paver.
The slip factor also needs to be considered if the path is to be in the shade, which can cause moss or mould to form on the surface or it is affected by runoff during downpours or when watering the garden.
Stone paths have always been popular and can be informal or formal. For a casual look, random stone pavers can be laid in a jigsaw-like fashion to create a continuous path or they can be set into the lawn, or a base of gravel or you can plant a low growing groundcover between each piece of stone, something like mini mondo. For a formal look, there are square-cut stone pavers.
If longevity is critical, a timber path is probably not the best way to go, although a timber boardwalk path meandering its way through a bushland or tropical garden can looking stunning. For something really long lasting, concrete, bricks and stone are better.
For those who really want the look of timber but not the maintenance that comes with it, there are a number to look-alike products — replica concrete timber sleepers and log slice steppers — you can buy.
Then there is the edging to consider. Paths can be flanked by garden beds, ready-made edging (which is available in all kinds of styles and materials), home-made edging (such as bricks set into the ground at an angle) or a border planting of something strappy, leafy and flowing to soften the overall effect, for which purpose there are myriad ornamental grasses.
Here, we show you just some of the many different styles of path you could create in your own garden.