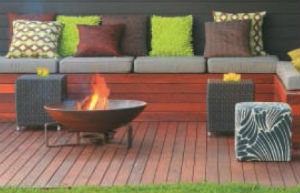 Getting year-round use of your outdoor room is easy with the right outdoor heating
The chill of winter can send the best of us rushing indoors to sit by the fire or heater. But given we take such pride in and enjoy our outdoor rooms in the warmer months, it makes sense to make them more comfortable during winter, too.
There is a range of outdoor heating options to suit almost every setting and environment. A versatile option in outdoor rooms is a portable outdoor heater, which you can move around as needed to suit your needs.
While many people have created separate areas or "rooms" in their backyard or courtyard — for example, an entertaining area, a pool or spa area, a space for the children to play, and areas for rest and respite — one of the most important for comfort is the entertaining area. Keeping this spot warm in winter will mean you can still invite your friends and family around for backyard barbecues in the cooler months, giving you year-round use of your outdoor domain.
The ways in which to heat your outdoor room are variable. There are gas, electric and ethanol heaters and because they are portable, no matter what kind of outdoor setting you have or if you own or rent your home, you'll be able to take your heater with you when you move. Similarly, if you have separate areas, rooms or zones within your yard, you'll be able to move the heater from one to the other — anywhere you may need it on demand — which allows you more flexibility than fixed, permanent structures.
One of the most popular and cost-effective heating options for outdoor areas is a gas patio heater. Many people use these at home, but you'll also see them in commercial applications, such as at the local pub or restaurant. These heaters run on gas and some of the most powerful of this type are able to heat up to 30 square metres. They can be very hot to sit directly beneath, so it's a good idea to position them a comfortable distance away from where people will be seated. Portable patio heaters usually have wheels underneath them, making it easy to move them around and position where you want.
There are also miniature tabletop versions of gas patio heaters and these can be used as a centrepiece when entertaining. They will generally emit enough heat to warm a two-metre radius, so are perfect for a backyard barbecue or courtyard setting, where the atmosphere is intimate.
If you are not using a connection to mains gas supply but rather buying gas by the bottle, you will have greater portability as you can move away from the mains.
Ethanol is an eco-friendly, renewable fuel for creating fires. There are many companies coming to the fore with this fuel source, which can be used in large or small settings. Some applications include "fire grates", where the flame can be described as open. It's best to keep this kind of fire away from curious little fingers. Other ethanol-burning fireplaces include a glass surround, which is a safer option for those with children, grandchildren or pets. Some even come with designer surrounds such as metal that has been cut to create interesting shadows or create a warm yet mysterious ambience.
Ethanol is a great option for portability because it does not require any connection to a fuel supply, as is needed for electricity and gas-fuelled fires, and is still able to control how much heat is emitted. This makes ethanol fires a great option for those with a small space to warm up that's set away from the home's chief energy supplies.
If you have a small space to heat up, a fireplace that converts to seating is a fantastic option that gives two uses from one product and maximises the space. Most people think of a fireplace as a fixed mantel set into a living room or outdoor wall. However, a new portable fireplace has been setting. You can place it on a rug, on a table or beside the barbecue, allowing you to be warm no matter where you are outdoors.
Other portable ethanol products include fire bowls, towers and fireplaces on wheels that can be easily relocated.
One of the most obvious choices for indoor heating is electricity, but it's not so common when it comes to outdoor heating. Radiant/infrared electric energy is a particularly effective source of warmth outside. Infrared technology works on the same theory as the sun — it heats the same objects that the light emitted touches, rather than just heating the air.
Infrared heaters come in many shapes and sizes and are renowned for being a cost-effective heating solution. Portable models are available as heaters perched at the top of a tall pedestal. These are easily moved around, but only so far as you can connect to mains power.
No matter what type of outdoor room you have, you'll be sure to find an outdoor heating solution to suit your needs. And if you opt for a portable outdoor heater, not only will you be able to create a warm and inviting ambience outdoors, you'll also have the flexibility to move your heating around wherever it's needed.
Safety Tip
Portable heaters are known to cause fires. Be sure to keep your patio heater on level ground and to keep clear of any combustible materials, including shade sails and awnings. Read the manufacturer's instructions for more information on clearances.