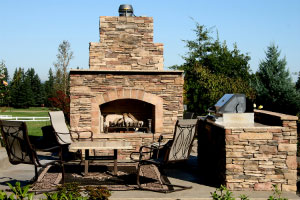 If you're going to have the latest barbecue with multiple burners, grill plates, roasting hoods, smoking boxes and heaven knows what else, then you're going to need some interesting, sure-fire recipes so you can make the most of your super-duper state-of-the-art cooking facilities.
Along with the evolution of the barbecue into the 'outdoor kitchen' has come a slew of new cookbooks dedicated to helping you become a master of the grill and an outdoor chef extraordinaire. One of the most recent is Fired Up: No Nonsense Barbecuing by Ross Dobson (published by Murdoch Books, rrp $34.95). It is replete with simple recipes and easy-to-follow advice on barbecuing with confidence and flair. Another new release is BBQ: Recipes Techniques Tools by Chris Schlesinger and John Willoughby (published by Dorling Kindersley, rrp $ 49.95). This book shows you how to do everything from mix a marinade to whip up relishes to complement your grilled ribs, steak or fish.
You might also want to take a look at The Great Aussie Barbecue Cookbook by Kim Terakes (published by Penguin Australia, rrp $35), Barbecue: Cooking Delicious, Full-Flavoured Food on Your Grill by Eric Treuille and Birgit Erath (published by Dorling Kindersley, rrp $24.95), Grill It! 150 Delicious Recipes (published by Hearst Books, rrp $19.99), and the rather inexpensive Barbecue Bible (published by Penguin Australia, rrp $19.95).
All of these titles are available nationally at good bookstores and would make an ideal gift for the barbecue buff in the family.