Environmentally sustainable design takes on a new form with a nine-star energy rated home — the first of its kind.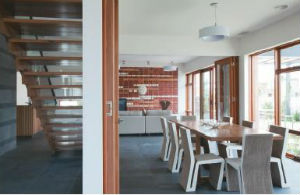 Harmony 9 is Australia's first net carbon-neutral-energy-rated home, a sustainable housing prototype that follows the success of Mirvac's 6+ Star energy-efficient homes at Waverley Park and its Australia-first Green Star, 6 Star shopping centre in Orion Springfield Town Centre. New ideas and technologies have been explored throughout the home to give the best possible outcome in sustainable housing in Australia. Some of its key features that award this project the thumbs-up include a reverse brick-veneer construction, with bricks on the inside and the timber frame on the outside.
It's the heavyweight materials inside the home that create internal mass and stabilise the core temperature. "The Harmony 9 project embodies our commitment to the future and pushes the boundaries of sustainability and innovative design," says CEO John Carfi of Mirvac Victoria. By using features such as a Smart Energy Meter that allows real-time monitoring of energy and water use, a very high wall and superior insulation in the ceiling and internal walls, and double-glazed windows with timber frames sealed with a natural oil, this home reaches a new level of innovation, adaptability and sustainable design.
Ensuring the windows in the Harmony 9 home contributed to the 9-star rating performance was high on the agenda of the Stegbar sales team who looked after Mirvac throughout this process. Windows can be one of the largest sources of heat loss in a home. "We provided Mirvac with a window system that had great thermal performance in order to meet their exacting requirements and to achieve a 9-star rating," commented Christine Evans, national marketing manager from JELD-WEN. "The western red cedar windows and doors used are perfect for window and door joinery products, as it provides extra thermal performance, its plantation grown and is termite resistant." Insulated Glazing Units work by trapping a layer of air (or gas) between two pieces of glass. This air gap forms an extra insulation barrier.
"We used argon-filled IGUs instead of air filled. Argon-filled IGUs provide better insulation again, as the gas is a better insulator than air, therefore increasing the thermal value of the window." Stegbar also incorporated Low-E high performance glass, which helps impede radiation of heat, which means the windows keep more heat in during winter and during summer works the other way, to keep the heat out.
"Overall the rating achieved on this cedar IGU system is a significant improvement over standard aluminium single-glazed window and door systems," Christine concluded. Other novel features include north-facing living zones and windows with correct shading and maximum cross-ventilation, recycled furniture and joinery including a dining table created with recycled timber from the original Waverley Park stadium, chairs constructed of cardboard and upholster fabrics composed from natural fibres and hemp, a 3.6kW solar panel system that provides clean power and a hot-water system with two solar panels and recycled construction materials including recycled timber and bricks. This nine-star home has also been designed to adapt to the future needs of its residents and the design allows for future rooms to be added.
Internal glass panels provide privacy and separation in the living spaces. "Mirvac has been astounded by the possibilities of sustainable design using readily available materials from local suppliers and Australian domestic construction techniques. We have learnt that energy use is only a part of being sustainable," says Mirvac design director John Eckert. Harmony 9 sets a new benchmark in future living.
For further information go to www.waverleypark.com.au