Get the most out of your heating and cooling system with these inspired ideas. We've sourced the cool solutions that'll warm your home's heart.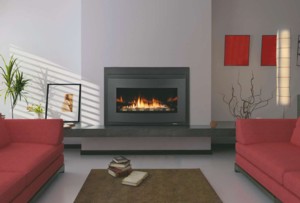 The experts talk to us about all the latest solutions to your heating and cooling problems.  
Size Matters
Tony Styles — Heatmaster: "It's important to check the heating capacity of a product in relation to the area you are trying to heat. Heatmaster has a range of products from decorative fires to full-house heaters."
Sandra Skelly — Comfort Heat Australia: "Small rooms can be heated efficiently and cost effectively with electric floor heating cable. There is no infrastructure, it is fully controllable and the heated floor creates a warm environment. As the floor area increases, so does the electrical load for the floor heating and, in large floor spaces, this electrical load can exceed the amount of power available to the development. This limitation on the electric floor heating area is solved with hydronic heating systems, which have a low electrical load for pumps and can decrease the electrical load by two-thirds for heat pump systems. The lower energy requirements of hydronic heating means they can be supplied by cheaper energy sources such as natural gas or reversecycle heat pump chillers."
Matthew McLean — Regency Fireplace Products: "Be aware of the amount of space you really want and need to heat. You must know the volume of a room by taking into account the height of the ceiling and length and width of the room. Other things to consider are what is on the floor, how much glass area/windows the room has, if there are heavy drapes that can insulate the room, and most importantly, if it's a high draft area. All of these things, as well as the size of the room, can affect the type of heating you choose. Wood heaters for example can be too hot for some small rooms; gas appliances/electric may be more suited here. The most important way to keep costs down is to match the heater to the area you want to live in and have warmed. Bigger is not always better as there can be a lot of waste in trying to heat the entire house when only one or two rooms require it."
James Cooper — Sanctum Design: "Measure the size and calculate the total volume you wish to heat before you consider different systems. Large volumes require high-output systems and may limit your choice, unless you can consider ducted or in-floor systems."
Wayne Millhouse — Lopi Australia: "The type of heating used is often decided by how much effort the customer wants to put into it. There is much more work involved in creating a wood fire than pressing the button on a gas fireplace. For large rooms, I would firstly recommend wood as the most efficient heat source. For smaller rooms, gas heating is probably more suitable as there is greater radiant heat coming off a wood fireplace, making this heat source in a smaller room uncomfortably hot."
Jeff Collins — Real Flame: "Generally, the fire we would recommend for smaller rooms is an open-fronted fire as they have lower heat outputs and can also be operated with the fan off. Larger rooms require glass-fronted space heaters that have larger outputs and are much more efficient."
High 5
1. Centre Stage: The Fireplace model D1350 from Chazelles is the epitome of luxury and is the largest fireplace in its Design Collection range. It can be encompassed in any surround design you desire making it the centre of attention in your cosy space.
2. A Little Luxury: The Vola heated towel rail from Cass Brothers Fine Bathroomware is a lavish addition to any wet area. With a simple and elegant design, the Vola's six heated bars will not only keep your towels toasty and warm, it also has the ability to emit heat and help control the condensation in damp bathrooms.
3. The Room Outside: A cylindrical-shaped tea-light-inspired fireplace, Cyl from EcoSmart Fire is constructed from weather-resistant materials, including a round stainlesssteel base that encases a five-litre stainless-steel around burner. The cylindrical surround is made of crystal glass, which embraces the flame and is elevated above the base by three stainless-steel spigots.
4. Contemporary Creations: The Chrome Zero Aluminium radiator by Ragall combines exceptional performance with contemporary styling. Aluminium radiators are highly efficient and environmentally friendly; they offer a fast response time and higher outputs (compared to the same size steel radiator panels); it is non-corrosive and there is the ability to recycle at the end of their lives. It's manufactured in Italy by Ragall and available from H2O Heating.
5. Style is Everything: Liberty is an ultra-modern electric fire that's a design statement for even the most minimalist homes. It's a chic way to create a luxurious ambience in your home with its brushedsteel finish and impressive flame picture. With a remote control included you can easily manipulate the warmth in your room. Available from Cradle Mountain Fireplaces.
Fan Fare
Style is everything
Fans are just as much a visual piece of furniture in the room as a lounge suite or coffee table. And now, homeowners can make the most of this cooling solution with fresh design and key looks. "Homeowners are moving away from the old 'spinner' fan that wobbles and creaks, and discovering a world of minimalistic modern or designer fans that make a statement," says Doug. They are a great way to add interest to a space. "Fans break up what can be a static environment and add colour and movement," he notes.
Green machine
Ceiling fans are a great option to keep the energy bills down when it comes to both heating and cooling. "According to the CSIRO Home Energy Saving Handbook, ceiling fans use about 65–75 watts of electricity on high, or just two per cent of the electricity of an equivalent airconditioner," explains James. Don't ignore your fan in winter. They are also useful tools to keep your space cosy during the cooler months. "They bring the warm air down from the ceiling and more evenly circulate it around the room which means more even temperature and reduced heating bills," he adds.
Food for thought
When planning cooling options for your home, be sure to consider these factors.
It's important to choose one that will do what is required for that space — what one fan does for a lounge room you may not want for a bedroom. "You'll want large amounts of air to move in a grand space like the lounge room, but for the bedroom this can be too powerful," says Doug, adding, "Sound is also a factor — you're not going to want a lot of noise in the bedroom."
For the best dual action think about obtaining your ceiling fan with a reversible switch. "This will distribute warmth through a room by running it in the opposite direction," says James.
A Cool Change
The humble window is not only your source for fresh air and natural light; it's also the key to controlling your home's temperature and lowering energy bills. More than 40 per cent of a home's cooling or heating energy can be lost or gained through these panes, making window films an important consideration in your home's design.
How does window film work? Window films typically consist of a thin polyester film substrate that has a microthin, transparent metal coating applied to one side. This reflects and absorbs the sun's energy before it makes its way into the room. Low-e window films are also available which improve the window's insulating properties and provide both cooling and heating savings.
When and where should it be applied? Window film can be applied to any glass surface. This includes windows, glass doors, skylights, sidelights and transoms. "East- and west-facing windows should be considered first if you're trying to cool the home," suggests Michael. Customise film to suit your needs. Films that offer privacy can be used in bathrooms or bedrooms, and film that cut glare are also popular for offices and media rooms. "Window film is retrofit which means it can be applied at any time during the building or renovation process," says Michael, adding, "Manufacturers can offer lifetime warrantees on residential applications, too."
What are the benefits? Appearance Window walls, bi-fold doors and skylights are all architectural creations that allow the home to make the most of its surroundings and character. Untreated windows can account for up to 87 per cent of heat gained inside the room. "Window film solves this problem by blocking heat, glare and UV while still letting the natural light through and allowing the homeowner to enjoy the view without the need for curtains, blinds and awnings," says Michael.
Solar protection Advances in solar control window film means some films have better solar protection properties than glass.
Cash savings "By controlling the heat gain or loss through window film you can reduce the demand placed on the airconditioning unit," says Michael. With electricity bills growing it can be a costly usage. "Case studies have shown that airconditioning use has been reduced by up to 30 per cent after film application," he notes.
Green results Heating and cooling are responsible for significant green house gas emissions. One way to combat this problem is to transform standard glass into high performance windows with window film to minimise the use of electrical systems.
For more information, visit www.wfaanz.org.au