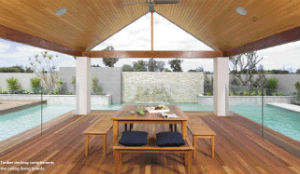 Flooring options for blending an inside living room with an outside entertaining area
Story: Catherine Stewart
Inside and outside our homes used to be two very distinct and separate spaces, with solid walls, single doors and small windows creating a strong barrier between the two. In contemporary home and garden design, the line between inside and out has become blurred. Solid back walls have melted away to become large areas of glass, with folding or sliding doors removing any sense of separation and allowing a seamless blend of our outdoor and indoor rooms.
To make this transition even smoother, you can choose flooring that is exactly the same for inside and out, or find close approximations that achieve the same look, colour or texture. While not all indoor floor types are suitable for the harsh conditions of outdoors, there are many that can take it all.
Outdoor environments are punishing on floors. Natural conditions of strong sunlight, rain, moisture rising from underground, salt-laden wind, dust and falling leaves will all take their toll. Performance requirements are also higher; we expect our outdoor floors to cope with bikes and skateboards, barbecue cooking stains and salt water from pools.
Apart from working within your budget, to choose a suitable floor to use both inside and out, decide which of these criteria are most important to your needs as there's no floor that can provide it all. Ask yourself if your outdoor flooring needs to be:
• Hardwearing, as activities like skateboarding or hard wheels on equipment such trolley barbecues can chip edges.
• Soft underfoot to cope with long periods of standing, to cushion falls or to absorb noise.
• Stain-resistant to combat cooking oil, red wine, spilled barbecue fat or perhaps tyre marks from children's bikes and trikes.
• Non-slip if the outdoor living area is to be near a swimming pool or spa; or is partially uncovered.
• Light or dark in colour: dark colours will absorb more heat and may become too hot to walk on if the floor is in the sun, but pale colours can reflect too much glare into the house.
• Mould- and mildew-resistant, which is important in shady, damp areas.
• Salt- and chlorine-resistant if near a swimming pool.
There's no shortage of hardwearing and stylish flooring options for outdoor rooms. One is concrete. Polished concrete is cutting-edge design for indoors or out, particularly when it's been oxide-coloured and seeded with stone aggregates, pebbles, plastics, shells, metal rings or glass. A polished finish can be achieved by grinding, using liquid polishes, latex coatings or chemical sealers. Sealing provides stain and slip resistance and can be either matt or a wet-look high shine. Terrazzo is a form of polished concrete, usually seed with marble chips.
Crushed glass coatings can be used indoors or out over concrete or any smooth substrate. A huge range of colours makes endless possibilities for patterns, pictures and decorative effects.
Tiles have long been a favourite for indoor-outdoor applications. Porcelain tiles prooe the most resistant to chipping and staining. Look for tiles with an R9 non-slip rating for outdoors and use R11 around pools. Tiles need to be laid on a concrete slab and should be sealed. New tiling systems use tiles held together in 1000mm x 500mm sections for quick installation or laid on hard plastic frames.
Timber floors used indoors can be copied outside using traditional decking or new modular decking systems. Hardwood has always been a popular and durable choice, and it can be stained or limed to match internal timbers. New modular systems such as Classique Floorboard's jarrah decking tiles imitate the look of parquetry floors. Modular decking tiles can also be bought from retailers such as Freedom Furniture.
Bamboo decking tiles are great in sheltered outdoor areas, are resistant to termites and are installed using a hardened plastic base. Composite decking products such as Modwood and BriteDeck are made using recycled materials. Mildew- and termite-resistant, their smooth texture and concealed fastenings mean there are no nails or splinters.
Natural stone pavers have a timeless, classic elegance. All types of stone can be used, but when made from dense stone such as granite and bluestone they are more hardwearing and, when sealed, are quite resistant to stains and marking. You can also opt for pavers made of reconstituted stone or, if price is an issue, you can find cast concrete pavers that emulate the texture and colour of natural quarried stone.
Vinyl might seem a surprising choice but the Bolon Outdoor collection of woven vinyl (glued onto a concrete substrate) can make a stunning indoor-outdoor floor, with a wide variety of designer colours and patterns. When resealed every three years, Bolon vinyl provides good stain, UV and slip resistance, is soft underfoot and deadens noise.
Polypropylene (PP) outdoor tiles are glossy, richly coloured and best used outdoors, providing the same strong colours and reflective surface of many ultra-modern indoor floors. Heavy duty, UV-resistant and non-slip, the interlocking tiles can be used as a single colour or in eye-catching checkerboard, diamond or mosaic designs. They can even be lifted and reused in new patterns or places.
Rubber floor tiles for outdoor use are made from recycled rubber and polyurethane resin, are very soft and forgiving underfoot and are slip-resistant. Loose-laid rather than glued, they can be made to look like stone or terrazzo.
Outdoor carpet designed for marine applications is another option. Made from tough polypropylene, it's hardwearing and stain-resistant and, as it's also made for marine applications, it's water-resistant and will not rot or smell. A wide range of colours means it can blend with any interior carpet. Then there are the more upmarket, funky ranges such as the recently released freek® collection of vibrant outdoor carpets that are designed to be used indoors or out to create a co-ordinated and colourful look.
And, of course, there are outdoor rugs for when you want to add a little decorating flair to an outdoor room, include a colour accent to tie it in with an interior space or you simply want something warm underfoot if you have concrete or stone flooring. Just make sure the rug has a rubber or non-slip backing.
While taking your colour and material cues from your inside rooms is recommended, you also need to take note of the surrounding landscape so your outdoor room is a comfortable fit.