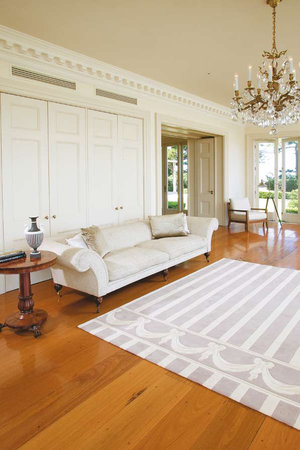 An interior decorating scheme should always be formulated from the floor up, as flooring structures the very foundation of every room. What is the most appropriate flooring for your project? The answer is perhaps not as easy at it may seem thanks to the many products on the market today. Looks, comfort and durability are the three most important elements to consider if your flooring is to meet the challenge of household traffic over many years. Here are some great ideas and sound advice to help you choose what's right for your home. Natural materials such as stone and marble make for excellent floors.
They are the ultimate building materials and have been around for millions of years, being used as flooring since pre-history. With today's modern quarrying methods and technology, we have an enormous choice of products. Stone flooring is available in a huge variety of colours and textures. It is highly durable and therefore suitable for all rooms in your home and is the only material that actually improves with age: it will last forever and its appearance is timeless. Stone flooring is easy to maintain and stylish and it will look wonderful whatever your home's décor — modern, traditional or classic. The rocks used for most stone floors can be divided into three basic types: sedimentary, igneous and metamorphic. Travertine and limestone are examples of sedimentary stone, while granite is an example of igneous stone and slate and marble are metamorphic stone. Flooring made from real stone can be honed to a high shine or kept matt to allow the texture to show through. It can be mottled, dark or light in colour or anything in between. Maintenance of a natural stone floor is easy and trouble-free if prepared correctly. Natural stone flooring is the ultimate sustainable choice. It will last many lifetimes. Consider the world's oldest floor: located in Britain, it is made of limestone, is about 7000 years old and is still in relatively good condition. Beautiful, durable, sustainable, economical — four words that sum up timber flooring. Timber floors will look good in any home. Whether you use simple floorboards or more intricate parquetry, a timber floor will add style and value to your property. Timber is strong, durable and easy to clean and great for high- or lowtraffic areas. It is also warmer than tiles or other hard flooring and when teamed with a rug can create a wonderful ambience.
Timber flooring is available in many species, grades and finishes, allowing you to create an individual look for your rooms. And, because timber is a natural product, it will have more character than one that is man-made. For those with health issues, timber is less likely to harbour dustmites and other nasties, making it ideal for sufferers of asthma and allergies. Whatever your home's character, timber is the perfect partner. Choosing light-coloured timbers will create a sense of light and space inside your home. Light timbers will also show less dirt and marks than dark timbers, making it suitable for high-traffic areas such as kitchens and family rooms. For more traditional residences, darker timbers may work best with your décor. Either way, timber is a wonderful choice. Laying timber flooring is fairly simple. You will need to select the width of boards you prefer and the style of pattern. If you choose parquetry, you will need a specialist in this medium as intricate parquetry is much more complex and time-consuming to lay. Timber has environmental benefits, too, as the timbers used these days are a renewable resource, grown locally and using relatively little energy in their production. Its longevity adds to its sustainability and, even if a building is demolished, the timber flooring can be removed and reused. After years of faithful service, a timber floor can receive a facelift by sanding and refinishing to give an almost unlimited lifespan to your home, making it a very economical investment. A timber product gaining popularity in Australia is bamboo. Bamboo is a giant grass that has been around for 200 million years. It grows prolifically and replaces itself every five to six years, so is quicker than trees to harvest. When fully grown, bamboo is denser and stronger than traditional hardwoods and termites hate it. Light in weight, bamboo is hardy and resistant to denting and shrinking. It can be used in areas exposed to water and is ideal for heavy traffic areas. Bamboo does not need to be coated once laid as it is supplied with a coating, meaning installation time is reduced. Bamboo has a natural glow and a unique grain. It is available in a wide range of colours, styles and finishes to complement any décor. Its colour is derived from a process called carbonisation, a steaming process similar to caramelising sugar. This process creates the colour throughout the board, meaning you do not need to re-stain after sanding. Bamboo flooring is easy to keep clean and maintain and is allergy-free.
Ceramic and porcelain tiles
Ceramic tiles are a fashionable and versatile floor covering available in myriad colours, shapes and sizes. Ceramic tiles are made from clay, fired in a kiln to a high temperature and often finished with a durable glaze that creates both colour and pattern and allows ease of maintenance. Ceramic tiles are commonly used throughout the home in living rooms, kitchens, bathrooms, family rooms, patios and hallways — in fact, they can be used everywhere. Porcelain tiles have become very popular in recent years. Made from porcelain clay and fired at a much higher temperature than ceramics, porcelain tiles are denser and therefore offer superior chip-resistance. They are a great floor solution for both indoor and outdoor areas and are a popular choice with today's homeowners. Mosaic tiles are popular once again, particularly in bathrooms, but can be used wherever your imagination takes you. Mosaics can be made from ceramic or glass and are usually available on sheets 300mm × 300mm in size, which can be cut to join together or they can be used individually to create beautiful murals or amazing geometric designs. Ever-popular cork is another renewable resource harvested from the living bark of the cork oak. The major cork-producing nations are found in western Europe and north Africa along the Mediterranean Sea. Cork is soft to walk on, attractive to look at and has the ability to stand up to heavy foot traffic. It is ideal for entryways, kitchens, living rooms and other heavily used rooms. Cork flooring is available in a range of types, finishes and colours to suit all applications and tastes. It is also easy to maintain and repair and is renowned for its ability to act as a natural insulator. Concrete floors in domestic situations are on the rise. A desire for something different has created a demand for concrete floors and they are proving to be cost-effective, energyefficient, low-maintenance and flexible. Polished concrete floors come in a wide range of colours and there are three main methods of providing a polished finish on a concrete floor: steel trowelling, burnishing or honing. Colour, pattern, stones, timber and other materials can be added during installation, enhancing the material's myriad decorative possibilities. All About Floors.
Mud (adobe)
Less common today but on the rise in popularity is the mud or adobe floor, where a thick mud mortar is used instead of concrete. This type of floor is environmentally friendly, looks wonderful and is made from poured or compacted combinations of sand, clay, straw and sometimes crushed rock — materials that can be sourced locally and often from the site you are building on, making it very economical. Its smooth surface is resistant to wear and tear and is an excellent choice in passive-solardesigned homes for storing heat from the sun for winter warmth while remaining cool in the summer if properly shaded from direct sun.
Vinyl
Vinyl flooring is a popular choice available in many styles and qualities. The varying qualities allow for inexpensive flooring, while high-end versions can compete with materials such as timber in both appearance and quality. Vinyl comes in sheet form and tile form, with tiles being the easiest to install yourself. Sheet-form vinyl requires skill in cutting and laying and can provide a wide area of seamfree material for your floors. Vinyl is relatively maintenance-free as it comes with a durable coating. The more expensive types require less frequent reapplication of protective coatings but they can all wear over time. All vinyl floors have a cushioned base, which comes in a variety of thicknesses. This makes the flooring soft to walk on, especially in kitchens where you may stand for lengthy periods. It is also great if you drop breakables as the cushioned effect may prevent damage occurring, although sharp objects can dent thicker materials. Textured finishes may help camouflage dents and marks. Vinyl can be used in all rooms, making it a cost-effective material.
Linoleum
Linoleum, lino in the vernacular, was invented by an Englishman in 1863. It is made from renewable resources, making it environmentally friendly. The word "linoleum" comes from linum, Latin for flax, and oleum, meaning oil. Linseed oil, which is derived from flax, was oxidised to create a substance called linoleum cement. This was then mixed with pine resin and wood flour and poured over sheets of jute backing material, which could be made into large, thin sheets and attached to floors as a covering. Linoleum wears longer than vinyl and is about the same price as high-quality vinyl. It was a very common flooring material in England and the US but fell out of favour in the late 1960s; however, it has been making a comeback in recent times as homeowners again appreciate its qualities. It is very durable and can last up to 50 or more years. Unlike some other floor coverings, lino, as it is more often called, does not "out gas" and over time becomes more durable due to oxidation of the flax oil used in its manufacture. It is also waterproof and fire resistant and great for people with allergies, as it does not attract dust or pollen. Forbo Marmoleum Global 3 is made from eco-friendly linoleum. It does not harbour dustmites or bacteria, which means there's no need to use cleaning chemicals that can be harsh on the skin or airways, especially for those suffering from asthma or allergies. One common bug, the norovirus, is resistant to many common disinfectants, but it has been proved to be killed on the new Forbo Marmoleum Global 3 flooring! Additionally, this flooring is non-toxic and doesn't stain easily.
The soft feel of carpets and rugs means they remain popular flooring options. With winter approaching and thoughts turning to keeping our homes warm, carpets and rugs are an inviting option. Whether you choose to use carpets in all rooms or just a few, there are so many varieties, colours and patterns to choose from. Traditionally, carpets are used in bedrooms and formal rooms and this is still the same in many cases today. Waking up in the morning and putting your feet onto a soft, warm surface — especially in the cooler months — is preferable to alighting onto a cold, hard surface. Selecting the right carpet for each room will depend on the amount of use the room will receive. Formal rooms that are not used regularly will only need a medium-duty carpet, whereas family rooms and entertaining areas will benefit from heavy-duty carpets. Very heavy traffic areas such as hallways and stairs will be better served with extra-heavy-duty varieties. If you are planning to carpet the whole house, it's probably best to use the same carpet throughout for continuity and, in that case, opting for heavy-duty would be the best solution. The type of pile and design you choose should be determined by your home's style and your personal taste. Carpets are available in a variety of fibres with wool being the most luxurious. Other fibres include nylon, polypropylene, olefin and wool/ nylon blends. Some fibres are easier to maintain than others so, when selecting your carpet, do your research before you make a decision as the wrong choice can be a costly one. Rugs provide an opportunity for some creativity in your décor. Custom-designed or ready-made rugs are available in numerous shapes, designs, sizes, colours and materials; the options are virtually limitless. A rug is a great compromise to add some warmth to a hard floor and it can be rolled up and stored during summer. Rugs can be used in all rooms of the house and can even be placed on carpet to define part of a room and add colour and design interest to an otherwise neutral colour scheme.
WHAT TO LOOK FOR IN CARPETS:
Choose something that looks and feels good
A woven carpet offers unrivalled strength and stability. Choose a wool-rich carpet for unbeatable luxury. Brintons has pioneered an 80 per cent wool, 20 per cent nylon blend to give you the best in performance and the beautiful softness underfoot that wool provides.
Colour and pattern —
Cchoose something you love! When thinking about your interior, design from the floor up. Don't leave the carpet until last! Your choice in flooring is the glue that holds your interior scheme together. Many of our patterned carpets co-ordinate with our plains, which are designed to enhance modern living whatever style you choose for your home. Think about a subtle stripe rather than plain or a pattern edged with co-ordinating plain to give a rug effect but with all the benefits of wall-to-wall carpet.
Be practical
Choose colours and patterns that suit the location and purpose of the room. Swirling florals and toiles are perfect for creating a soothing, relaxing environment. Darker colours and all-over patterns are great for areas next to the dirty or wet outdoors.
Cosiness —
Nothing beats wool Nothing welcomes like a beautiful woolrich carpet, soft to the touch with natural insulating powers.
Think of the environment
Choose a wool carpet as it's one of the most organic and renewable materials available.