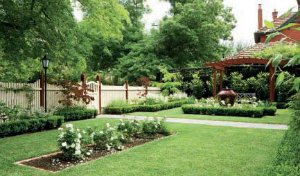 With just a touch of formality, this verdant garden is a joy to behold
By Diane Norris
Photography Patrick Redmond
The brief for this garden, situated in one of Melbourne's more sought-after suburbs, was to incorporate a traditional plant palette to complement the Edwardian style of the residence. Increasing canopy cover to provide shade and creating landscape features and focal points with the savvy use of plants were considered essential.
The charming picket fence was already in place when landscape designer Ian Barker was called on to design the garden, so it was foremost in his mind at the initial planning stage. Ian decided to embellish the fence by planting climbing roses at the pedestrian gate so arriving visitors would be welcomed by the gorgeous blooms of the climbing rose 'Lorraine Lee'.
Overall, the front landscape is formal in style and layout but uses a mix of formal and informal planting. The urn and arbour provide interest to the eye and are set on an axis amid evergreen planting that is interspersed with the annual-flowering bulb favourite Purple Iris, that delights with its spring colour. The trees include Forest Pansy (Cercis canadensis spp.) and a Honey Locust (Gleditsia triacanthos). An English Box (Buxus sempervirens) hedge beautifully defines the garden beds around the edges of the manicured twin lawns.
Purple and green weeping Japanese maples (Acer palmatum) have been planted along the verandah and a Crab Apple (Malus floribunda) is a feature on the corner of the house and adds a somewhat romantic element to the garden.
The informal mixed planting behind the hedge includes dwarf New Zealand Rock Lillies (Arthropodium cirratum), Mona Lavender (Plectranthus), Gardenias (Gardenia jasminoides), White Salvia (Salvia apiana) and Bergenias (Bergenia cordifolia).
Like many traditional gardens suited to this period style, the colour selection emphasises white and shades of green and purple. This colour scheme is repeated throughout the garden with a few lighter accents of pink included as the garden ventures around to the back of the property.
Taken as a whole, the garden design and plantscape give the impression of an English-style garden. These are sometimes considered water hungry and not in keeping with our Australian climate or water conservation principles, but Ian was astutely aware of this factor. He gave careful consideration to the plant selection to ensure each plant is drought tolerant, hardy and appropriate to the site and weather conditions. This was an important step for Ian, as he wanted the plants to look their best and be easy to maintain.
The owners are delighted with their front garden, which now frames their house to perfection and provides visitors with a warm welcome. They also enjoy spending a few quiet moments resting on the timber bench below the arbour and surveying their beautiful new surrounds.