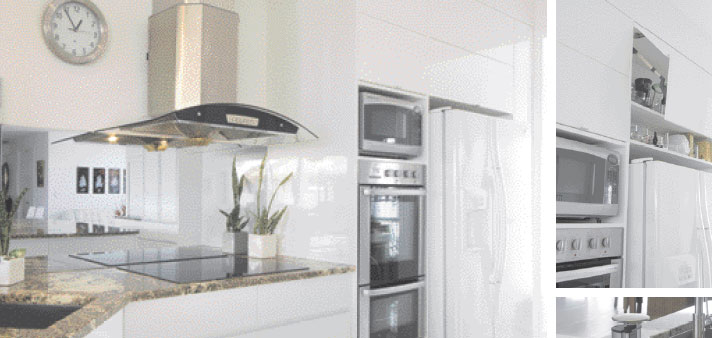 A clever inclusion by its maker, an optical illusion has guests looking twice. 
Gazing into this kitchen from the adjoining outdoor entertaining area, it appears as though the kitchen is floating majestically above the floor resting beneath it. The scene creates a stirring visual impact but the levitation is, of course, a trick of the eye caused by the mirror laminate kickboards that line the kitchen. And while this enchantment is a defining characteristic of the space, it is the only illusion created within it, as the kitchen is every bit as functional and practical as it appears. As part of a new home, this kitchen began life as a blank canvas, but the owners had explicit expectations of what it would become. As they are keen entertainers, the owners made it clear that it was essential the kitchen be up to the task and, because it takes centre stage in an open-plan setting, they wanted the design to be as spectacular as it was efficient. To fit with their personal style, designer Alan Schull kept the look simple and sleek without being too subtle. The result is a commanding space that earns its place as the hub of the home.
To keep up with the demands of entertaining, the kitchen was designed to accommodate two ovens, dishwashers, sinks and microwaves to allow more than one person to prepare and cook in the room at all times without interfering with one another. To make light of busy work, the latest in Blum technology has been incorporated into the kitchen; soft-close Blum drawers as well as Blum push-to-open drawers and Aventos flap doors were installed. A Zip tap supplying boiled and chilled water on demand was also chosen for convenience, while the carefully located pop-up GPO tower power points ensure there is always a spare plug for electrical appliances. Kitchen Shop Qld has crafted a memorable kitchen with a creative design and intelligent inclusions and though its appearance may at times be deceiving, its performance is consistently brilliant.