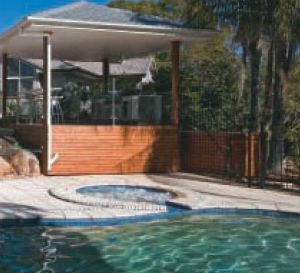 Contemporary in feel and function, this refreshed garden is now ideal for entertaining
The family's dream was to renovate and upgrade the existing swimming pool and rear portico into a fresh and modern entertaining area for everyone to enjoy. As part of the renovation they wanted a separate entertaining space to overlook the pool, as well as some timber decking and a tiled roof to complement the house.
Most importantly, there was a need to forge a better link to the pool from the house and to maximise the sightlines from the house to the pool.
To give the entertaining portico a more modern look, Ted Maguire of Camouflage Landscape Design decided to use large format Edenstone limestone beech pavers. A bullnose version was used for the pool coping.
"To enable an easy flow and to link the house and portico with the new outdoor kitchen pavilion and the pool, we introduced a series of square platforms," says Ted. "Each platform sees a change of material, alternating between timber decking and large paving slabs. This helps to emphasise the angular nature of the design."
Rumbled 50mm white pebble was used as a contrast paving material and as an interface between the pool coping and paving. The pebble follows the rear line of the pool and also rolls up to the spa.
For continuity and to link the various outdoor areas, bands of pebble were incorporated into the paved "floor" of the covered dining area at the rear of the home and into the timber decking.
"Stainless steel features heavily in the new poolside pavilion to give it the desired modern feel. The homeowner had already ordered the stainless steel outdoor kitchen so I just built on that theme," explains Ted.
Next to the pavilion there is a stainless steel water feature, positioned to draw the eye from the house towards the outdoor kitchen. Conversely, the water feature is visible from the pavilion, helping to direct the eye back towards the dining area.
To provide a shade canopy, several different types of palm were planted. In order to establish a middle storey, dwarf magnolia, lemon myrtle, port wine magnolia and lilly pilly were used.
"For a flourish of tropical foliage we looked to Buddha's Belly bamboo, Cordyline 'Red Sensation', Cordyline 'Fire Fountain', Dracaena marginata 'Colorama', Phormium 'Chocolate Cookie', bird of paradise, sago palm and black Aralia," says Ted. "To provide coverage and movement at ground level, we opted for proven performers such as liriope, dwarf mondo, Moses-in-the-cradle and Zoysia ternate (note to ed: can't find this on google??) — a hardy grass."
Now the family has their dream garden. It is low maintenance, of modern tropical design and offers a fresh and flexible approach to outdoor entertaining.
Project details
Landscape design and construction by Camouflage Landscape Design 1 Hayward Avenue, Cashmere Qld 4500 Phone (07) 3882 0866 Email tedvon@ozemail.com.au
Website www.camouflagelandscapedesign.com Photography by Glenn Weiss