Famed Swiss architect Le Corbusier said it well with the words, "A home is a machine for living."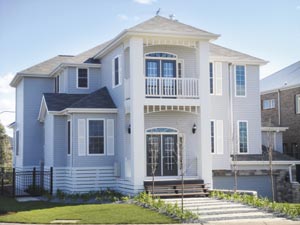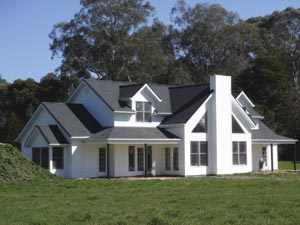 American Homes and its affiliated companies strive to put architectural innovation and construction excellence at the heart of home-building efforts. Architecture is the true art of creating homes that are focused on people and the way they live.
Take your time to learn about the company, explore its website and check out its home plans, then take the next step and visit one of its model homes. It's there you'll get a true sense of what American Homes is, what it builds and how it can put living architecture to work to give you a better home.
American Homes has earned a solid reputation for building custom, quality homes that incorporate the individual needs of its clients. Using technology together with 10 years' experience, American Homes combines globalisation with local skills to build the classic high-pitched roof, energy-efficient and environmentally conscious American smart home. With 6200 plans (many available for viewing on www.americanhomes.com.au), American Homes is packed with impressive features: American oak or maple kitchens, cosy fireplaces, double-glazed windows and French doors. Everything can be custom-designed to meet individual needs.
The group builds competitively priced custom homes from $8500 per square. That's because American Homes purchases from the world's largest building supply market, the United States, importing only select materials.
"This is the real McCoy," says Ritchie Toomey, general manager of American Homes. "We provide homes from genuine American plans and genuine American materials to create more than just the impressive look. Our product cannot be matched using local materials.
"We've spent many years refining our systems and processes and after testing many products in the market we guarantee to supply the best-value custom solution using superior products that exceed Australian standards."
As they say, you can't beat experience and when dealing with American Homes, you'll enjoy a relationship with a group that has been successfully importing materials and building distinctive custom-designed homes for longer than any other company in the business.
American Homes offers both single- and double-storey homes ranging from lakeside cottages to country estates. All plans can be modified and adapted to suit the land and the clients' needs. Clients have choice and control over the end result, but the final look is an American-style dream home.
"We know the decision to build is a serious moment in life and people should do their homework thoroughly," says Ritchie. "Our information kit is designed to provide a complete introduction that most people are looking for. We are fully transparent when we price your plans and we provide a detailed list of items and components required to build your home.
"For the subcontractors out there who dream of being builders, we'd be pleased to discuss the opportunity of becoming a licensed American Homes builder by joining our strategic partner program."
An American home costs less to operate, creates a healthier indoor environment, is made with materials that are designed to last longer, has lower lifestyle costs and has been built in a way that has less environmental impact — both during and after construction.
Says Ritchie: "We strive to integrate today's high-tech features and lifestyles with interior and exterior designs inspired by classic time-tested architecture. Our commitment to excellence starts each day with prompt professional service, superior craftsmanship and a fastidious eye for detail. We understand your home is the soul of your family, and that's why we build each home with care and beautiful architectural distinction.
"Our design centre was created to make your design selection a fun and enjoyable process. We know you are building more than a house; we're here to help you create a home for you to fill with memories. Our professional interior designer will assist you in making the perfect selection of carpets, tiles, paints and plumbing fixtures. We encourage you to bring photos, fabrics and magazine clippings with you to help bring together a place that's just right for you.
"Reputation is everything and one thing you can count on with American Homes and its affiliated companies is our long history of customer and industry recognition. American Homes has established a record we can be proud of and a reputation you can live with — in comfort, confidence and style."
American Homes will send an information kit to all clients who make enquiries.
COMPANY PROFILE

What sets American Homes apart is its amazing range of unique, eye-catching designs that suits your needs, budget and block, giving you a space that will be uniquely yours in form and function. American Homes sources the most innovative, energy-efficient materials from around the world, providing you with real value for money.
Combining striking external appearance with a practical and liveable interior, your home will look, feel and be different from any other on the street.
An American Homes consultant will work with you to list a number of plans based on your block, your needs and your budget. There is a huge range of designs you can choose from and be inspired by. Your consultant and designer will help you finalise your dream home and get working plans completed. Low-maintenance and high resale value are other benefits of building with American Homes. Satisfying clients is at the heart of everything the company does. Staff want to help you realise your dream home and enjoy a dream building experience.