In pursuit of a kitchen worthy of their stunning new residence, the owners called on the expertise of Carrera Kitchens to create a space with maximum impact.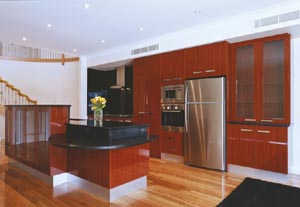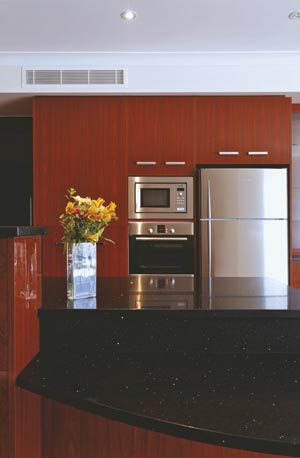 As the home overlooks glistening waters and a sparkling pool, the Carrera Kitchens team was under considerable pressure to come up with an eye-catching design that was just as impressive as the surrounding scenery.
Taking inspiration from the outdoors, striking Red River Gum gloss was chosen for the cabinetry and drawers. Black and silver tones were also selected to enhance the room's sleek look.
A Quantum Quartz Starlight Black bench featuring shiny mirror chips presents a dazzling aesthetic, while polished handles, brushed aluminum kickboards and stainless-steel appliances complete the kitchen's modern décor.
The island bench is the true show-stopper here. In addition to providing the owners with a concealed sink and a sizeable preparation area, the multi-tiered bench also incorporates a unique, curved breakfast bar for casual dining. Extra-deep benchtops around the hotplate and sink areas also demonstrate some extremely ingenious thinking.
Soft-close drawers, artfully placed glass cabinets and a walk-through larder are other fine examples of how the Carrera Kitchens team has seamlessly married form and function to craft this dazzler.
Project Details:
DOORS Polytec Crea Tec River Red Gum gloss
HANDLES Castella polished chrome
BENCHTOP Laminex natural quartz
SPLASHBACK Black metallic glass
KICKBOARDS Brushed aluminium
FLOORS Tasmanian Oak
APPPLIANCES include a Bosch oven and cooktop, Miele dishwasher and undermount Oliveri sink
Kevin Anderson Photography