Get the lowdown on all the latest products and initiatives that can help you be green around the house.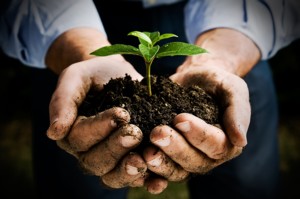 Great-looking garden range:
Victa's new, all-electric, cordless Envirogarden range of mowers and trimmers includes the powerful but super-quiet and cordless Enviromower, Envirotrimmer and Enviromower trimmer/edger attachment. The eye-catching lawn care range boasts a bright blue and yellow colour scheme, is easy to use by all ages, and requires no petrol, oil or electric cables.
The powerful but compact and lightweight Mulch & Catch Enviromower can handle any size lawn, but is ideal for smaller gardens. The compact size of the mower makes it highly manoeuvrable. It also has an impact-resistant chassis with six cutting-height adjustments and an easy-to-remove catcher.
The Enviromower has a reliable, high-torque, low-noise electric motor and can easily be changed from catching to mulching mode. Its rechargeable 24-volt battery is simple to remove and runs for up to 80 minutes.
The mower also has high-quality safety features, including an inbuilt auto-stop, safety lever and tamper-proof starter-key mechanism to prevent accidental or unauthorised use. Storage is simple, too, as the mower has ergonomic fold-down handlebars, so it fits in the smallest garage or shed.
When combined with one of the alternative green energy sources now commonly available from energy suppliers, the Enviromower can operate as a carbon-neutral appliance, unlike a petrol mower.
The range is available through Victa Gold Dealers and selected hardware and retail outlets.
Renewable flooring exempt from carbon tax:
Timber prices will skyrocket with the carbon tax introduction and Australia's implementation of tough new laws to meet the Kyoto Protocol. But environmentally friendly companies, such as Style Plantation, which sources only regenerative and sustainable resources, will have their products exempt from cost hikes.
The Australian government plans to implement the carbon tax by 2010, aiming to reduce carbon emissions by 60 per cent over 40 years. The carbon tax levies a fee on the production, distribution or use of fossil fuels based on how much carbon they emit.
Style Plantation national director Paul Coulson believes people should examine environmentally friendly alternatives already on the market. "Living in a stylish environment needn't be at the expense of the natural environment," Mr Coulson said.
As the tax makes certain materials more expensive, businesses and individuals will have to reduce consumption and increase energy efficiency. Timber flooring will acquire a high tax as production involves reducing non-renewable sources; trees. The carbon tax will make alternative materials, such as bamboo, more cost competitive.
Style Plantation specialises in Styleboard™ strand-woven bamboo flooring. The raw material used in the production is sourced from government-controlled renewable bamboo forests in China. The bamboo flooring is 100 per cent carbon neutral, termite-resistant as well almost twice the strength of jarrah.
Jindalee store managing director and owner of Style Plantation, Kevin Bursnall, said it's not only these features which make bamboo flooring appealing for homes and offices. "You can't go past the look. When you walk into a room floored in bamboo you catch your breath. There is a quality, warmth and feel created by the floor itself," he said.
Don't kill to be clean:
Method is a new environmentally friendly cleaning brand that offers environmentally sustainable products so stylish they should sit on the benchtop.
The products are competitively priced, making them accessible to the mass market. Traditionally "green" cleaning product has been more expensive than standard chemical cleaners but Method is committed to ensuring all Australians are able to quit their cleaning chemical dependency with this well-priced range.
Design guru Karmin Rashid created the ultra-cool packaging. People love the way it looks, purchase it and then realise they have just made a green choice. The company has also launched a book called Squeaky Green, which gives tips on how to de-tox your home. The range is available at Woolworths nationally.
A78440BC – IMPERIAL – 40-watt fluorescent floor lamp in brushed chrome with nine-watt compact fluorescent child lamp.
A90031 – CORSO – 11-watt compact fluorescent spotlight in brushed chrome with heat ventilation.
MF5408 – CURVE – Eight-watt fluorescent wall bracket in brushed chrome with frosted glass diffuser. All from Mercator Lighting.
Go natural:
In keeping with the latest design trends of neutrals and naturals, The Hemp Gallery's products are suitable for window treatments, accessories and upholstery to complement the palette.
Economists predict consumers will purchase wisely and are looking for better-quality products with longevity both in design and colour. The Hemp Gallery's organic fabrics fulfil these requirements. The latest term around is "The New Seriousness", which indicates the neutrality of design. The Hemp Gallery exemplifies this with organic cottons, hemp/yak hair and organic naturals.
Jacquard-embossed stripes complement the plain weave canvas that co-ordinates a palette of Hamptons-style neutrals. The relaxed feel of coastal decor can also be interpreted with the use of stylish Wedgwood and stone colourways that mix with their clear, natural co-ordinates.
Lift Off graffiti:
Finding graffiti on your freshly painted garage door, garden wall or vehicle is frustrating, as is children's "doodles" that sometimes appear on internal walls and furniture. Whether this graffiti is by aerosol paint can or marker pen, it is virtually impossible to remove.
Lift Off removes oil and water based paint and marker pen from virtually any surface with a formula that is water-based, low in volatile organic compounds and safe to use. The entire range is biodegradable, low in odour and has none of the usual smells of solvents or ammonia.
The collection of stain removers (Lift Off 3, 4 and 5) are formulated to effectively remove paint and marker pen graffiti (ink or dye based, acrylic and water based) from everything from clothes, metal, plastic, and glass and painted timber to furniture and carpet. All products work well on most surfaces, from highly porous such as brick and concrete to the most delicate fabric and upholstery, without damaging or degrading the surface or the environment. They require minimal elbow grease and will not degrade or bleach the surface.
Lift Off 3, 4 and 5 are sold in 650ml bottles nationally from all Bunnings stores and most hardware and paint outlets and is distributed throughout Australia by Flood.
Waste not, want not:
The Biolytix Wastewater Treatment System is an ecosystem in a tank and uses nature, not machines, to treat wastewater. It mimics the rainforest floor where organisms convert waste into humus, which in turn filters wastewater as it trickles through. The Biolytix collects wastewater from around the home and purifies it.
The Biolytix system, like nature, continually replenishes itself. In nature, waste is broken down without electricity or chlorine. This is the biolytic process: the decomposition of organic matter by living organisms and natural chemical processes. The biolytic process is fuelled by oxygen, which is why the most efficient breakdown takes place on the soil, not in water.
Biolytix, understanding the importance of this fact, designed a dry or terrestrial system, rich in oxygen and therefore highly efficient. Most other systems are liquid-based and have to use expensive-to-run (and replace) aerators and agitators to oxygenate the water.
Biolytix also uses no chemicals and has few moving parts to break down or replace. It does not rely on pump-outs or desludging, so operating costs are low. The Biolytix also emits negligible greenhouse gas.
Effective lighting:
Let playful patterns dance across your garden with the stylish stainless-steel Blue Effects Solar Bollard light set from HPM. With a remote solar panel and five metres of cable per light, the savvy solar lights recharge during the day (even if they are located in shade!) and will effectively illuminate your yard at night. Available from hardware stores nationally.
The eco-conscious choice:
Known for its natural beauty, durability and green qualities, western red cedar is the perfect building material for those who want a stunning, but eco-conscious home. The rich reddish-hued timber has minimal impact on the environment as the manufacturing process uses less energy and produces fewer greenhouse gases than the production of other building materials such as steel. Western red cedar also has natural thermal qualities, which reduces CO2 emissions and saves you money on climate control in the home.
Topsy turvy:
Enjoy garden-fresh tomatoes or herbs without digging, stakes or weeding. The Topsy Turvy Grower, which can be hung from anywhere, is a great gift for friends or relatives who love to grow their own vegies but have limited space. A great gift for the inner-city green thumb.
Government helps in solar hot water installation:
The February announcement by the federal government to provide a federal solar hot water rebate of $1600 will cover the cost of installation.
Now with free installation in addition to pre-existing state-based rebates and the Renewable Energy Certificate scheme, this will provide a major stimulus to homeowners by further breaking down the cost barrier for switching to solar.
According to Romano Bolzon, national business manager for EcoSmart® Hot Water, "This is great news for consumers as it means homeowners can reap the benefits of free installation on energy-efficient solar hot water systems."
The Solar Hot Water rebate is a component of the Australian Government's Energy Efficient Homes Program, and the new changes are effective from February 3, 2009, until March 31, 2012. No longer means tested, anyone can now install an energy-efficient solar hot water system provided they have not already applied for the "Insulating Australian Households" rebate.
An even bigger incentive for making the switch, solar hot water customers are still entitled to Renewable Energy Certificates (RECs) and the existing state-based rebates, which brings the total value of rebates available to $3200 or to $4200 depending on which state you live in.
Mr Bolzon added, "Every owner or renter in Australia who has an existing electric hot water heater system can now make the switch to solar technology, and the installation will be paid for by the government.
"Solar hot water is the single best thing people can do in this economic market to help reduce energy consumption in the home and reduce electricity costs. If homeowners act now, there is virtually no additional cost to save tonnes of greenhouse gas emissions, as well as save themselves hundreds of dollars a year on energy bills," he added.
The new hot water system must replace an existing electric storage hot water system, which is known to be the highest household emitter of greenhouse gas emissions and heavy user of electricity, consuming up to 35 per cent of domestic household energy use.
EcoSmart's solar hot water system may reduce household hot water bills by up to 80 per cent or $4000 over a 10-year period, based on a family of four living in Sydney or Brisbane.
Solar water heaters have an edge over conventional water heating systems in their ability to save environmental degradation by reducing the need for fossil fuels and utilising energy from the sun, particularly in Australia, where there is an abundance of sunshine.
"These rebates help ease the upfront costs of investing in energy-efficient hot water systems, which are more environmentally friendly, and offer the homeowner genuine savings on their ongoing hot water running costs. Taking advantage of these rebates is an easy and inexpensive solution to our energy and environmental problems," he said.
The solar hot water industry estimates that more than 50 per cent of Australia's eight million homes are eligible for either the $1600 Federal Solar Hot Water Rebate or Insulation Rebate. It also estimates a further 1.4 million homes have traditional electric storage systems eligible to be replaced with environmentally friendly solar water heaters.
The deal:
Up to $1600 for the installation of solar hot water or heat pump system to replace electric hot water systems until March 31, 2012.
It does not apply to replacing gas hot water systems.
The $1600 rebate is an increase from the existing $1000 scheme and the means test has been removed.
Claims can be made by calling the government hotline 1800 808 571.
People cannot claim both the insulation and solar hot water rebate.
Solar industry booms with federal government package:
In NSW, where additional rebates also apply for the replacement of conventional electric systems with environmentally friendly hot water systems, the purchase of a solar hot water system could very well be free for most homeowners.
Environmentally friendly hot water systems, such as the 2008 Australian Design Mark-awarded Airoheat® heat pump water heater, easily replaces a standard storage electric system, while at the same time saving around 70 per cent of a home owner's hot water energy costs. Each system reduces greenhouse gas emissions by several tonnes per year.
If all four million eligible homes installed an environmentally friendly hot water system, Australia's greenhouse gas emissions would be reduced by around 12 million tonnes per year.
Les Patterson, general manager of Dux Hot Water, Australia's largest locally owned solar hot water manufacturer, said, "The increase in rebates is the single best thing that has happened to secure Australian manufacturing jobs and ensure a low carbon future. We applaud the federal government for making solar hot water heaters more accessible to homeowners, encouraging our society to move towards a greener future."
The hot water industry website www.hotwaterrebate.com.au has been inundated with enquiries from consumers and plumbers looking for simplified explanations of all current federal and state rebates and Renewable Energy Certificate (RECs) rebates.
This innovative website not only features a few famous faces, but simply and effectively calculates the total rebates available. Until recently, all rebates appeared on separate websites, making the whole rebate claiming process very difficult.
The website is the only comprehensive website which explains the rebates available for every eligible hot water system, as well as making them easier to claim, with all eligible forms available online.
Ceiling insulation for 2.7 million homes:

To support jobs and set up Australia for a low carbon future, the Rudd Government will install free ceiling insulation in Australian homes.
The Energy Efficient Homes investment will:
Install ceiling insulation in around 2.7 million Australian homes;
Cut around $200 per year off the energy bills for households benefiting from these ceiling insulation programs;
Reduce greenhouse gas emissions by around 49.4 million tonnes by 2020, the equivalent of taking more than one million cars off the road.
Energy Efficient Homes is a key element of the government's $42 billion Nation Building and Jobs Plan.
Insulation is typically the most cost-effective way to improve a home's energy efficiency. Although all newly built homes must be insulated, many older homes (up to 40 per cent of Australia's housing stock) remain uninsulated. This results in many householders paying much more than they need to in energy bills.
Once installed, households could save around $200 per year on their energy bills as well as improve their home's comfort and value. The Energy Efficient Homes package will modernise Australia's homes, and will enable almost all Australian homes to be operating at a minimum two-star energy rating by 2011.
For a time-limited period of two-and-a-half years, from July 1, 2009, owner-occupiers without ceiling insulation will be eligible for free product and installation (capped at $1600) by calling 1800 808 571. As an interim arrangement, until June 30, 2009, eligible owner-occupiers who install ceiling insulation in their homes will be able to seek reimbursement (up to $1600) after the program commences. The government estimates 2.2 million owner-occupied homes will benefit from this program.
Many of Australia's most vulnerable households are renters who do not own their own home. To help these households lower their emissions and save money on energy bills, the government will also double the rebate available under the Low Emissions Plan for Renters for landlords to install insulation in their rental properties — from $500 up to $1000 — until 30 June, 2011. The government estimates 500,000 rented homes will benefit.
Under this Energy Efficient Homes package, homeowners will be able to access either the insulation program or the solar hot water rebate.
These investments will ensure the maximum number of Australians (homeowners and renters) will have access to practical measures that help them to reduce their energy use and save on energy bills prior to the introduction of the Carbon Pollution Reduction Scheme.
The deal:
Up to $1600 for installation and supply of ceiling insulation per home. It is not means tested but is limited to homes with no ceiling insulation.
It does not apply to households wanting to replace good insulation.
Up to $1000 rebate for landlords of rental properties.
Home owners can either get the work done themselves by June 30 and claim the money back from government, or wait until after July 1 and have government organise it for them.
Do it yourself:

For work done between February 3 and June 30, 2009, keep your receipts.
The government will issue guidelines about how to claim.
Government does it for you:
After July 1, call the government hotline 1800 808 571 and make a booking. The government will send someone to your home to do the work.
The scheme runs until December 31, 2011.
SHOPPING DETAILS
VICTA
1800 356 632
www.victa.com.au
STYLE PLANTATION
www.styleplantation.com
METHOD
www.methodhome.com
MERCATOR LIGHTING
1300 303 335 (NSW)
1300 552 255 (Qld, Vic, SA, TAS, NT)
08 9249 4447 (WA)
www.mercatorlighting.com.au
THE HEMP GALLERY
02 8901 0375
www.hempgallery.com.au
LIFT OFF
1800 226 113
BIOLYTIX
1300 881 472
www.biolytix.com.au
HPM
1300 369 777
www.hpm.com.au
WESTERN RED CEDAR EXPORT ASSOCIATION
www.wrcea.org
ECOSMART
www.ecosmart.com.au
FEDERAL GOVERNMENT
1800 808 571
www.pm.gov.au
HOT WATER INDUSTRY
www.hotwaterrebate.com.au
MITRE 10
1300 001 010
www.mitre10.com.au