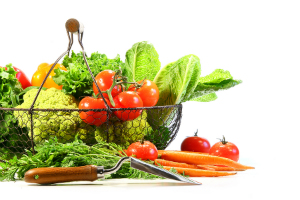 Growing your own food is good for you and for the environment

Home-grown produce offers greater taste, freshness and choice and with a range of "unique" and "old favourite" fruits and vegetables available, it's easy to grow an environmentally sustainable future for your family in your own backyard.
According to the Nursery and Garden Industry Australia, which recently launched its Life is a Garden campaign, one of the newest trends for 2007/2008 is the "garden foodie". As interest in healthy living and organic produce increases, the desire for healthier and tastier produce is inspiring more people to grow their own, hence the rising popularity of the kitchen garden.
Today, you can grow herbs and vegetables regardless of the size of your garden. There are even small fruit trees available that will thrive quite happily in a pot on your balcony or in your courtyard.
To get you started, well-known Australian chef Luke Mangan has a few tips for growing your own produce:
• Grow varieties like mint and basil in spring. This is when they thrive and produce plump leaves and a great flavour.
• Try using your own compost as a fertiliser. You'll be surprised at how much zest it will give your fruit and vegetables, plus it is more environmentally friendly.
• Oregano is a great herb to grow all year round. It's tough so it can endure all sorts of weather.
• A different herb to grow is chervil. It has a mild taste and a great aroma that's ideal for garnishes. Although it's available dry, it has the best flavour when fresh.
With a range of multicultural cuisine at our fingertips, the garden foodie is keen to reproduce the great taste and variety we are used to in restaurants in the home kitchen, with rare and unique varieties not commonly found in commercial outlets. For great taste and variety, here are some interesting herbs and vegies you could try growing at home:
• Asian inspiration: Varieties like bok choy, kailaan and senposai are easy to grow and on your table in just six to eight weeks from planting.
• Thai inspiration: Thai holy basil (Ocimum tenuiflorum usually sold as O. sanctum) is a tender annual 30-60cm high. Prune flower stems as they appear, to produce more leaf. Use in salads, stir-fries and curries.
• Indian inspiration: Eggplant (Solanum melongena var. esculenta) thrives as a warm-season vegetable. Great for baking, broiling or frying, use as a side serve for a hearty roast or a warm sandwich filling.
• French inspiration: Summer savory (Satureja hortensis) is an annual plant growing to 30cm high. Remove flowers regularly to prolong the life cycle. Combine with beans, butters, artichokes, cabbage, casseroles, soups, stews and herb breads.
• Something different: Fish herb (Houttuynia cordata), which really tastes like fish, can be used anywhere you'd use fish sauce, especially in paw-paw salad.
• Curry pot: Grow varieties such as spicy leaf murraya, grey curry leaf, fennel and garlic chives.
• Thai pot: Grow varieties such as lemon tree, lemon thyme, chives, chillies, coriander, hot mint, mint and Asian greens.
• Miniature fruiting trees: Ideal for small gardens, even balconies, Trixzie miniature fruiting trees can be grown in the ground or in planter tubs. Varieties include Nectazee (nectarine), Pixzee (peach), Pink Lady (apple) and Cherree (white cherry and black cherry).
And nothing beats whipping up a tomato pasta sauce with your own tomatoes, garlic and basil. For a "small garden delight", look to Patio Roma Tomatoes, Courtyard Capsicum and Baby Lettuce Combo.
The above information was provided by the Nursery and Garden Industry Australia. To find out more: www.lifeisagarden.com.au