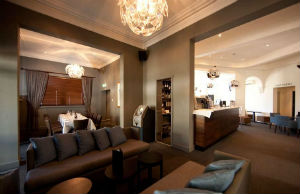 By Sue Kanidiadis
For the first issue of Good Gardening, my instructions were simple: "Interview chef/ restaurateur Luke Mangan." But with only an email address and some sample key questions, you can guess what I did next … Google, of course. Well, don't we all begin with that? One of Australia's leading chefs, Luke Mangan was born into a family of seven boys who grew up in Melbourne. He now lives in Sydney but travels constantly to his restaurants and events around the world. At 14, Luke started cooking as an apprentice and by the time he was 29 he had opened his first restaurant, Salt in inner-Sydney's Darlinghurst. His success soon spread internationally, with restaurants from San Francisco to Tokyo, recently opening his new restaurant, Salt Grill, on Pacific Jewel, one of P&O's cruise ships. His latest venture is a gastropub called The Palace by Luke Mangan, on City Road in South Melbourne.
Luke has also written four best-selling cookbooks: BLD — Breakfast/Lunch/ Dinner in 2000, Luke Mangan Food in 2002, Luke Mangan Classics in 2005 and At Home and in the Mood in 2009. He has also made regular appearances on wellknown TV cooking shows internationally and in Australia and is the roving food reporter for The Today Show Australia. Luke's puts his cooking philosophy in a nutshell: "I will always source the finest and freshest local ingredients and showcase them with a clean and contemporary twist." Using ingredients that are fresh, simple and grown locally, together with his influences while training in Asia and France, he has been able to create extraordinary dishes that enhance the natural flavours of their fine ingredients.
It didn't surprise me to discover that Luke has had many requests to cook for the likes of the former US President Bill Clinton and at the wedding of Danish Crown Prince Frederik and Princess Mary in Copenhagen. He's often called upon by Sir Richard Branson for his private events and functions.
What is your favourite city in the world? After travelling all over, my favourite city would have to be Tokyo. I find not just the food but the lifestyle of Japan inspiring and exciting. The food is always fresh, the people are friendly and the city is always alive — what's not to love?
Who/what have been your biggest influences? I started my career in Melbourne in the mid-80s as an apprentice under Hermann Schneider of Two Faces fame. After I completed my training, I went to Europe and convinced Michel Roux of the three Michelin-starred Waterside Inn in London to take me into his employment. I credit both Hermann and Michel with my success. They are great chefs and both influential and instrumental in teaching me the craft.
Favourite utensils and why? My cooking style is to keep things simple, so my favourite utensils would be tongs and a fish slicer for barbecuing. They're great for barbecues and easy dishes to prepare for family and friends at home.
Favourite dishes? Kingfish sashimi, crab omelette, and liquorice parfait. We serve these dishes in all our restaurants: Salt Tokyo, Glass Sydney, The Palace in Melbourne and Salt Grill on board P&O. They have been the most successful and I enjoy preparing them — and the feedback's always positive.
What is your view on organic vs non-organic food? What advice would you give to readers when selecting ingredients for their own cooking at home? Organic always taste better and is healthier. When cooking anywhere, always check your local growers' market as they usually have the freshest ingredients and it's important to support local businesses. Organic products generally cost a little more, but you'll be able to taste the difference in quality and skimping on nutrients is the last thing you want for your body.
What is your advice to people who don't cook (too busy etc)? Come in and let my staff at any of our restaurants prepare you a meal!
What sets your restaurants apart? I would like to think our food is a point of difference. Many restaurants offer popular dishes that you can find anywhere, which can be nice because you know what you're getting, but at my restaurants I want diners to try new foods and experience the variety of flavours you wouldn't normally create at home or find just anywhere.
What unusual combinations of flavours have you created? Liquorice parfait with lime syrup has been the most unusual combination so far. Liquorice itself is an odd flavour that cannot be paired with much, but after trial and error I found lime syrup complements it well, creating a sweet and sour dessert that's refreshing for the tastebuds.
Your signature dish? The unusualness of the liquorice parfait with lime syrup has made it one of my signatures. The kingfish sashimi with eschallot and ginger dressing is another that's always a winner.
Your least successful dish? We create such a variety of flavours for people's unique palates that every dish has been a success. If we've taken anything off the menu it's because we haven't found enough quality ingredients to prepare it more than a few times through the night.
Who is the most important person you have cooked for? In terms of importance, I would say family and friends, but professionally where I had to make an outstanding impression…? Richard Branson, Princess Mary and Prince Frederik, Tom Cruise, Nicole Kidman, Bill Clinton, Prince Charles, Sasha Baron Cohen, Catherine Zeta-Jones and Elton John, to name a few. These are the people who made me sweat. If they left my restaurant unhappy, there could go my career and reputation.
Any tips on gardening/cooking in general? Keep it simple. Grow lots of fresh herbs and have a good olive oil — there's a great range of olive oils available in my range of providores — and good sea salt. That's all it takes!
Recipes and more about Luke can be found at www.lukemangan.com. Meanwhile, here's one to try at home.
Barbecue Lamb with Dukkah on Spinach and Chickpea Salad
Serves 6
Lamb ingredients
6 x 120–150g boneless lamb loins
30g Luke's dukkah, or other brand
45ml (3 tbsp) extra virgin olive oil
Dressing
2 large garlic cloves, crushed
10g (2 tsp) Dijon mustard
5g (1 tsp) sugar
5ml (1 tsp) lime or lemon juice
30ml white wine vinegar
60ml (4 tbsp) extra virgin olive oil
sea salt & cracked black pepper
Salad ingredients
½ bunch washed spinach leaves, torn into small pieces
100g mixed lettuce leaves (radicchio, mesclun, coz, butter lettuce etc), torn into smaller pieces
1 large tomato, peeled & diced
1 red onion, finely sliced
1 cup dried chickpeas, soaked overnight & simmered in water for 1 hour next day, or 1 tin chickpeas, drained & rinsed
30g (2 tbsp) chopped fresh mint
1 fresh mango, peeled & diced
lime or lemon wedges to serve
Method
Place the lamb loins into a bowl and sprinkle with the dukkah and a little of the olive oil. Rub the spice into the meat well until all the meat is evenly coated.
Barbecue the lamb, brushing with olive oil, until nicely browned and cooked medium rare. Drain on paper towels and keep warm.
To make the dressing, place the garlic, mustard and sugar in a bowl. Whisk in the lemon/lime juice and vinegar, then slowly whisk in extra virgin olive oil and season to taste.
To make the salad, place the spinach, lettuce, tomato, red onion, chickpeas, mint and diced mango into large bowl and toss together.
Slice each lamb loin into 4–5 pieces and arrange on individual dinner plates. Place a handful of the salad on top and drizzle the dressing over. Serve with a lime or lemon wedge on the side.