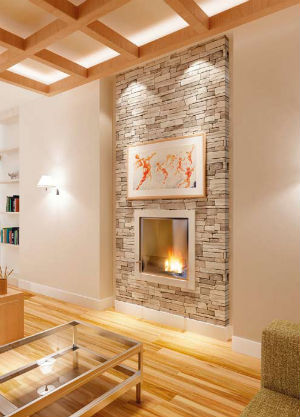 An open fire in any room
Original, versatile and eco-friendly, Blu Box fireplaces are easy to install, simple to operate and look great, too. Enjoy the beauty of an open fire in any room, in any home, with your very own Blu Box. Not only do Blu Box fireplaces present you with a beautiful lively flame, they radiate enough heat to keep you warm and cosy on a winter's evening. These fireplaces do not need a chimney, flue or any type of vent. Denatured ethanol burns clean, there's no smoke and no harmful emissions. Heat is retained in the room, providing more than 90 per cent fuel efficiency and the ability to heat the average living space. Blu Box fireplaces are available from The Fire Company Pty Ltd (EcoSmart).
Cosy up
There's nothing like the warm glow of a real fire to take the chill off the coldest winter night and create a cosy indoor space. Now it's possible to enjoy the ambience of a naked flame in any room in the home and even outdoors, with the latest VioFlame range of ultra-stylish designer fireplaces. "VioFlame has been designed for those who want an eye-catching fireplace that provides all the warmth and atmosphere of a naked flame without the hassle and mess associated with traditional fireplaces," said Graham Brake, managing director of Black and Stone. Clean lines and the smooth finish of the design style combine with the ease and practicality of use. Five new models are available for 2010, to complement the existing range of six. They are beautifully presented in co-ordinated matt black and stainless steel and, new for this year, a gorgeous gloss white combined with a stylish glass fender to lend a super-sophisticated look. Choose from freestanding and wall-mounted varieties, indoor and outdoor models, and a variety of sizes to provide maximum flexibility in design style. Fuelled by ethanol, VioFlame is clean burning and provides a generous amount of heat instantly. "You can purchase a VioFlame from the store in the morning and enjoy the warmth and elegance of a naked flame in your favourite room that evening," said Graham. Flueless and fully portable, the VioFlame is also a great choice for apartment dwellers and even rental tenants wanting the look and feel of a real fireplace without costly instalment charges. "VioFlame provides heat quickly and efficiently, creating a designer look for an affordable price, and you can take it with you should you move home," said Graham. Available from leading appliance retailers, the Black and Stone VioFlame fireplace is priced between $649 and $1199.
Heat-efficient fireplaces
"We experience a nostalgic comfort when we regard an open fire," says Henri Courant, managing director of Chazelles Fireplaces. "Now technology has improved fire to the point where we can include energy efficiency among its traits," says Henri. Chazelles uses modern technology to create heat-efficient fireplaces. The slow-combustion wood heaters are friendly to the environment, using renewable energy as fuel. These fireplaces meet Australian, New Zealand and European standards for CO² emissions. Chazelles offers more than 30 models, in single-, double- and triple-sided styles, as well as corner options. A range of designer surrounds is also available for you to personalise your fireplace.
This is hot
The new Cosmo SLR is one "hot" fireplace. When it comes to uptown style, Cosmo cuts a suave image. Everything about Cosmo says "hot". Start with the chic Martini and Tonic frames that give Cosmo its polished presence. Add a selection of rich finishes that are high on style. Accent Cosmo's firebox with a choice of moody glass media. Then there is the heart of Cosmo, its striking flame pattern. Vigorous and stimulating defines Cosmo's character … hot!
Amazing flames
The latest addition to Real Flame's gas fireplace technology is the Pyrotech Deluxe. This new model comes with full wireless remote control, incorporating a seven-day programmable timer with four individual settings per day, modulating thermostatic control, auto twospeed fan, electronic ignition and an impressive 4.1-star rating. This fire has an amazing flame pattern which will bring warmth and romance to any environment. Whether using traditional logs and coals or with the contemporary look of pebbles, this fire will captivate. Available in black or stainless-steel finishes, it will enhance any décor and you can enjoy a night by the fire anytime, without "burning" excess energy.
The stylish way to warm up your home
If you want the ambience of a cosy fire at the flick of a switch, a Heatmaster gas fire is for you. The award-winning Australianmade Heatmaster Enviro heater has a 4.6-star energy rating so your gas bills will be kept to a minimum. This stylish, wafer-thin heater has the option of glowing coals, traditional logs or ultra-modern pebbles to suit modern and traditional homes and its glass frontage comes in a black or stainless-steel frame.