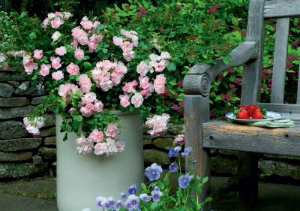 With the right plant selection you can create a garden that will be a delight to the senses
By Emily Cloke
The use of perfumed plants
Since ancient times, the appeal of perfume has mystified and intrigued the human race. The art of perfumery dates back some 4000 years and included many flowers and plants we know and love today, including coriander, myrtle and bergamot. Aromatic plants were hastily cultivated to feed the perfume industry, then in its infancy, with raw materials for production. Today we are fortunate enough to enjoy a ready availability of potted perfumed plants and flowers from local nurseries, cultivated and often commencing bloom, just waiting for us to include them in our landscape designs.
When selecting which perfumed plants you wish to integrate into your garden space, it's imperative that the smell is one that you will continue to enjoy. Some scented blossoms can be loved by one person but considered far too dominating by another. It's for this reason that the most suitable location for your chosen specimens will need to be carefully thought through. For example, a strong-smelling plant placed near an entertaining area may drive some guests away. By the same token a gardenia shrub purchased to remind oneself of times past and treasured memories will quickly become forgotten if placed at the far end of one's garden.
Proper placement is vital
Favourite aromatic shrubs should be potted or planted under windows and close to doorways so you get maximum enjoyment from the pleasing scents. Strong-scented climbers, however, may be better placed along boundary fence lines and in zones where only a light breeze will carry a hint of their blooms to the dwelling within. Herbs are best located within easy reach of the kitchen due to their combined culinary prowess. Roses are best placed where a winter-pruned patch won't become a seasonal eyesore.
Based on your individual space constrictions and sizing preferences, you may like to choose your perfumed plants from the planting lists provided on these pages. These range from trees for shade and large shrubs for hedging to groundcovers for edging and climbers for fences. And don't be afraid to get a little creative. Clipped rosemary or lavender can be used for hedging, aromatic herbs to create a formal potager garden or a traditional herb wheel.
If you have the room, a stroll garden can be a delightful addition to a garden. Use fragrant groundcovers, mid-layer plants and shrubs or trees to create a sensory treat. And if you have a penchant for wildlife, incorporate butterfly-attracting scented plants into your garden design, such as Buddleia and Heliotropium arborescens.
Consider the passing seasons
Whether you choose to incorporate a long expanse of hedging or simply just one or two pots of your favourite perfumed plants into your garden scheme, the end result will always leave you inspired with fond memories of their seasonal splendour. Consider selecting a range of perfumed bloomers that will flower at different times of year so there will always be something to delight the senses, both sight and smell.
Trees and Shrubs
Trees:
• Backhousia citriodora (lemon-scented myrtle).
• Hymenosporum flavum (native frangipani).
• Michelia champaca.
• Plumeria obtusa (evergreen frangipani).
Large Shrubs:
• Daphne odeora.
• Gardenia magnifica.
• Murraya paniculata (orange jessamine).
• Michelia figo (port wine magnolia).
• Osmanthus fragrans (sweet osmanthus).
Small Shrubs:
• Bouvardia Longiflora.
• Rosa sp. (bush roses)
• Ocimum basilicum (common basil).
• Gardenia augusta 'Florida'
• Heliotropium aborescens (cherry pie plant).
• Geranium sp.
• Lavandula sp. (lavender).
• Rosmarinus officinalis (rosemary).
Climbers and More
Climbers
• Jasminum polyanthum (pink bud jasmine).
• Trachelospermum jasminoides (Chinese star jamine).
• Stephanotis floribunda (Madagascar jasmine).
Spring bulbs:
• Narcissus 'Erlicheer'.
• Hyacinthus (hyacinth).
• Freesia sp.
Groundcovers:
• Flower Carpet roses
• Gardenia radican (gardenia).
• Oreganum vlugare (oregano)
• Viola odorata (sweet violet).