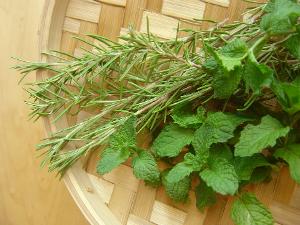 Herbs are not just fresh ingredients for the kitchen, but have much to offer the home gardener
Story: Donna MacPherson
Whether you pronounce it with an 'h' or leave the 'h' silent, there is no denying the popularity of herbs in our gardens and our lives. For thousands of years, almost every culture has known the benefits of herbs for medicinal, culinary and spiritual use.
As far back as 2000 BC, herbs such as bay, thyme, caraway and coriander were used for medicinal purposes, as dyes and disinfectants and also for embalming. But it was the Romans who were responsible for spreading herbs throughout Europe; they had learnt many of their uses from the Greeks.
The 16th century was the heyday of herbs. Christian monks used herbs for homeopathic medicinal use and they were grown in the home garden and knot gardens for medicinal use, fragrance, strewing and culinary purposes.
During the industrial revolution, the popularity of herbs died down in England but they remained popular in many parts of Europe. Although early attempts at commercial cultivation of herbs failed, by the 20th century they were commonly available to all and many processed preparations were available.
Today, including these versatile plants in your home garden is easy and there is sure to be a herb to suit your every need.
One of the best things about creating a herb garden is that you can have one no matter what size your backyard. If you are lucky enough to have plenty of space there is no limit of herbs to fill it. However, even if your only outdoor area is a balcony, you can create a useful herb garden in pots.
You can, of course, choose to have a separate herb garden or go the permaculture route and integrate your herbs with flowers and/or vegetables. There are said to be some benefits to using herbs as companion plants (see chart).
When it comes to choosing which herbs to include in your garden, you might want to consider the herb's traditional medicinal qualities as well as its culinary ones. But a word of caution: while many medicinal uses are centuries old, not all herbs are equal and some can be harmful to pregnant women, epileptics or if improperly used. So if you are planning to use herbs for medicine, buy a good book and read the fine print.
That said, there are some herbs I use regularly for their medicinal purposes and I wouldn't be without. Aloe vera for minor burns and sunburn is a must-have in my garden. I have also been known to boil some sage in a saucepan of water to dispel a burnt smell in the kitchen after a cooking disaster. I regularly add comfrey leaves to the compost as they accelerate the decomposition of your garden waste.
Most of my herbs have been chosen for their aesthetic or culinary qualities. When it comes to choosing culinary herbs, the choices are vast. Start with herbs you know you will use but you might like to also consider varieties that add interest and texture to your herb patch. Basil, a traditional addition to summer salads, with its large, fleshy leaves will add softness to your garden. Or, for a more exotic look, choose the ruffled, purple version.
Bergamot, or bee balm as it is sometimes known, is included for its lovely mauve flowers but if I were more of a fan of Earl Grey tea I could add a dried leaf or two to some black tea for a good homemade blend. There are also deep cerise and white-flowering bergamots if you want a really colourful herb garden. I planted thyme around the foot of my sundial as much for fun as for my roast tomato soup. Heartsease, or Johnny jump-ups, are given their space, just to lighten my spirit as I look out the kitchen window and to add colour to the mix.
Most keen cooks will want to make room for the big four — parsley, sage, rosemary and thyme — in their patch, but you might want to look beyond the basic varieties. You could, of course, choose the more common, curled-leaf parsley or try the favourite of the professional chef, Italian flat leaf parsley.
There are several varieties of culinary sage to choose from besides common sage (Salvia officinalis): there is purple sage, gold leaf sage and variegated sage. There are also several varieties of the very versatile rosemary available, with flowers ranging from the more common mauve/blue to white and pink. If you have plenty of time on your hands, a topiary of rosemary could be the focal point of your herb garden.
Thyme also comes in a number of varieties from orange and lemon-scented to variegated. It also dries well, so any excess can be shared with friends.
Other great specimens for keen cooks include chives, both garlic and plain; lemon balm, which is great with chicken or for rubbing on bee or wasp stings; fennel or dill for fish dishes; coriander for Asian cooking and its leaves are fabulous in potato salad; lemon verbena is wonderful with steamed fish in stuffing for poultry and a leaf or two is very refreshing in a cool glass of water on a hot day.
Herb gardens can be as decorative or as simple as you wish. They are the perfect foil for a bird bath, sundial, bee box or bird house. They can be as formal, casual or quirky as you like. You could have a bed devoted to culinary herbs, scented ones or mix it up, just ensure it receives about seven hours of sun a day.
Nepeta makes a great hedge around an informal bed of herbs, while lavender, thyme or parsley makes a great border in a more formal planting. Team them with a standard bay or rosemary topiary in the style of a knot garden. If space is an issue, gather pots on a balcony, pathway or even a sunny windowsill and label them around the rim for fun.
Top 10 scented herbs 

Lemon-scented thyme 

Thymus serpyllum   

Low-growing 

Full sun 

Lavender 

Lavandula angustifolia 

Height to 1m 

Full sun, good ventilation 

Rose-scented geranium 

Pelargonium capitatum 

Height to 1m 

Full sun, good ventilation 

Chamomile 

Anthemis nobilis 

Height 20 cm to 60cm 

Full sun to part shade 

Sage 

Salvia officinalis 

Height to 2m 

Full sun 

Rosemary 

Rosmarinus officinalis 

Low-growing to 30cm 

Semi-shade 

Hyssop 

Hyssop officinalis 

Height 40cm to 1m 

Full sun  

Mint

Mentha llabitae  

Height to 1m

Part shade to sun 

Lemon balm 

Melissa officinalis 

Height to 1m 

Full to part sun 

Oregano 

Origanum 

Height 10 to 50cm 

Full to part sun 
Companion planting

 

HERB

 

PLANT WITH

 

BENEFIT

 

Basil

 

Tomatoes

 

Improves flavour and repels insects

 

Sage

 

Cabbage

 

Repels white cabbage butterflies

 

Chervil

 

Radishes

 

Improves flavour

 

Horseradish

 

Potatoes

 

Repels potato bugs

 

Borage

 

Strawberries

 

Attracts bees for pollination

 

Garlic/Chives

 

Roses

 

Helps repel aphids

 

Rue

 

Raspberries

 

Deters Japanese beetle

 
Mint – the easy herb
The history of mint: There are hundreds of species that are grown all over the world for their aromatic leaves. And, like all the herbs that have long histories of human use, mint has gathered a wealth of associated legends and traditions. These began in Greek mythology where it's said that Pluto fell in love with a nymph named Minthe but, because of his wife's jealousy, he turned the enticing nymph into this fragrant herb. The ancient Romans cultivated mint and recorded flavouring wine with mint and honey. The Roman poet Ovid made mention of peasants using mint to clean their serving trays. Early Christina churches scattered mint on their floors and in Japan mint has long been cherished for its clean, fresh smell.
Propagating mint: Mint grows easily from small pieces (which will even take root in water) but the simplest way to obtain a number of plants is to grow them from seed. Sow tiny mint seeds into pots of seed-raising mix, water carefully so that seeds don't dry out but, conversely, aren't flooded out of the mix, and keep in a lightly shaded position. When the plants are about five centimetres tall they can be transplanted into their permanent spot.
Where to grow mint: Unlike many of the heat-addicted Mediterranean herbs, mint loves moisture and revels in a damp, lightly shaded position. If the conditions are to its liking it can become rampant, so for this reason it's often kept in a container. A broad, open pot is best for these shallow-rooted plants. Fill with a good-quality, moisture-holding mix or add water-storing crystals to a general-purpose mix to improve its water-holding capacities.
Keeping mint happy: Mint grows lushly if it's given plenty of water and an occasional application of nitrogen-rich fertiliser. Pinch out flowering stems when they appear so that the plant can concentrate on producing more leaves.
Information supplied by Yates: www.yates.com.au
Lavender – the useful herb

Uses for lavender: Lavender is often found in lists of useful plants. It's hard to believe that something so pretty can also be so useful, but there's a long history of lavender being employed in such mundane household tasks as washing clothes (indeed, the word lavender is derived from the Latin word for wash). Lavender is also said to have many medicinal properties, although it's mainly grown for its good looks.
Propagating lavender: Lavender can be grown from seed (in fact, it becomes a seed-borne weed in certain climates). Seedlings that are sown in early spring are usually ready to be planted out in the first summer. Tip cuttings can be taken for much of the year. Unless you want to grow lots of plants, the fastest, easiest way to obtain new lavender for your garden is by purchasing an established plant that's already in full bloom. This is also the best way to get hold of some of the exciting named varieties that are available.
Where to grow lavender: To flourish, lavender needs an open, sunny position with good drainage. It does best in Mediterranean-type climates with cool, moist winters and hot, dry summers, but there are so many lavender varieties available that it's possible for lavender to grow successfully in all but the most tropical of climates. In humid regions, the lavender known as 'Allardi', which is a cross between two particularly hardy varieties, does especially well. 'Sidonie' is another good all-round performer in a wide range of climates.
Keeping lavender happy: Lavenders appreciate an occasional dressing with some dolomite and during their growing season they can be fed with a plant food, such as Thrive Soluble Flower & Fruit. Not only does this encourage good flowering, its high proportion of potassium boosts the plant's resistance to disease. Regular light pruning will also help lavender stand up to disease — just remember to never cut into old, leafless wood, it won't usually re-shoot. 
 Information supplied by Yates: www.yates.com.au