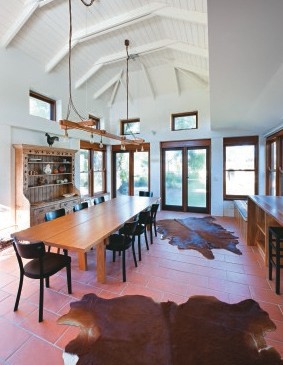 "She's a beauty but a little on the old side and too much like hard work." When weighing up the overall cost and effort of restoring a heritage dwelling, it can appear overwhelming and sometimes unreachable. However, as Melanie Spencer discovers, there are many layers in the renovation process — some scary, some challenging, and some extremely satisfying
It's totally understandable to be a little timid when faced with renovating a heritage home. You would think that only the real passionate extremists would take on such a task. However, it doesn't have to be that hard — and just think of the satisfaction of not only creating something unique and extraordinary, but at the same time preserving a piece of history.Now that's special.
When considering buying a heritage-listed home, there are, of course, professionals to assist you and they'll hold your hand for as little or as much of the time as you need them to. Architects, builders, tradespeople and heritage councils will also guide you along the way. The first step, however, is to work out who the property is listed with. There are different levels of heritage listings: it can either be under your local council or state, or nationally listed. Chris Roehrig, heritage consultant from HBO+EMTB Architects, says this will provide the degree to which it is listed and will give some idea on the restrictions that are placed on the property.
Michael Scott, senior heritage architect from Riddel Architecture, suggests calling your local council to check the listing; they should also be able to provide planning maps. Michael points out that if the property is heritage listed, it will have a citation and this will provide the reasons as to why the property has been listed. It will have general information on the property and a statement of significance — such as whether the property has been designed by a well-known architect or was designed for a famous person or that it's a rare example of a property. "Don't always assume that a listed home must be old," says Michael. He reminds us that there are plenty of buildings from the 1960s and 70s that are listed. The Sydney Opera House is the most obvious, but an example that is not so apparent is the multi-storied carpark on Wickham Terrace in Brisbane, designed by renowned architect James Birrell.
The citation will give a description of the building and will offer advice on what's important and what's not. This will then lead to a hierarchy of significance. If it's aesthetic, obviously the appearance is significant, and as long as this is retained you can do what you like out the back — within reason, of course! The layout of a heritage-listed home depends entirely on the era it was built in. An early 19th century home is likely to be small and have separate rooms. It's a good idea to like the home before making a purchase, suggests Michael. "There is a lot more flexibility in a heritage home than people think, but the character and nature of the house is why it is listed so you have work with the house rather than against it," he explains. "It's not a blank space; it has a whole stack of things that are valuable and if you work with those, extend and allow them to work for you, you get a great outcome."
There are strategies that can be employed to open up the home and make it a functional, viable living space. It is possible to add a new building so that it's sympathetic to the adjoining heritage structure. "That's what we do all the time," he adds. "We like the fusion of the new and old. There's always an adaption of the old to suit a modern lifestyle and to achieve this successfully gives great richness. Aspects of the old can be picked up and adapted to the new, such as using materials from the old in the new," he continues. Michael says the modern section should be distinct from the old but the new has to be sympathetic to the old; it's all about finding that balance.
Chris Roehrig says it's important to "have respect for the original building envelope and to look at existing spaces and what they can be used for. Modern living spaces generally go to the rear, where more open-plan living is required. Utilise the existing space for bedrooms and
bathrooms because the more you update the existing structure, the higher the cost. The older dwelling can be updated with paint and floor coverings to give a more modern flavour." When altering or renovating a heritage home, Chris suggests getting professional advice on what to do because it's important to retain the character; instead of working against it, you should enhance the outcome. He also suggests that materials, fixtures and fittings should be recycled but be weary as some can contain hazardous substances. Floorboards, doors and timber windows can all be re-used but be wary of lead-based paint and asbestos.
When renovating a heritage home there can be a tendency to overdo things. "People get carried away and if the old is not distinguishable from the new, this devalues the old," says Michael. It's always good practice and important to get expert advice on what to do with older materials. Working with builders who have done this type of work in the past is paramount to a successful heritage renovation. Michael says that even the best tradespeople require good direction and good conservation practice. The best builders are those who keep the tradespeople on the right track. He also advises to work with an architect
and have an end result in mind.
Stylist and director of bednest.com.au, Nicky Line, suggests that when choosing colours and furnishings for your heritage home, don't think too heritage as it's best to choose a more classic style. "There is no need for fuss. A nice clean approach is best when furnishing an older-style dwelling," she explains. "Go with rich, dark colours or a pale, powdery palette and stay away from brights. Keep it neutral because it's important to let the heritage fixtures and fittings shine. Choose a classic square-arm or roll-arm sofa in linen or leather, a timeless timber coffee or dining table," she adds. "Complement with plenty of upholstered products and fabrics."
If there is a contemporary addition to the heritage home, Nicky advises against fake heritage interiors. "Delineate between the styles or it can be a disaster," she says. "Instead, you should continue the furniture, colour
scheme and style into the modern addition and whichever is the highlight colour, follow this through."
The question on everybody's lips: does it cost more? Michael suggests you should always get expert advice and stay clear of issues that can't be fixed or are a constant source of maintenance. "As long as you're sensible you'll get your money back. Not immediately, but in the medium or long term, heritage homes generally acquire gains similar or more to that of a modern home," he says.
Michael warns that there are more controls on a heritage home so it may take longer to get approvals. There are, however, incentives and grants that can be applied for to make this process easier.
So renovating a heritage home doesn't just have to be a labour of love. However, you will need a certain amount of respect and appreciation for the original dwelling in order to uphold the dignity of our history and pay tribute to Australian architecture.