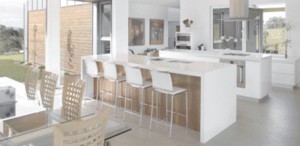 Art of Kitchens turns a practical kitchen design into a transatlantic masterpiece. 
With the intention of incorporating the kitchen into a large living and dining area, the client was interested in a handle-less kitchen accompanied by a neutral colour scheme and modern European look that echoed the style of the rest of the abode. With a young family in tow, the client also required lots of storage space, a communal breakfast area and a functional kitchen in which to prepare family meals.
The kitchen was designed with 800mm-high base and cabinets to increase the storage under the bench, with a six-drawer split used to maintain a linear look. Form and function were important aspects within the design space; therefore, two island bench areas were added to the kitchen, providing an easily accessible work space for meal preparation and casual dining. An additional row of cabinetry was provided under the low window to store platters and bowls as well as other kitchen appliances such as a steamer and microwave. The result is a defined kitchen space that effortlessly completes the overall style of the clients' home.