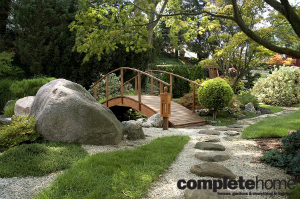 Nestled in the Adelaide Hills, this is a garden for all seasons
 Story: Diana McGregor, Landscape Designer
Photos: Sarah Long
The entrance to this garden, with its striking water feature comprising three large pools surrounded by coursed Kanmantoo stone walls, gives a tantalising taste, but does not quite prepare the visitor for what is to come.
The first impression is one of space and distance, with far-off views of the summit of Adelaide's Mount Barker and a foreground that drops away in a series of sweeping levels. The second impression is one of calm. This is a garden to spend time in, sitting quietly on one of the teak benches watching the numerous birds who call this garden home go about their daily tasks of collecting nectar, socialising, preening and singing for the simple joy of it.
The owners built this garden over 16 years, fashioning spaces that were functional and met the needs of growing active children. During the early years, their approach was to use economical materials and just let the garden evolve. Once the children were grown and gone, a time came when the owners needed to rip up large areas of the garden to connect to a sewer main and this was the catalyst for a total transformation. Today, it's hard to see the garden that once used to be.
The design concept was to create an outdoor environment that would be attractive across all seasons, even in the depth of an Adelaide Hills winter; one that would be fire-resistant, water-conserving and that would complement the Wistow stone construction of the residence. Most of all, it was to be a garden that would use the natural asset of a steep slope and create an environment that would entice visitors to meander through the paths and walkways connecting all areas of the garden. In consultation with Derek Moule, a local Adelaide landscaper and well-known expert in the use of stone, a concept was developed around a sweeping staircase boasting 24 two-metre-wide stone steps and large circular planters. This staircase became an elegant and striking backbone to the construction.
Curving walls were then built, extending away from the stairs. The stairs and walls were all of local Kanmantoo bluestone, laid in random coursed drystone style with occasional "jumper" stones to break the pattern and add visual interest. For protection and to create a practical edge to the garden beds, the walls are topped by solid mortared coping.
The walling provides the structure, together with a number of mature trees that shade large areas of sloping lawns. The planting is mainly composed of a blend of evergreen and deciduous shrubs and plants that follow a colour scheme of burgundy, grey, blue and apricot tones. This colour mix picks up on a similar palette in the stonework. A large earthenware bowl at the foot of the stairs was commissioned to capture the same range of tones.
In spring, the garden is covered in blossoms, from crabapples to bluebells. In early summer, clumps of irises provide startling bursts of colour. Hydrangeas, rhododendrons and agapanthus provide summer flowers and autumn is spectacular with Japanese maples (Acer palmatum), a large pin oak (Quercus palustris) and a claret ash (Fraxinus 'Raywood').
Most of the plants are fire-retardant and were selected for their low water use. The automated irrigation system is delivered by an in-line dripper system under deep mulch. As a result, the garden maintains a lush and fresh appearance throughout the year with very little watering. Despite appearances, little maintenance is required.
The garden, which is open to the public once a year as part of the Australian Open Garden Scheme, is designed for pleasure and recreation. There are large paved areas on both sides of the house, creating space for entertaining, and low-voltage lighting is strategically placed to provide backdrops after dark and allow safe access to the garden.