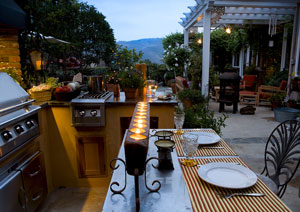 Words by Melanie Gardener Photography

Set among lush bushland, this 1970s project home, with very little character, had only one positive feature: a fantastic entertaining deck at the rear. When the owners approached Jeremy Adams of Lifestyle Home Designs, they asked him to design an open-plan, light-filled space with an exterior that would suit the surrounding bushland and other properties in the area.
"I wanted to come up with a design that was contemporary yet modest enough to fit in with the surrounding properties," says Adams. "I really felt that in this case, the materials used such as cedar windows, Colorbond roof and new timber floors would give the house a warm, homely feel that suits the bush setting."
Adams's challenge was to take a house with small, disconnected rooms and turn it into an open and spacious family home on two levels. Downstairs, three internal walls were removed to create an extensive area for the open-plan kitchen, family and meals area. At the front of the residence, a new entry was created, allowing the addition of a study and bringing a more contemporary look and style to the home. Upstairs, a children's lounge area was added, with a bedroom off either side.
The existing cedar windows were refurbished and any new windows were specified in the same material. An old, small bedroom was converted into an ensuite and walk-in robe for the main bedroom, giving the owners a highly functional space and allowing them to create an adults-only area.
Externally, the old bricks were rendered to provide a more contemporary finish, but the colour scheme, together with the new roof, has been kept neutral to ensure that it blends with the surroundings.
The downstairs section has been transformed into a family-friendly, entertainer's delight with free-flowing access through informal living spaces to the outdoor deck. "It was essential that the house functioned and flowed well on a day-to-day basis but also for entertaining situations with an easy transition to all living and entertaining areas," adds Adams.
Moving the original garage forward has allowed Adams to situate the kitchen in this space and open the rear of the house for living space. This is a great example of lifestyle design — where the design enhances the homeowner's lifestyle.
In any renovation project, it's essential that the original home and the addition exist in harmony. With this particular project, Adams had to contend with the original home's very low roof pitch. During the design phase, it was decided to adjust the original roof pitch to ensure that both old and new would fuse seamlessly.
Adams has taken a small, dark, three-bedroom home and turned it into an oasis of light-filled spaces with highly functional living areas.
PROJECT PARTICULARS
The project was designed by Jeremy Adams of Lifestyle Home Designs, 10/14 Narabang Way, Belrose NSW 2085. Phone: 02 9986 1311, email: info@lifestlyehomedesigns.com.au or go to www.lifestylehomedesign.com.au
FLOORING
Living areas: T&G Timber — cypress pine to match existing
Kitchen: T&G Timber — cypress pine to match existing
Bathroom: Tiled
Bedrooms: Carpet
Outdoors: Tiled entry porch
WALLS
Living areas: Plasterboard
Kitchen: Plasterboard
Bathroom: Tiled floor to ceiling
Bedrooms: Plasterboard
Outdoors: Rendered brick
KITCHEN
Cabinet doors and panels: Polyurethane
Benchtop: CeasarStone
Splashback: Tiles
LIGHTING
Living areas: Downlights
Kitchen: Downlights
Bathroom: IXL Tastic
Bedrooms: Standard lighting — fittings selected by client
WINDOWS
Cedar
DOORS
Front door: Solid core maple door with glass slab
Indoor: Four-panel hollow-core doors
OUTDOOR
Brick path & drive
"I wanted to achieve a light-filled, family-friendly house with a feeling of open space."
TIP: A rendered finish is a great way to give tired, old or ugly bricks a facelift and can act as the unifying factor where a project is combining old and new sections.