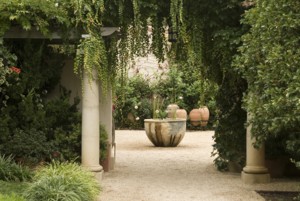 There is an art to creating a courtyard garden, but its one that can be easily learned
Story: Susan Walker
Before giving full reign to the designer within, it is critical to first consider the spatial constraints imposed by your courtyard and what impact that will have on the final design and the selection of materials, colours, plants and decorative features.
To effectively assess what your courtyard should include you need to be able to look at the space as if it were a blank canvas. Begin by noting any outwardly opening doors or windows (whether from the house or an outdoor structure) and considering issues of access. A door that swings out into the courtyard may take up valuable space so you might like to consider bi-folds instead.
Next ask yourself what are the functional requirements. Do you need to incorporate a place for a washing line or bin storage? If so, consider clever alternatives such as a washing line that folds flat against a wall when not in use or decorative screening (timber slats, bamboo paneling, a row of potted plants) to hide the bins.
Do you want to entertain outside? If so, do you need space for a barbecue, work space, table and chairs? Will there be room for guests to move around once the table setting is in place? A great idea for small courtyards is to swap a traditional table and chairs setting for in-built furniture. The same applies for the barbecue. Integrated features take up less space and give a courtyard a more streamlined look.
Be reserved in how you plan to use your space. You can often make a greater impact if you have fewer principle usage points but make more of the ones you do have. 
Maximise the available space
Levels, levels, levels! The floor space (or square meterage) of the courtyard is already determined by the walls and fencing but there are techniques you can use to make a space more interesting, enticing the eye to wander up and down, not only from side to side. Levels can also be used to create the perception of increased depth. While amphitheatre-type tiered seating arrangements would be over-powering, by introducing an extra level or two you can make the space feel larger than it actually is. 
Another way to maximise the space and create a level change is with built-in planter boxes that run around the perimeter or along one wall. These can be used to add foliage and floral colour as well as extra seating (if the capping is wide enough).
And on the subject of space, you might be surprised what you can fit into a courtyard — even a small one. Plunge pools, lap pools and spas can often be integrated. In fact, the walled confines of a courtyard are ideal for pools because they afford privacy from prying eyes.
Features and focal points
Select these with restraint if the courtyard is of modest size. The fewer objects and structures in a courtyard, the larger it will appear. To maximise the pleasure you derive from your hand-picked focal points, make sure they can be seen from inside the house as well as outside. 
Focal points (whether a water-feature or work of art) don't have to be placed at ground level. Use the vertical plane to best advantage with a wall-mounted water feature or a stunning wall plaque. These take up less space and draw the eye up, literally becoming the 'high point' of the design.
When choosing focal points, do so carefully. Scale the objects or items you select up rather than down. Large features in a small area create greater impact than smaller ones, which can make a courtyard seem cluttered, especially if you use too many of them.
Using colour and pattern
It may sound contradictory, but as you are typically dealing with smaller spaces in a courtyard you need to think big when it comes to certain design elements. Brick paving laid in a complicated or over-fussy pattern or an intricately designed mosaic is seldom restful to the eye when you are right upon it in a smaller space. Large-scale pavers have the effect of seeming to open out dimensions. If your space is rectangular, try to lay them length-ways running across the shortest width. This has the effect of 'stretching' the space.
Use of colour is important. Instead of a water-feature or a trompe lóeil on a wall, why not paint an exterior wall in a vibrant colour, such as hot pink or red, hang large-scale
outdoor pictures on it and allow it to blend with your living room walls. Hot colours can be striking and enliven a space, but if you want a feeling of peace, a white and green colour scheme will always be serene.
A good tip is to beware of dark colours in a small courtyard as they tend to give the impression of coming towards you, thereby enclosing the space. Lighter colours are softer, more inviting and make a space seem more open.
If you elect to follow a theme such as Tuscan or Mediterranean, consider how well this look will complement the façade of your house. If it doesn't, your newly decorated outdoor room will be divorced from your indoor living areas. 
Some handy planting tips
Greenery is extremely relaxing in any outdoor setting. In a courtyard, use some reliable evergreen specimens to provide the green 'backbone' for the planting plan. Just take care not to over plant or choose trees or shrubs that will grow too fast or too large, leaving no room for anything else. Plants espaliered along a wall or grown up a trellis are another way of adding year-round greenery.
You may like to plant a deciduous tree to supply summer shade but you need to keep three things in mind. The mature height of the tree needs to be appropriate to the size of the space, you need to find a tree with a root ball that is not overly invasive, and you will have a bare tree in winter that will leave a bare patch in your green structure.
To flesh out your planting plan, add in a few flowering plants for seasonal interest or for their uplifting colour, or maybe some architectural plants to add interest to a corner. These can be planted into the ground, into an in-built planter or placed in colour co-ordinated pots. You could even consider including a little herb garden or veggie patch.
When looking for plants for a courtyard, keep an eye out for dwarf versions and plants that have been especially bred to have a compact form. You can even find fruit trees that don't grow very big but produce full-sized fruit.
If you are able to follow these tips you can surely make the most of your courtyard — all you need to do is add your own spin. Although technique is uniform, by interpreting these techniques in your own way to suit your particular space, your courtyard will be something truly special. So take heart, you really can create a personalised space to be enjoyed for years to come.
About the author: Susan Walker is a Melbourne-based landscape designer and principal of The Garden Design Gallery.