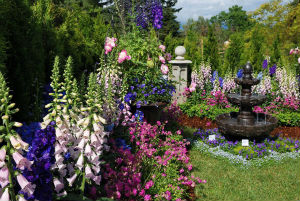 A new garden proves the perfect fit for a turn-of-the-century home
Story: Karen Booth
Photos: Patrick Redmond
Dubbed by the designer Chris Leaver as a "gardener's garden", this abundant and inviting backyard has a relaxed, foliage-filled charm that works in absolute accord with the solid brick 1890s residence.
When updating a garden attached to a period home, the challenge the designer faces is how to provide the functionality and flexibility the modern family demands while remaining true to the character of the house. Here, the garden has been made to look like an original feature of the property and this air of authenticity has been achieved by incorporating the old with the new.
Explains Chris, whose company Leaver Landscape Development built the new garden: "The grounds of the home contained several mature trees and shrubs. All the trees were retained and some of the shrubs, whether in their existing location or in a new, more suitable position. And while the existing pathways had to go, most of the materials could be salvaged for reuse.
"Slate and red bricks salvaged during the construction were used for the new garden paths, landings and retaining walls, helping to make the garden look as if it had been there for many years."
The well-considered planting provides the finishing touch, with annual and perennial garden beds working together to ensure an ever-changing, year-round display of colour.
"Over the past 20 years, the house had been lovingly renovated but what it lacked was a sunny living and entertaining area," adds Chris. "A conservatory enabled the garden to become part of the internal living space."
Through its open bi-fold doors, ornamental ponds bring the sound of cascading water into the home while perfumed plants provide fragrance and a splash of colour. The quintessential 'garden room', the conservatory is a place of quiet retreat, offering the ultimate in indoor-outdoor living.
And, as soon as you step outside, you understand what designers mean when they talk about a garden having a 'sense of place'. This is a garden that looks utterly at home.