Breathe new life into your home's interior.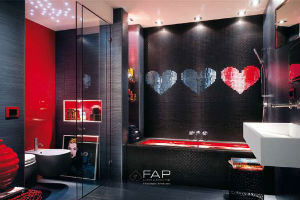 From UTE Australia, the SKU Profile bath mat is made from marine-grade cedar plywood and Tasmanian oak. It is finished in waterproof oil and has rubber anti-slip feet. This design celebrates the material it is made from — exposed end grain and natural finish.
It's the first release in the Shareen Joel-designed collection Useful Objects. The Knuckle Joinery Pull and a stainless-steel hook are the perfect addition to any bathroom and kitchen.
FAP ceramic mosaic offers an impressive array of decorative elements: fine pieces with a sophisticated, creative design, which will enable you to express your own unique style in the decoration of your bathroom. Ceramic material is incredibly versatile, enabling the mosaics to transmit a whole array of sensations: the most intense brilliant colours, reliefs, transparencies, glazes and decorations, as well as gold, silver and metallic effects.
Developed uniquely for the Australian market, nine new shades have been added to CaesarStone's colour range. With a total of 40 colours, patterns and textures available, there's something for every taste. Pure White is new to the range, as is a warm, brown/grey shade called Urban. Free Spirit is made up of a precious mix of amethyst and carnelian chips in a nougat base while Pebble is predominantly a combination of rich brown shades. Walnut is predicted to be the favourite as it's a classic mid-brown tone that is perfect for many design applications. As shown in the picture, Black Rocks is described as a molten mix of black, stars and patchy cloud. All these colours have been developed using a unique colour-mixing technology, hot off the press.
With the Water Micron Atmospheric Water Generator you can make up to 30 litres of environmentally friendly, pure, fresh drinking water from air! It uses minimal electricity, with all chemical compounds eliminated during the filtration and UV sterilisation process. Fitted with state-of-the-art technology such as electronic sensors, electrostatic air filter, a multi-stage filtration system, reverse osmosis membrane and UV sterilisation, the Water Micron AWG-30 will provide 99.8 per cent pure drinking water — from air. It's available in white and brushed silver finishes to complement your kitchen.
Designed by L.Meda, the kitchen Vela Aluminium by Dada is distinguished by an original island solution that brings all the operational functions together in the central block. A proposal featuring contemporary design with simple lines, light volumes, refined colours and fine finishes. The environment is distinguished by a large dining area dominated by the Nomis table.
This bathroom was designed by Spanish fashion designer Antonio Miro and is exclusively available from Paco Jaanson.