A government initiative to inspire the minds of Australian architects, and push them towards green designs.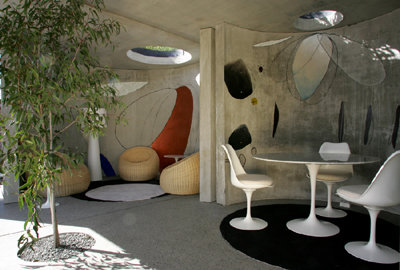 Houses of the Future was a major event planned for the Year of the Built Environment (YBE) in 2004. Each house, made either of cardboard, clay, glass, timber, steel or concrete, promoted new ways of providing affordable, sustainable and prefabricated housing. The concept of mass production was a focus of earlier exhibitions seen in Australia, including Robin Boyd's 1948 House of Tomorrow, Harry Seidler's 1954 House of the Future, and the designs of Ken Woolley, which were included in the 1960 Parade of Homes in Sydney's Cherrybrook. 
The YBE prototype examples for the Houses of the Future were exhibited initially on the magnificent site of the southern forecourt of the Sydney Opera House during October 2004, before touring to Melbourne and Canberra. They are now on extended display at Sydney's Olympic Park, where they form a major interpretive visitor experience and educational product that will promote the benefits of sustainable building design, environmental innovation and design excellence. 
NSW Government Architect Chris Johnson was the key driver behind the project and is very enthusiastic, although remaining realistic, about the potential long-term outcomes. "I am sure the six Houses of the Future will have an enormous impact on the future of housing in Australia. Our vision is not to immediately see houses like these spreading across Australian suburbia. The idea of an exhibition or prototype house is to break the boundaries of convention," he says. 
The Cardboard House, designed by Peter Stutchbury, represents the reduction of technology and the simplification of needs, utilising 85 per cent recycled and 100 per cent recyclable materials. It is extremely low cost, lightweight and flexible and is seen as a genuine short-term housing option that could be used in a variety of applications. You could live in one whilst renovating or building your home, use it for emergency housing or for short-term accommodation. It was developed in association with the University of Sydney's Ian Buchan Fell Housing Research Centre, led by Col James, who works directly with Susan Clarke, the Fell senior researcher in all Fell projects. 
Simple interlocking pieces are used to create a rigid structure — similar to the interlocking sheets found in wine boxes — and the house can be recycled up to seven times. Pioneering work on the use of cardboard in housing was carried out at the University of New South Wales by Vincent Sedlack, and last year Adriano Pupilli, an honours student at the University of Sydney, designed and built a full-size bay of a five-bedroom house with Col James. Paper and cardboard have been used to construct domestic housing in Japan for many centuries, where rice paper (shoji) was both inexpensive and safe in earthquake-prone regions. Contemporary Japanese architect Shigera Ban has used tubular and flat cardboard to great effect for housing. 
The Clay House, designed by Tone Wheeler of Environa Studio, features a courtyard concept maximising the use of passive solar design and cross-ventilation principles. By using the inherent mass of clay-brick products to create an intimate and private house, the home does not rely on artificial cooling and heating. A major strength of the design lies in its ability to fit onto a block of less than 300sqm, while still offering car parking and a garden of at least 100sqm. Environa is well known for trying to make a continuous space between indoors and outdoors. 
"Despite the push towards medium-density and high-rise density, there is still a huge groundswell of support to have suburban housing … with the Clay House we can fit three houses, all with privacy and outdoor areas, in an area where 50 years ago we had just one," says Tone. 
To try to maximise the Clay House's thermal mass, Tone explains that "the exterior is clad in a clip-on terracotta tile that has insulation and a water barrier behind it, and then has brickwork on the inside."
There is a long history of clay and brick construction dating back to Roman times. In terms of this housing model, the courtyard design also has a long history. Of particular note in the 20th century are designs by Jørn Utzon, the architect for the Sydney Opera House, who developed a number of medium-density housing schemes in Denmark in the 1950s. Mies van der Rohe is an earlier notable reference point for a brick country house completed in 1924. 
The Glass House, by James Muir and the University of Technology Sydney, showcases commercially available products, alongside prototypical examples of more recent advances in materials science. The house incorporates revolutionary nano-technology that creates an environmentally responsive, ultra-low-energy design. Nano-engineered coatings can alter reflection, absorption and transmission of light through and off surfaces; put simply, these are high-tech coating products which alter the environmental implications of large areas of glass. As an example, James Muir cites Pilkington Activ glass "which self cleans using a 'photocatalytic' process where the nano-coating reacts with ultra-violet rays from natural daylight to break down and disintegrate organic dirt. 
These coatings can therefore alter the properties of building materials as we know them," he says. 
According to Muir, prefabricated design modules that include kitchen and bathroom zones are integral to the long-term adaptability and diversity of the Glass House. "The other side of the glass house is about the lifecycle responsibility … out of the standardised kit of parts up to 30 different house forms can be generated. Flexible, changeable accommodation is what it is all about." Like its precedents in the work of Mies van der Rohe and Philip Johnson, the Glass House challenges the materiality of architecture and the potential of technology in the 21st century. 
Innovarchi's Timber House, designed by Stephanie Smith and Ken McBryde, treats the surface of the home metaphorically as a piece of landscape. That surface, or skin, will undulate to form internal and external spaces that blur the distinction between the natural and the built environment and simultaneously act as roof, wall and floor. Using an LVL (laminated veneer lumber) structure and plywood made of renewable plantation pine timbers and E-veneer made of wood-fibre rather than peeling of logs, the house showcases timber products that are environmentally sustainable. Fully prefabricated timber housing has a strong tradition in many cultures — especially tropical environments where they can easily be transported from site to site using vehicular transportation. 
Despite an incredibly complex geometry, the Timber House can be designed with a large variety of configurations. Using computers to generate the cutting patterns, a house could be fabricated in the factory and trucked out to the site in a matter of weeks.
The Steel House, designed by Sarah Bickford and Paul Lucas of Modabode, uses lightweight steel components to create a robust, transportable dwelling that can be reconfigured depending on the site orientation and user preference. The design utilises large areas of glazing for natural daylighting and panels of louvred windows for cross-ventilation. Thick foil-coated insulation, photovoltaic cells for electricity, and an innovative new rainwater tank called Waterhog to collect water for toilet flushing that doubles as thermal massing on the western wall, are all integrated into the design. 
The basic module is 50sqm and is transported to site as a fully prefabricated unit; it is also available in a double-size module totalling 100sqm plus outdoor decks. 
The Farnsworth House by Mies van der Rohe is a key precedent in the story of steel and prefabrication. The Case Study Houses in California, designed by Craig Ellwood, Richard Neutra and Charles Eames, used prefabricated components and developed the aesthetics of the Farnsworth House to create a new architecture for the age. The obvious reference in the Australian context is the pioneering work of Glenn Murcutt, whose innovative use of steel in housing and other building types has been internationally acclaimed; he was awarded the prestigious international Pritzker Prize for Architecture in 2002. 
The Concrete House, in the pavilion tradition, will allow for a variety of ways to interface with the surrounding landscape and uses its own inherent thermal mass to provide appropriate comfort conditions in enclosed spaces. Designed by Peter Poulet of the NSW Government Architect's Office using existing concrete components, concrete is celebrated as an honest and robust material. It integrates a solid mass of concrete on the south side of the house and screen enclosures to the north that open up for ventilation and light. A landscaped 'green' roof further improves thermal performance. Like the cardboard house, the use of prefabricated cylindrical components refers to the work of Japanese architect Shigera Ban, but instead utilises concrete in place of cardboard. 
The creation of the six experimental houses were all industry-supported with input from dozens of contributors, including industry associations, building material suppliers, architects, project managers, furniture and lighting suppliers, and transportation groups. Forming part of a new generation of prefabricated dwellings emerging around the globe, the houses are a response to growing consumer demand for homes that are modern, environmentally sensitive and of high quality. 
"Our vision is that the housing industry and its consumers will be encouraged to think differently, to desire better outcomes. From this change in attitude, hopefully the housing industry will incorporate new design quality, not just an aesthetic layer, but also in terms of amenity and environmental performance," concludes Chris Johnson. 
Lucy Denham has a Bachelor of Architecture degree and has worked in a variety of architectural offices, from Denton Corker Marshall to the Public Works Department. She is currently completing a Masters thesis on the Sydney Opera House at the University of Sydney. 
YBE Houses of the Future, environmentally sustainable checklist:
Water: Recycled greywater, stormwater detention, BASIX-compliant

Energy: Passive solar design principles, minimal energy consumption, solar power, natural cross-ventilation 

Materials: Low embodied energy, life-cycle assessment, recycled and recyclable materials

Design: Innovative and efficient, indoor/outdoor connection, quality of space rather than quantity, affordability